The Just Transition Webinar series puts into action our Just Transition Agenda, making the transformation to a safer and more accessible urban mobility a reality.
The Just Transition webinars will provide a space for discussion on the actions needed to put inclusion, diversity, and accessibility at the heart of all urban mobility policies. 
Following the launch of the Just Transition Agenda in 2021, the webinars will traverse in detail the multifaceted ways affordability, gender-related mobility patterns, age, cognitive capacities (and more) can guide the future mobility of our cities and regions.
To addresses imbalance and unfairness across the entire mobility spectrum, several online events will be held from February to March 2023, with each webinar examining mobility justice from a specific perspective, in accordance with POLIS' different Working Groups. From freight to parking, traffic efficiency to active travel, electromobility to safety — and everything in between — we begin to discuss how each sector has its part to play, the challenges ahead, and how cities and regions are treading new ground.
Interested? Discover all the Just Transition webinars below! 
Please note: This webinar series will include some sessions open to the public, while others will be available to POLIS members only. Check each webinar for more information. 
NEW!

—

Advancing the Just Transition in urban mobility projects
In the newest addition to the Just Transition Webinar series, we will focus on three groundbreaking (POLIS) projects: UPPER, ELABORATOR, and SMALL. These projects exemplify innovative approaches to ensuring mobility as a right, fostering inclusive public transport and shared mobility, and promoting safe and inclusive active mobility.  The webinar is designed to showcase tangible actions that drive a just transition in urban mobility. We will explore how these projects can transform the urban mobility landscape by ensuring equity, accessibility, and safety for all individuals. By facilitating dialogue among project representatives, policymakers, experts, and stakeholders, we aim to inspire collaborative efforts and practical solutions that can catalyse positive change in urban mobility policies and practices.  
Thursday 26 October, 10:00 – 11:30 CEST
Register here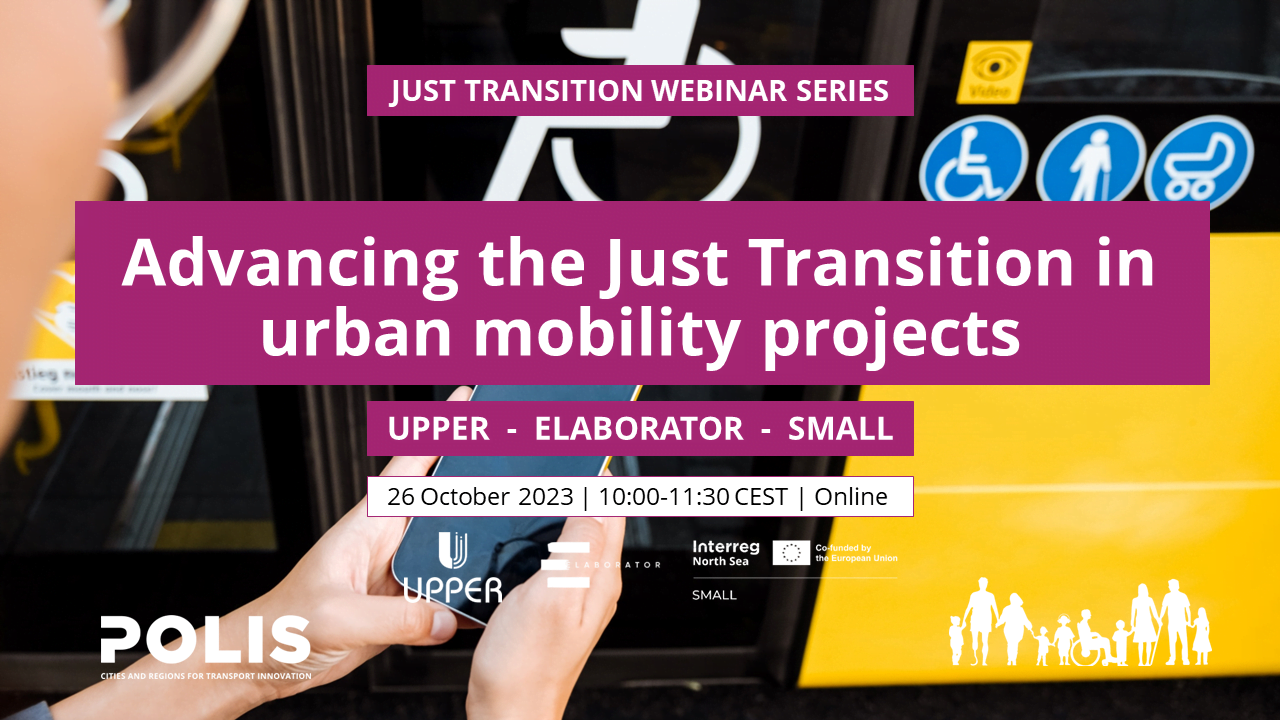 Why do people need cars? Car dependency and city's policy response
Car dependency strongly determines the acceptance of urban vehicle access regulations. If you do not have or see an alternative to using the car, any measure to curb car use is perceived as a threat. Featuring insights from Eva Van Eeno at VUB, the webinar explored potential policy responses to curb (perceived) car dependency, and to tackle it as a showstopper in urban mobility policy development.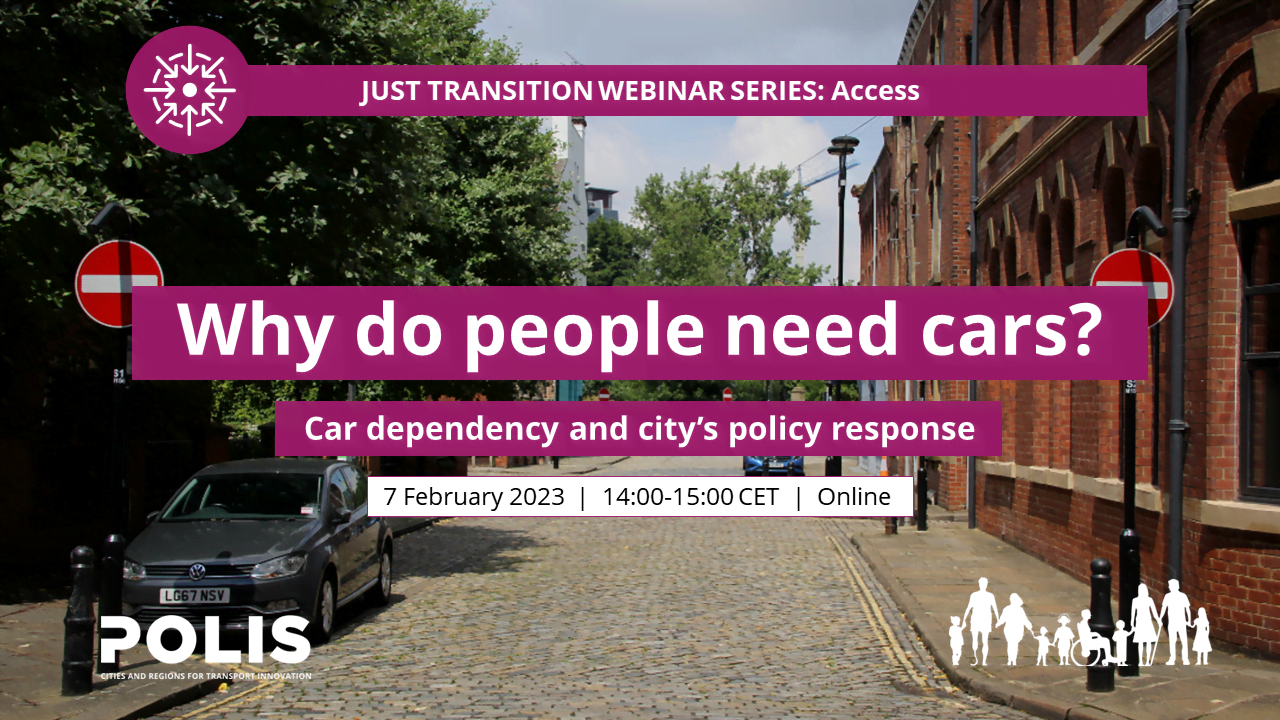 With many cities taking different actions to curb car use and prioritise active travel, are they also ensuring that disabled people are part of the equation? Active modes, and especially walking, can be the most democratic modes available, but cities and practitioners need to address the barriers to active travel for all people. This webinar aims at discussing how to make active travel not only accessible but inclusive for everyone.
Addressing urban-rural transport divisions
Transport connectivity plays a major role in regional integration, encouraging a shift away from car use which currently dominates travel. However, across Europe, there is currently a substantial gap between urban, peri-urban and rural transit offerings. This webinar will examine the role of regional planning and inter-urban transport in helping to bridge urban-rural divisions.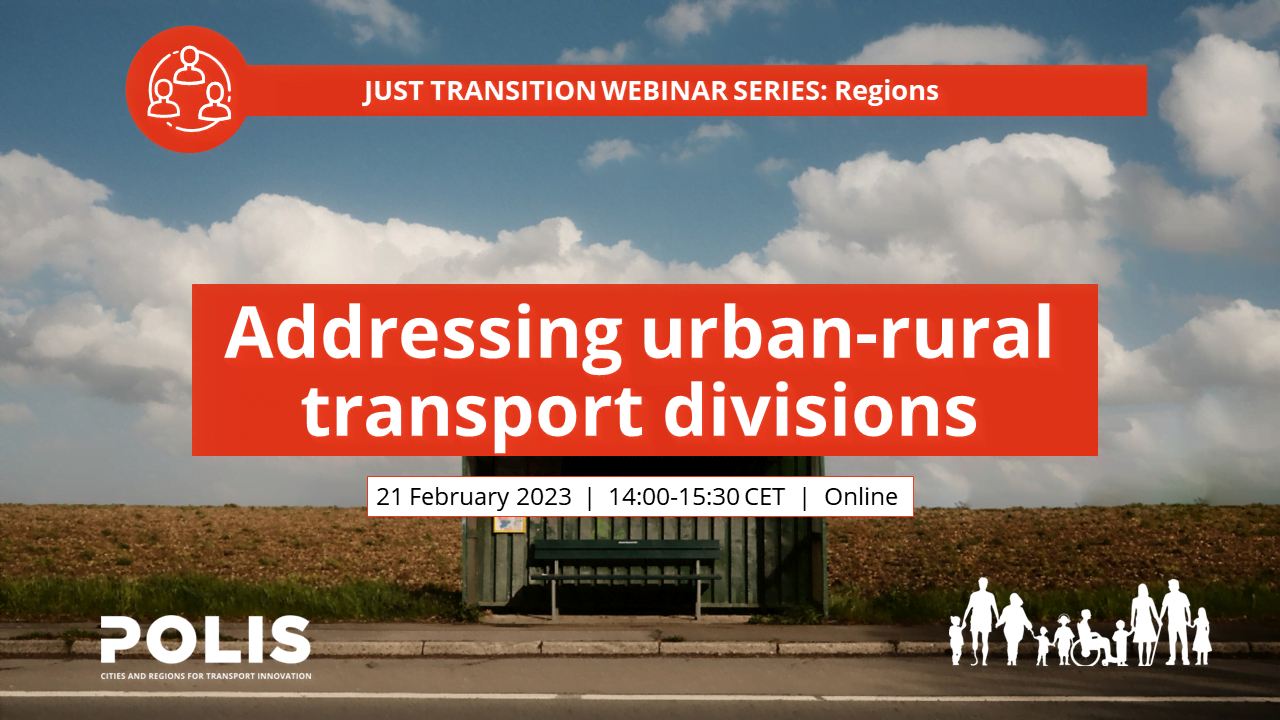 Gender mainstreaming done right
There has been a range of initiatives to identify and challenge the ways mobility ignores and indeed further marginalises women. However, while actions in European capitals capture headlines, it is in fact in our smaller and medium-sized cities where some of the most pioneering strategies are to be found. We hear from Umea (Sweden) and Emmen (Netherlands) on how actions to address inequality can be pushed to truly mainstream gender across mobility and urban planning.  
What about the jobs?
Automation and digitalisation are challenging transport companies to revamp their services, and enabling new players to disrupt a highly regulated sector. Mobility services cannot operate without workers, regardless of how automated they become. They also cannot change without the support and active input of workers, particularly if we want them to change in the right direction, and as fast as possible. Discussing a Just Transition in the mobility sector necessarily requires understanding the labour dimension. So, what about the jobs? 
Reallocation of Space, Time, and Danger
Traffic deaths and serious injuries are neither a 'neutral' nor an 'inevitable' by-product of urban mobility. The systematic allocation of more space to motorised traffic has enabled its users to save time by driving faster – raising risk for themselves, but also for others, especially for those who don't enjoy the protection of a one-ton steel cage. The reallocation of space and time is a necessary condition for relieving the so-called "vulnerable road users" from a disproportional allocation of danger. 
Challenges for the labour market
Companies face challenges related to technology, cost, and workforce. Several factors, such as increasing automation and use of technology, the COVID-19 pandemic, and the rise of e-commerce, have put pressure on the logistics sector and changed the working conditions. Several jobs are at risk: the webinar will explore this challenge and will also investigate what big retailers are doing to make sure that fair and just conditions for workers are in place.
Making EV charging a reality for people with disabilities
The uptake of EVs must include sufficient charging infrastructure, and that the transition to electromobility leaves no one behind – the needs of people with disabilities, as well as the elderly, are currently not fully considered in the design of EV chargers and surrounding areas. The deployment of the recharging infrastructure is happening now, so these concerns also need to be addressed now. POLIS and local authorities share good practices and recommendations for more inclusive EV charging infrastructure.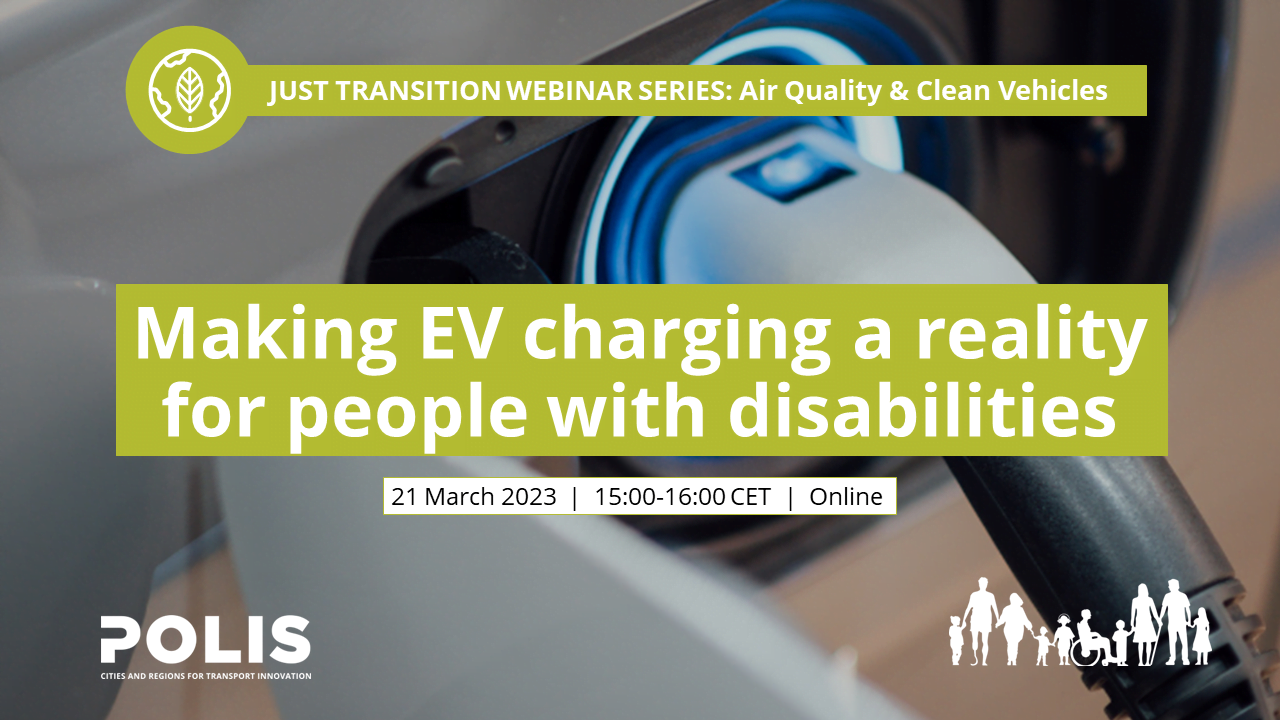 Towards digitalisation in transport, no one left behind
Digitalisation of transportation services benefits several stakeholders, including passengers. However, the rising use of digital technology in transportation services, such as shared mobility and public transportation, also places new demands on (possible) travellers that not everyone is able to meet. How to ensure that digitalisation doesn't create more inequality in transport? This webinar will explore this topic with insights from research and EU projects.