2022 - 2026
SMALL
SMALL brings together highly committed cities, industry, research, and implementing organisations to facilitate the transition to less car-dependent lifestyles, focusing on people with reduced mobility. The goal? Make shared mobility truly accessible to all!
The SMALL project strives to make shared mobility accessible to children, families, the elderly, and physically impaired people - part of a wider group classified as people with reduced mobility (PRM). Lasting a total of 48 months, it counts on highly committed and innovative partners such as the City of Amsterdam, Vervoerregio Amsterdam, the Capital Region of Copenhagen, De Fiestssambassade Gent, Brest Metropole, the City of Saint-Quentin, mobility operator Mpact,  knowledge organisations University of Gent, The Vrije University of Amsterdam, Rupprecht consulting and, of course, POLIS Network.
Shared mobility is slowly but surely becoming an established solution for more sustainable transport in the North Sea Region (NSR), reducing traffic congestion and emissions, as well as improving air quality and general livability. Every second, 5 shared mobility trips are made across major EU cities, mainly by bike or e-scooters. However, 90% of today's shared mobility solutions are only used by young urban adults, in a region where one-third of the population are people with reduced mobility or PRM. 
Due to the current design and set-up of shared mobility solutions, over 20 million citizens in the NSR are being excluded from the transition to less car-dependent lifestyles. There is, indeed, very limited accessibility of all modes of transportation to children, families, the elderly, and physically impaired people...so, here comes SMALL! It will capitalise on transnational cooperation to raise awareness and address a challenge that still today goes mostly ignored.
The not so small partners will deploy a total of 10 social innovation pilots (e.g. on-demand tricycle taxi services and inclusive MaaS application) in 7 NSR cities, namely: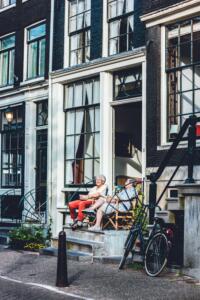 How? By testing new innovative devices while leveraging volunteering and social assistance, resulting in solutions with economic, health, and social integration benefits, and reducing dependency on private vehicles. Moreover, a new SUMP topic guide on inclusive shared mobility will be created, serving as a European guideline for all mobility practitioners.