23/02/2023
Active Travel Just Transition Webinar: Best foot & wheel forward
But what really is 'accessible' active travel? Do we know what transit users need? How do we measure it? What more can we do to enhance the provisions we are making? Many complex questions — but POLIS' second Just Transition Webinar brought together leading experts from Transport for All and Sustrans to find an answer.
Transport is decisive in enabling (and disabling) travellers' access to fundamental human rights: from education to employment to healthcare. At the same time, active travel can — and must — play a central role in the future of our urban mobility mix.
This poses an urgent challenge for mobility and urban planning professionals; how can we ensure these services and infrastructures are accessible to all?
We cannot take our eye off the ball when it comes to rolling out new cycle lanes, developing pedestrian spaces and reallocating space towards active modes. Nevertheless, there is much to celebrate, urban planners are developing a range of innovative and exciting active travel infrastructure which has the potential to make cycling and walking more accessible than ever before — Low Traffic Neighbourhoods (LTNs), cycle paths, bike parking and more!
What is "disability"? A terminology transformation
'Disability' is a broad term covering a wide spectrum of physical, sensory, or cognitive conditions (sometimes apparent, sometimes more concealed) experienced in multiple ways. These conditions shape how individuals — and caregivers — navigate urban mobility services. Indeed, some needs may even conflict with one another.
Much of our transport infrastructure fails to accommodate disabled people. Indeed, across public transport, parking, active travel infrastructure, and digital information platforms, disability is repeatedly an afterthought.
Many have advocated for a 'Social Model of Disability', highlighting how people are disabled by society and the barriers that exist. This shifts the focus from individuals to bringing about the world and society, and the barriers that we create.
"What this does, is ensure it is incredibly clear that there is a role and a need for government, businesses and advocacy groups to act, the emphasis is on society, not on the individual," asserted Tim Burns from Sustrans.
Indeed, it is estimated that 87 million Europeans have some form of disability, equating to 1 in 4 adults. This is a substantial proportion of the population, yet disabled people are routinely not able to access transport with the same freedom and independence as non-disabled people, and there are various reasons for this.
Understanding barriers and needs: PAVE-ing the way forward
While accessibility concerns are often discussed, the voices of those most affected by urban mobility design are not often brought to the fore. This is a challenge Transport for All's research, 'Pave the Way' (PTW), seeks to rectify —  by examining how LTNs and the barriers to Active Travel have impacted disabled people.
Transport for All is the only disabled-led group striving to increase access to all modes of transport and street space across the UK. The organisation advocates that disabled people should be able to make their journeys with the same level of confidence, independence and ease as everyone else.
Alisha Pathania, Research and Insights Officer and Emma Koprena, Insights and Advice Manager at Transport for All joined the webinar to explore the report further, dissecting the findings and what this means for policymaking going forward.
"The disabled community is vast with many different access requirements; we sought to consult with individuals directly, where others have failed to do so." asserted Pathania.
Indeed, while some local authorities have conducted Equality and Impact Assessments of LTNs, many have fallen short of fully identifying the impacts that they are having on disabled residents.
"For example, one London Borough's assessment asserts that 'no group will be adversely affected' by changes; this is clearly at odds with our findings!" said Pathania.
The project interviewed 84 disabled people aged 8 to 89. LTNs were found to be a complex issue, with 1 in 3 participants discussing the division these zones created within local communities. Participants also pointed out the lack of alternative options, reporting concerns with public transport, issues with the street space such as uneven pavements and several barriers to active travel.
The work also showed conflicts between environmental groups' sentiments and disability advocacy communities, and the ways in which environmental policymakers have - often unintentionally- created more barriers for disabled people, leaving them feeling excluded or marginalised from environmental movements.
"It is not one thing or another, it is how can you make a more sustainable neighbourhood work for everybody." asserted Koprena.
However, the most critical finding emerging from the study was the feeling of lack of consultation.
Three-quarters of participants reported frustration at the way in which the changes were communicated, such as the lack of information provided, the accessibility of the information, and not being warned about the implementation of an LTN in their area.
Calculating accessibility of active travel is of course a complex — maybe even impossible — task. However, there has been a range of endeavours to capture successes and shortfalls.
POLIS member, Sustrans, has also placed much focus on disability exclusion, providing comprehensive advice for policymakers on moving forwards, indeed, their work on gender equality, and young, and older age travel, has opened up conversations about what a Just Transition to sustainable urban mobility really means and how we can get there.
This month, Sustrans launched The Disabled Citizens' Inquiry, designed, using a pan-impairment approach, to give disabled people a voice in making walking and wheeling more inclusive —  and a work done in partnership with Transport for All and funded by Motability.
"We work in neighbourhoods across the UK to improve design and construction, we also work with and through communities, and we use our voice to campaign for change at the political level," said Tim Burns from Sustrans.
The solutions suggested were developed by 43 disabled people through citizens' workshops, before being tested through an independent representative survey of 1,183 disabled people across the UK.
No more unknown unknowns: Engage the community
Involving a broad spectrum of disabled people in decision-making was one of the key takeaways from this webinar. As this research revealed, it is only by bringing a diversity of voices to the fore, can we comprehensively address universal access and develop truly "Just" mobility services.
Sustrans' research found that just 1/3 of respondents felt they had the opportunity to shape mobility in their neighbourhoods.
"Our decision-makers are not representative at present of those we need to work harder to serve, we need to put lived experiences at the heart of what we do. Disabled people have often been used as justification for removing LTNs, but often their voices are not even heard or represented here," warned Burns.
Sustrans advocates for the creation of paid expert panels of disabled people as well as a greater focus on diversifying the transport sector.
"These experts need to be paid for their time and effort, all too often this is not the case, and something we put into practice throughout our research," asserted Clermont.
Furthermore, diversifying the mobility workforce will ensure representativeness in the long run and help to change organisational structures to allow inclusivity to be the norm. As a result, current issues would be lessened and barriers removed.
As Koprena pointed out, "We need to sort of combine all of the transport methods and really protect the ones that are accessible to everybody. And make sure that it stays that way, going forward because if you cut off access, and if you cut off funding goal at the same time, there is just no alternative". So again, promoting representative engagement, co-creation, and a diverse mobility workforce will tackle such issues.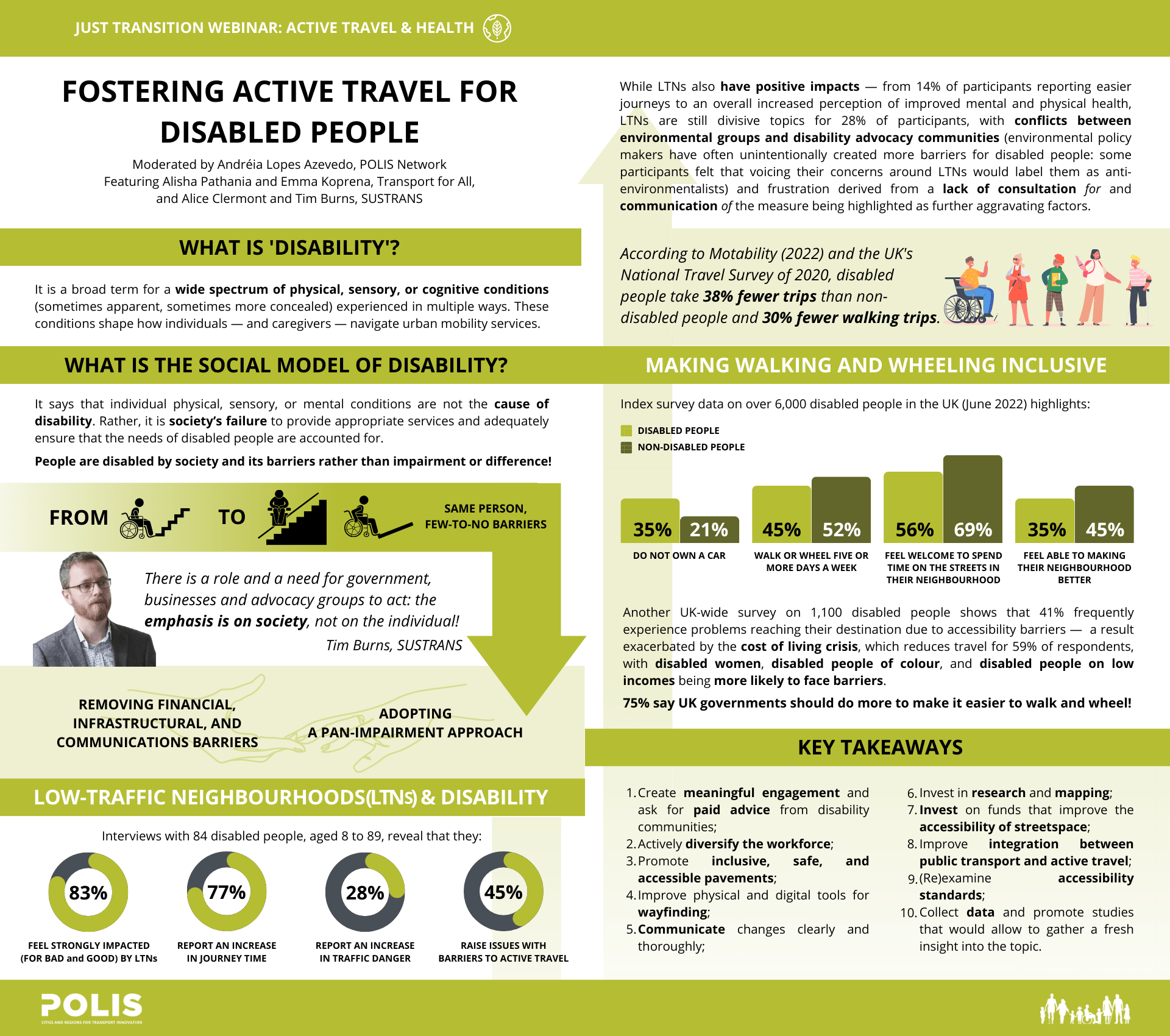 You can read the full report with all the recommendations shared in the PDF attached, and HERE.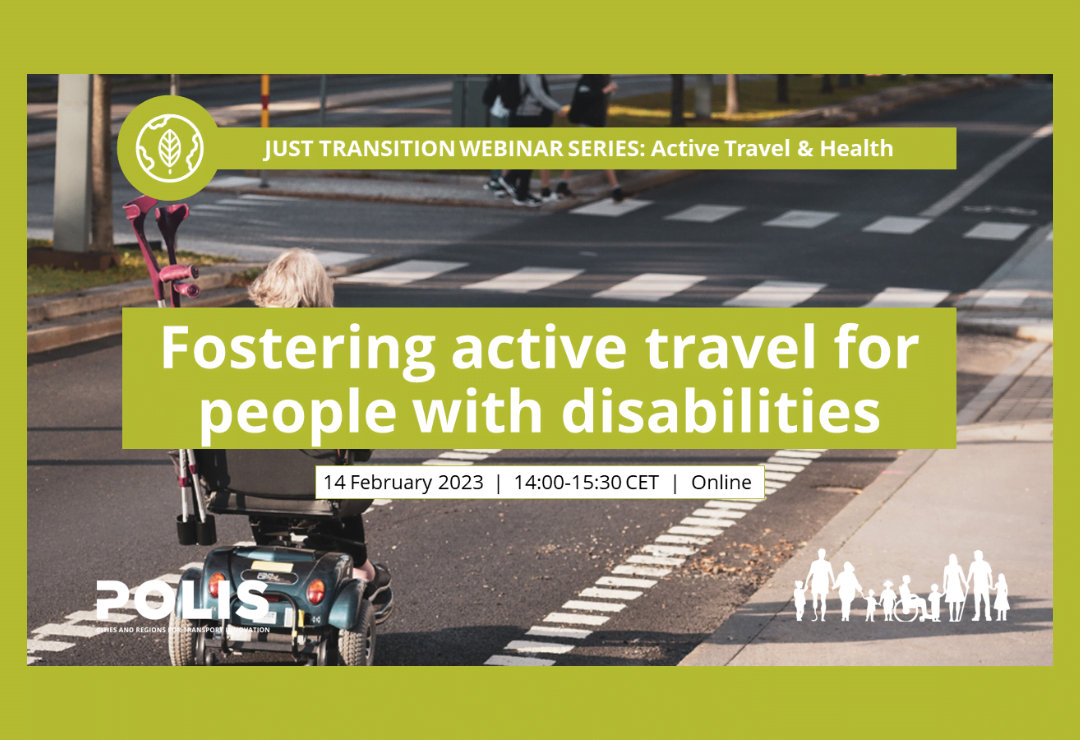 Topics
Staff member(s)
Attachments