Our webinars give us a unique opportunity to support our cities and regions in effectively translating their mobility ambitions to action on the ground.
Throughout our Webinar series, we cover a range of topics that feature some of the most pressing concerns currently facing the mobility agenda. From ensuring that the mobility transition is one that leaves no one behind to rethinking the role of transport in a post-pandemic world, we reflect on what measures need to be undertaken to pave the way forward for a brighter and more sustainable future. 
While some are 'members-only' events, we have opened several to the public to share insights and exchange lessons learned between stakeholders across the entire mobility spectrum, whether they be POLIS' member cities and regions, transport operators, knowledge institutes, or anyone interested in learning more about the future of mobility.
We make many of the recordings, reports, and presentations public to raise awareness and maintain the momentum from all of our webinars. We hope you find them helpful!
Curious? Find below ongoing and past Webinar series!
JUST TRANSITION
Past Webinar series
The Just Transition Taskforce's brand new Webinar series focuses on putting into concrete action our Just Transition Agenda, as we delve deeper into how to make urban mobility a safer and more accessible space that has everyone on board.
Each webinar examines mobility justice from a specific perspective, such as urban freight, parking, traffic efficiency, active travel and more, discussing how each sector has its part to play, the challenges ahead, and how cities and regions are treading new ground.
PUBLIC TRANSPORT LAB

 
Past Webinar series
Our cities and regions will face complex challenges along the way; however, the opportunities are immense. Navigating the way forward requires collaboration between cities, regions, transport operators, and others, sharing best practices, new technologies, and innovative partnerships.
From September to November 2021, POLIS' Public Transport Lab webinar series traversed the length and breadth of public transport.
These series captured the essence of modern urban transit systems and our cities and regions' innovative measures to secure their success through these times of change.
MOBILISING MOBILITY
Past Webinar series
The Mobilising Mobility webinars provided a platform for urban transport stakeholders to learn, discuss and share valuable experience and knowledge on how to integrate new transport solutions in local mobility policies, thus moving from European research to actual deployment and concrete implementation on the ground.
The webinars showcased leading transport innovation initiatives and projects in areas such as new mobility services, micromobility, automation, electromobility, public space management, inclusive mobility, data, parking, and much more.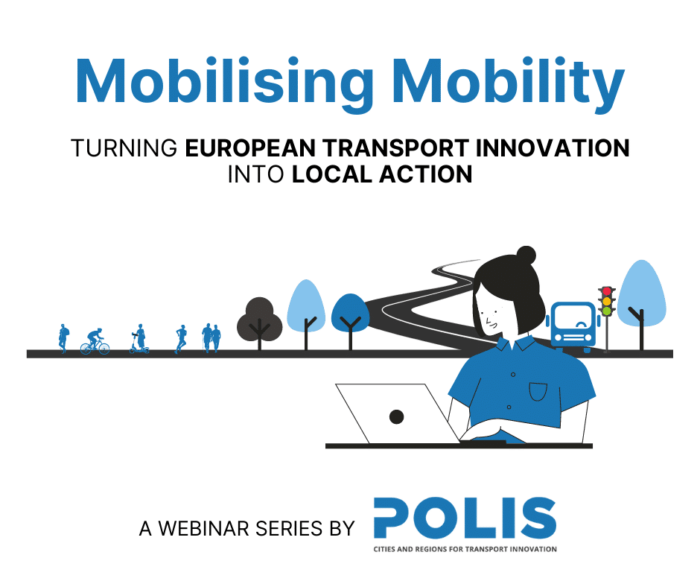 POST-LOCKDOWN MOBILITY
Past Webinar series
Dedicated to tackling COVID-19 and mobility, the 'Post-Lockdown Mobility' webinars had the specific focus of planning mobility for – you guessed it – a post-lockdown future.
This series allowed us to hear from cities across Europe that formulated plans for when lockdown measures were eased. It also helped us identifying potential threats as well as opportunities resulting from this crisis, and allowed us to explore how we could mitigate negative aspects while building on the good things that were happening from a sustainable mobility perspective.