16/06/2023
Loud, proud, and always mobilising inclusive mobility
The need for a safe, accessible, equitable mobility is clearer than ever. PRIDE is a month to celebrate love, sexuality, and identity in all its forms. However, despite recent progress, LGBTQIA+ communities and individuals (hereby also referred to as queer) still face discrimination in everyday urban public spaces, including public transport. We reflect on some of the recent progress, challenges remaining, and the need for open and honest dialogue.
When we aim for a more sustainable urban mobility, we are working towards protecting our living spaces and our freedom to move around them, to ultimately improve our quality of life and allow every single one of us the opportunities, and right to thrive every day. However, despite efforts to create more inclusive mobility, LGBTQIA+ (namely lesbian, gay, bisexual, transgender, queer/questioning, intersex, asexual, and others) communities continue to face marginalisation when using transport and working within the sector.
Last year, in honour of Pride Month 2022, POLIS explored gender-based violence and violence LGBTQIA+ individuals face across our transit systems and in the public space. Highlighting the actions across cities and regions, we reflected on what kind of actions need to be taken to ensure all mobility needs are being met and to make their experience around their cities one that is safe, accessible, and comfortable.
Yet, we know that while PRIDE is an opportunity to highlight these issues, it must also propel wider, lasting action. And it is more than a rainbow-painted crosswalk.
Learning from research…
Substantial gaps remain in understandings of the mobility experiences queer communities and individuals face, as well as transport-related social exclusion. However, research has been expanding: one recent study shows that women, but in particular those individuals who identify as LGBTQIA+/Non-binary/Other, are 3.5 times more likely to feel unsafe in transit and on the way to railway stations.
Professor Vania Ceccato, principal investigator and leader of this research, as well as Ambassador within the European Commission's Ambassadors for #DiversityInTransport initiative, of which POLIS is also part of, told us:
"While these are preliminary findings, lack of staff and poor station maintenance of the station are two attributes associated with riders' lower perceived safety, at both the station and on the path to it. It is important to understand that gender-sensitive mobility policies must take into account the intersectionality of transit safety, reflecting individuals' safety needs in both rural and urban contexts" 
Indeed, the importance of intersectional thinking and approaches to mobility policy is critical when it comes to understanding sexuality and identity. Dr Martin Zebracki, co-author of 'Queer mobilities: critical LGBTQ perspectives of public transport spaces' noted in POLIS' Cities in motion magazine last year:
"There is great diversity within – there is not a single LGBTQ+ community. Other markers, such as socioeconomic class, ethnicity, and age, also come into play. This intersectional lens needs to be brought into the argument to make the point more complex while discussing the experiences of LGBTQ+ people navigating public transport spaces; it is a window to understand larger patterns of exclusion and marginalisation."
…and putting theory into practice
This urgency for intersectional thinking was apparent across POLIS' Just Transition Webinar Series earlier this year. From active travel to public transport, the series placed physical accessibility, gender, sexuality, ethnicity and other axes of identity which shape mobility needs and experiences directly in conversation.
"Last year, POLIS launched the Just Transition Taskforce, which brings inclusivity to the centre of urban mobility. PRIDE is a month to reflect on what we really mean when we say inclusivity – and it is also a month to really listen and learn, to understand the barriers and experiences queer communities face, and how we can shape our approach to mobility planning and design moving forward. In this regard, the Taskforce will continue steadfast in its future activities to elevate the importance of inclusive mobility approaches and making sure the needs of all individuals, regardless of their gender or sexuality, are met." - says Laura Babío, Just Transition Taskforce Coordinator and Project Manager at POLIS.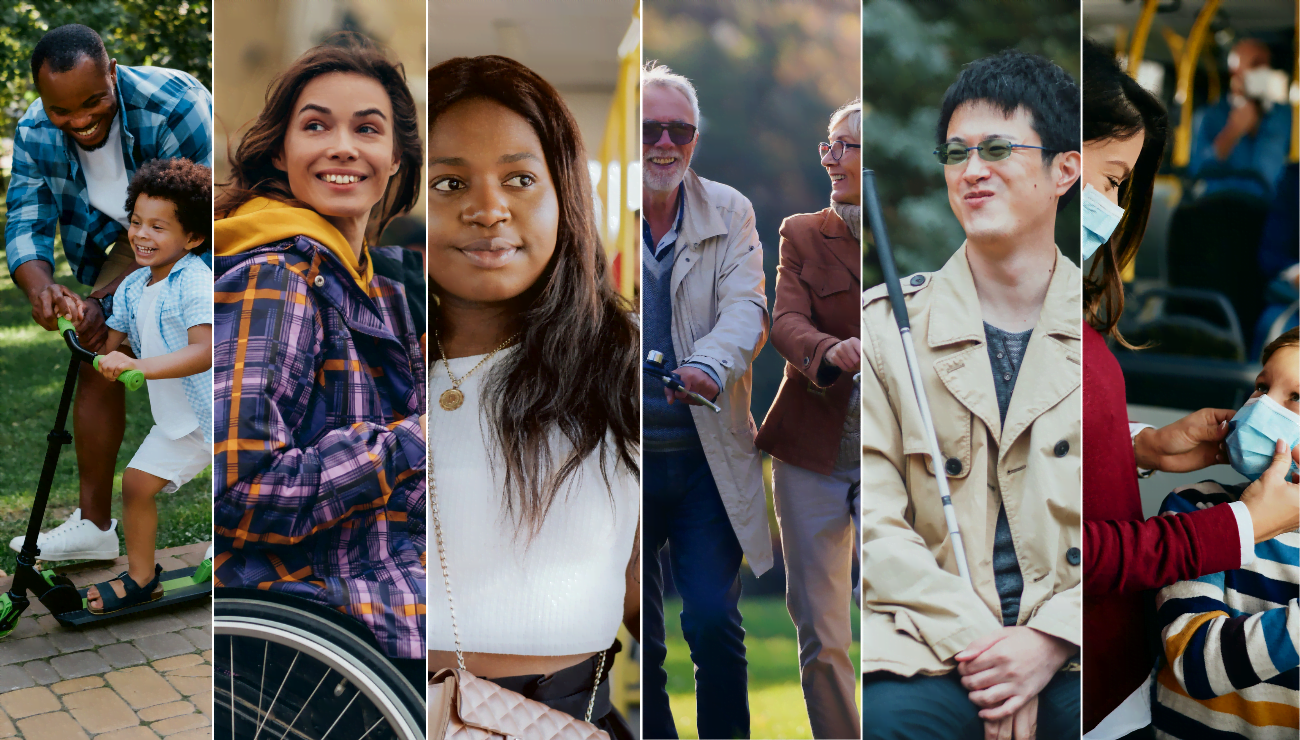 Sustainable mobility for all, together: the importance of collaboration
Across Europe, EU-funded projects such as UPPER, ELABORATOR, and many others, seek to shape the future of sustainable urban mobility to be as inclusive as possible. By bringing together expertise from cities, regions, NGOs, networks and others, they are a chance to pioneer innovative ways of transforming transport and widen these conversations further.
This January we kicked off UPPER, a Horizon EU project that seeks to spearhead a public transport revolution by involving users in the overall mobility decision chain and bringing to life an attractive, efficient, reliable, safe, inclusive and affordable public transport system that leaves no one behind as outlined in the Mobility as a Right (MaaR) concept.
Indeed, inclusion for everybody is something the UPPER project is approaching in a comprehensive way, which also takes into account gender and sexuality and the resulting experiences of public transport.
"The 'Mobility as a Right concept' is one of the pillars of the UPPER project. A strategic vision aiming at defining inclusive mobility where all citizens are taken into consideration, regardless of their capacities or their status in society. We truly believe cities must provide inclusive and safe public transport for all" – Francesco Iacorossi, UPPER's Dissemination Task Leader and Senior Project Coordinator at EUROCITIES.
Another project we just kicked off during this meaningful month is ELABORATOR: the European Living Lab on designing and co-creating inclusive sustainable mobility interventions, towards climate-neutral cities, also funded by the Horizon EU programme.
The project's core principle is that mobility innovations should be enacted in response to all citizens' needs, including 'vulnerable to exclusion' groups. In fact, ELABORATOR aims to look at inclusion, equity, and accessibility beyond usually performed analyses that mainly take into consideration age, gender, and forms of disability. Instead, the project will begin by pinpointing potentially overlooked groups that are more likely to be put at a disadvantage by mobility planning, design and/or operations, such as economically disadvantaged people, women, children, the elderly, people with physical or mental impairments, immigrants, and LGBTIQ+ individuals.
"Through ELABORATOR living labs we want to achieve climate neutrality, by putting inclusive and safe mobility at the heart. In this project co-creating and co-designing these solutions will ensure all voices- particularly those vulnerable to exclusion- are elevated," says Andreia Lopes Azevedo, ELABORATOR Dissemination Task Leader and Project Manager at POLIS.
Meanwhile, ongoing efforts in cities and regions demonstrate how local actions are having transformative impacts in fostering inclusive, queer-friendly public spaces: last year, Amsterdam was pronounced the world's most queer-friendly city by Open for Business, with other members such as Stockholm, Berlin, Dublin and London also ranking highly.
One thing is clear: there is still much work to be done for queer people to feel seen and safe in their mobility systems. At POLIS, we remain committed to making sure this happens.
Disclaimer: The visual used to promote this article utilises a vector made by Freepik.