Within the Urban Freight Working Group, cities and regions can discuss the challenges they face, share good practices and improve collaboration with industry, prioritise topics and accelerate deployment of innovative solutions.
The Working Group is engaged in peer-to-peer exchange to share best practice on sustainable urban freight systems.
It encourages public-private strategic dialogue to identify collaborative solutions for clean and efficient urban logistics, bringing together cities, countries, and companies. It facilitates capacity building, online training and courses, replication and transfer of research results at national, European and international levels. Through this group, POLIS collaborates with logistics focused projects, notably LEAD, GREEN-LOG, URBANE, MOVE21, and SOLUTIONS+.
The Working Group is compiling databases and tools to assist the exchange of experiences among members and further the case of urban freight.
The Working Group partners with the Alliance for Logistics innovation in Europe (ALICE); the European Clean Trucking Alliance (ECTA); the Platform for ElectroMobility (PfEM); and TDA Community of Interest on Urban Freight, among others.
Topics being discussed by this Working Group are:
The potential of Digital Twins for sustainable on-demand urban logistics at local and regional level.
Zero-emission zones (ZEZ) for freight: planning approach and success factors; how can cities align their ZE targets to give a signal to the industry.
Consolidation models: micro & multi-purpose hubs, parcel lockers, procurement of bundled deliveries, etc.; the role of local authorities.
Dynamic street and curbside management solutions for deliveries.
Tools to support enforcement of access and illegal parking on loading and unloading zone for freight
Impacts of increased e-commerce (parcels) and instant deliveries (Uber-Eats, Deliveroo) movements, cross-sectoral dynamics and policies (digitalisation, labour markets, etc.)
Buy local: implications on urban logistics of the 15-minutes concept (essential needs are accessible within 15 minutes by bike or walking), e-commerce platforms and other tools to support local businesses.
Data sharing: need to understand which data is needed, easily sharable, for planning purpose.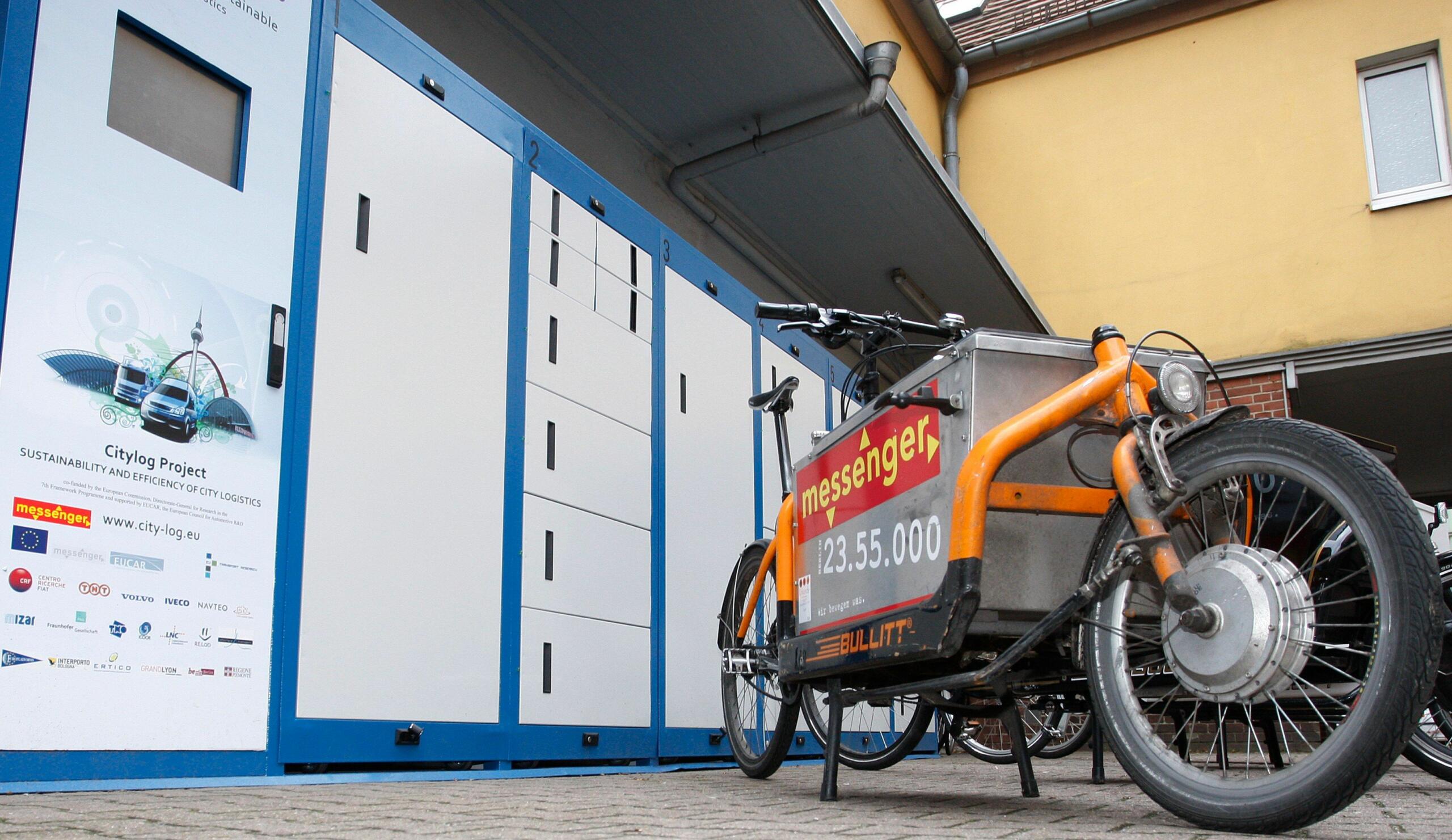 Berlin Messenger Courriers with the BentoBox (c) EU-Forschungsprojekt CityLog