2022 - 2025
SCALE
SCALE - Smart Charging Alignment for Europe - is a three-year Horizon Europe project that explores and tests smart charging solutions for electric vehicles (EV).  
The project stems from a rising opportunity. The uptake of EVs in a mass-deployment scenario, coupled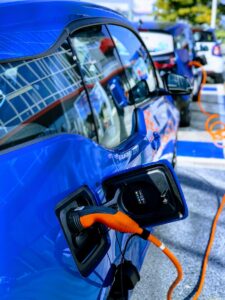 with the flexibility of renewable energy generation could form the basis of a decentralized power system simultaneously decarbonizing both transport and energy sectors. Therefore, there is a need for implementing smart and digitally controlled charging systems and preparing energy networks to utilize the surplus energy stored in EV batteries through state-of-the-art technologies.  
In this context, SCALE will: 
prepare the mass-market uptake of V2X (Vehicle to Everything)

 

maximize the plug-in rate and participation via a user-centric charging eco-system

nurture an interoperable system where users and fleet operators have flexibility

 

ensure smart charging is possible at an EU-wide scale

 
Running from June 2022 until June 2025, SCALE's strategic objective is to create an open system solution, deploying a user-centric approach, thus reducing the need for power grid reinforcement investments through smart charging and V2X solutions. The
the project will test and validate a variety of smart charging solutions and services through 12 use cases in real-life demonstrations in 7 European contexts: Oslo (NO), Utrecht (NL), Eindhoven (NL), Toulouse (FR), Greater Munich Area (GER), Budapest/Debrecen (HU) and Gothenburg (SE).  
SCALE's consortium comprises 28 cutting-edge European e-mobility actors covering the entire smart charging and V2X value chain (equipment and charging manufacturers, flexibility service providers, research and knowledge partners, public authorities, consumer associations, etc.). It is led by ElaadNL, one of the world's leading knowledge and innovation centres in smart charging and charging infrastructure. 
For further information, visit our website.
Funded by the European Union. Views and opinions expressed are however those of the author(s) only and do not necessarily reflect those of the European Union or CINEA. Neither the European Union nor the granting authority can be held responsible for them.