07/02/2023
Check out POLIS' 2023 project line-up!
The new year means a shiny new project line-up! POLIS started off strong this 2023, welcoming a number of new projects to our ever- growing family. From making shared mobility accessible to all to upscaling zero-emission solutions, we have much to share. Care for a sneak peek? Come take a look!
ESCALATE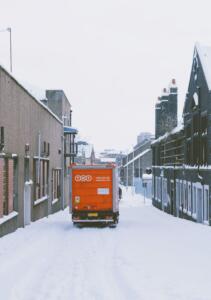 The ESCALATE project brings together a highly diverse and committed consortium focused on escalating zero-emission heavy-duty vehicles (HDVs) and logistic intelligence. HDVs account for about 25% of EU road transport CO2 emissions and about 6% of total EU emissions. In line with the Paris Agreement and the European Green Deal targets, Regulation (EU) 2019/1242 setting CO2 emission standards for HDVs (from August 14, 2019) forces the transition to a seamless integration of zero-emission vehicles into fleets.
To contribute to achieving these ambitious goals, ESCALATE aims to demonstrate high-efficiency powertrains for long-haul applications that will provide a range of 800 km without refueling/recharging and cover at least 500 km average daily operation in real conditions. Its ultimate aim? Powering the European Union's net-zero future!
SMALL
The SMALL project strives to make shared mobility accessible to children, families, the elderly, and people with physical impairments - part of a wider group referenced as people with reduced mobility (PRM). Due to the current design and set-up of shared mobility solutions, over 20 million citizens in the NSR are being excluded from the transition to less car-dependent lifestyles.
There is, indeed, very limited accessibility of all modes of transportation to children, families, the elderly, and physically impaired people...so, here comes SMALL! It will capitalise on transnational cooperation to raise awareness and address a challenge that still today goes mostly ignored. Lasting a total of 48 months, it counts on highly committed and innovative partners to further establish shared mobility in the North-Sea region in a way that leaves no one behind. 
ShareDiMobiHub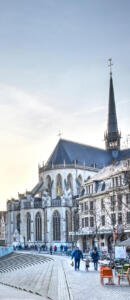 A modal shift from the privately owned car to shared mobility options is needed to cope with increased transport demand. In comes ShareDiMobiHub! The Shared and Digital Mobility Hubs project aims to improve urban multi-modal accessibility by increasing the introduction and uptake of shared mobility hubs, resulting in a modal shift and changed behaviour towards sustainable mobility options.
Across the span of three years, the project will speed up such a transition by utilising an integrated approach, through measures such as providing space for shared mobility, nudging and communication, private car restrictions, integration with public transport and with Mobility as a Service (MaaS), among others. The result? Citizens, commuters, and visitors alike will benefit greatly from the increased shared mobility offers.
GREEN-LOG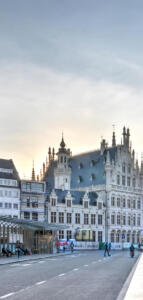 Following the remarkable expansion of e-commerce the world is currently experiencing an unmatched increase in last-mile transportation. Urban and peri-urban ecosystems are faced with a lot of difficulties as a result of this new reality, and courier services are under tremendous pressure to provide seamless service for more frequent home deliveries. 
Now more than ever, we require last-mile delivery ecosystems that are sustainable across various dimensions: and GREEN-LOG aims to meet this need. How? Through innovative solutions and inclusive stakeholder engagement! Over the course of three years, the project will accelerate systemic changes to create last-mile delivery ecosystems that are socially, economically, and ecologically sustainable.
Here is a taste for now. We have more to announce, so keep an eye out - more news coming soon!
Curious? Click here to see our full project list!