25/05/2021
Electrifying the Curb: POLIS discusses the future of EV charging
Electric Vehicles (EVs) are rapidly becoming key parts of the urban modal mix. As demand grows, cities and regions must react with suitable charging infrastructure, and fast!
From Madrid to Amsterdam, cities and regions are rapidly rolling out charging services and domestic charging points are increasingly commonplace across Europe; yet there is much progress to be made. This will be a careful balancing act, integrating new charging technology into the curbside, yet minimising negative effects on public space.
To delve into the issue POLIS Parking and Clean Vehicles Working Groups joined for a meeting on 19 May, 2021.
This meeting brought together industry experts, providers and local authorities to explore the technical and regulatory issues surrounding the future of EV parking. It was a chance for POLIS members to hear about the latest developments and put their questions to the experts.
The meeting sparked intense discussion about the future of EV charging and how cities and regions could grapple with the challenges rapidly developing technology and surging demand is- and will continue to- bring.
The meeting addressed:
How to better align the roll-out of the charging infrastructure with the parking policies
How to optimise the use of the charging infrastructure on parking spots
Hierarchy of charging
Promoting consumer acceptance of EVs
The need to address charging at home and away from home simultaneously
Establishing appropriate tariffs and seamless payment options
How cities and regions can cope with rising electricity demand and adapt grids accordingly
How to use data effectively to measure and predict demand
How local authorities can, and must work with private stakeholders and international bodies to best serve demand
Electric avenue: What do consumers expect?
Understanding the consumer perspective is a crucial element in ensuring successful roll out of EVs; without this, mass take up cannot be achieved. So, what do drivers want?
The meeting heard from Oliver Lenz from Fédération Internationale de l'Automobile (FIA), an organisation representing the views and perspectives from vehicle users, and which has been exploring what the recent explosion in EV offerings mean for consumers.
Sparking the conversation: City level best practice
What are cities doing already, and how can we emulate their successes? Representatives from Trondheim and Rotterdam joined to share their approach to EV parking.
Trondheim is Norway's Capital of Technology. The City hosts the internationally renowned NTNU (the Norwegian University of Science and Technology), Scandinavia's largest scientific research corporation, and associate POLIS member, Sintef, and a myriad of small and growing technology start-ups and companies.
Rotterdam has long been a leader in sustainable mobility. The Dutch city started the Rotterdam Climate Initiative (RCI) in 2007, as part of the Clinton Climate Initiative and is an affiliated member of the C-40 cities. With the RCI, Rotterdam has set a very ambitious target for CO2 reduction in several sectors, including mobility.
Break out sessions
The meeting then moved to the breakout rooms to discuss fire hazards and regulation, pricing and business models.
Key points:
Plan to perfection- Parking cannot be rolled out on an ad-hoc basis. As Trondheim demonstrated, planning ahead allows a clear understanding of how mobility is in line with emissions reduction goals and budgetary requirements. Rotterdam is a leading example where the roll-out of the charging infrastructure moved away from on-demand approach toward the roll out based on the data analysis. The city follows the approach of the hierarchy of the charging starting with private charging, then look at the semi-public. In the cases where neither option is available, the city will set up a public charging infrastructure.
Know the market- Understanding the consumer perspective is key to locating changing and determining fees. Project, eCharge4Drivers has been seeking to improve understanding of user behaviour and views.
Data is essential- Cities are beginning to model potential growth in demand to prepare for necessary charging facilities. For Rotterdam, this has allowed the city to locate points in the relevant geographic locations.
Make infrastructure easily identifiable - Charging facilities should be easy to locate Indeed, many organisations provide interactive maps to identify parking for users.
Remaining challenges:
How can Europe establish an integrated charging system to facilitate EV use across the continent? This will be a technical and legislative challenge, for which local authorities must work across their own city departments, with the local stakeholders but also with international bodies including the European Commission.
How can cities and regions ensure electricity supply and stable grid connection to keeps up with rising demand due to EV charging? Rotterdam has been working closely with the grid to understand how to react appropriately.
The current picture: A word from the industry
This meeting followed a panel at the Autonomy Industry talks, where POLIS' Sabina Asanova joined experts from across the mobility industry- including Gothenburg city- for the session 'Electrifying the curb: Smart parking & charging'. The panel discussed how city authorities see this development, and how their approach to the curbside is changing accordingly.
About the POLIS Clean Vehicles and Air Quality Working Group
This group addresses major challenges related to air quality and current developments in the field of clean and sustainable transportation within our cities. To find out more, please contact Gabriela Barrera or Sabina Asanova.
About the POLIS parking Working Group
Through the Parking Working Group, POLIS brings its and the European Parking Association together to discuss challenges related to urban parking policies. To find out more, please contact Ivo Cré. 
Want to know more about our working groups?

POLIS working groups bring our members together to discuss the leading urban mobility issues, share best practices and debate the way forward. Our Working Group meetings are open to POLIS members only, For more information regarding membership please contact our Membership Manager, Pasquale Cancellara.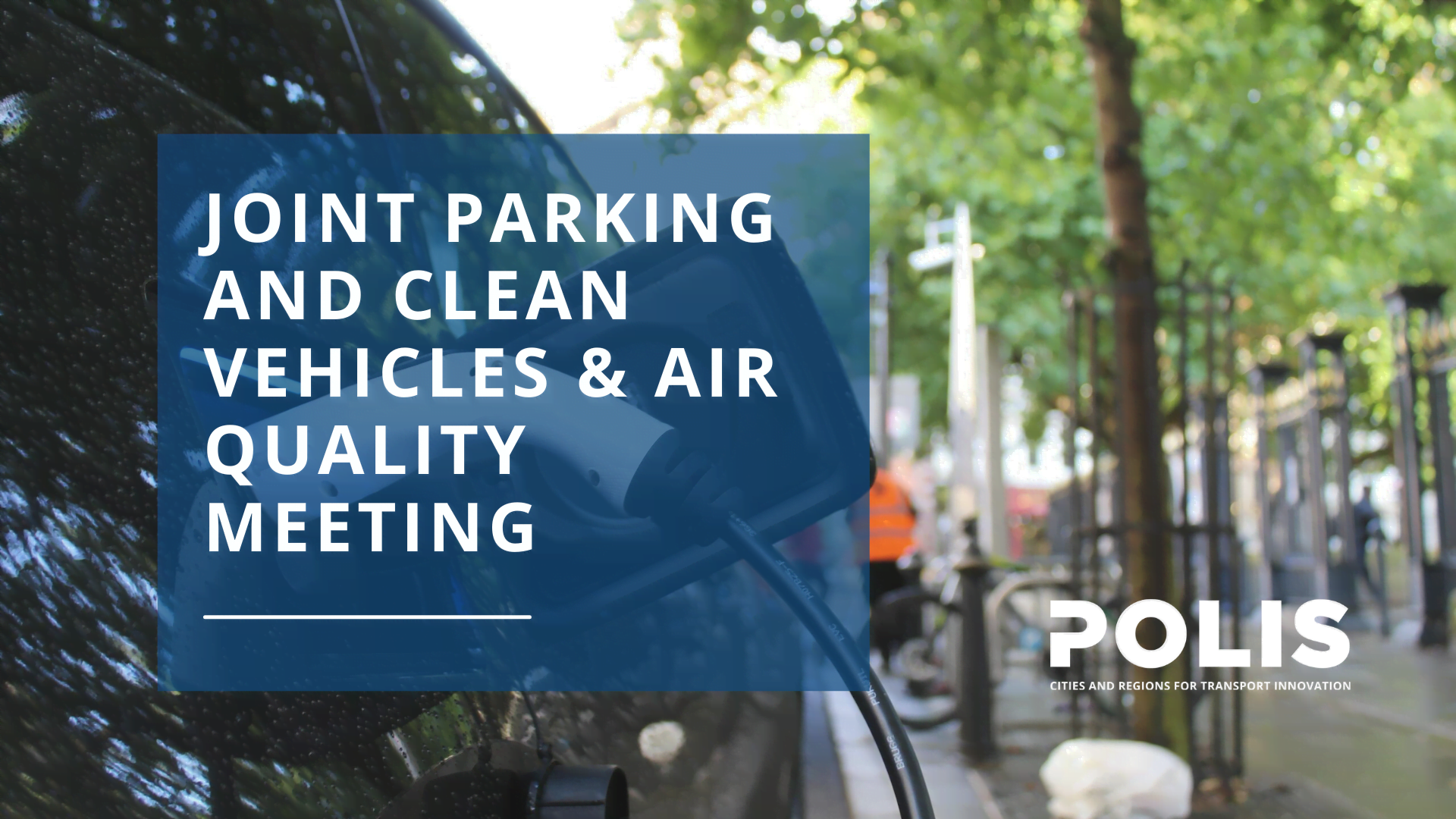 Topics
Staff member(s)