25/05/2021
Autonomy Industry Talks: POLIS members make a splash
What do you get when you combine transport industry experts, leading local authorities and innovative mobility operators?
Answer: A (sustainably sourced) virtual mobility extravaganza!
The Autonomy Industry Talks which took place on 19 & 20 May, explored the most critical issues affecting sustainable mobility.
From shared mobility to, electric vehicles and Mobility as a Service (MaaS), POLIS colleagues and many POLIS member cities joined the online conference to discuss the challenges ahead and the solutions being developed.
If you missed the event, here's what we learned…
Moscow is digitalising
If you are looking for smart approaches to public transport, look no further than new POLIS member, Moscow.
Electric vehicles and e-buses are becoming a central feature of the city's transport offerings. Since 2018, the Russian capital has been operating electric buses, and the city has exciting aims for 40 percent of its land transport will switch to electric.
Digital solutions have also been transforming transport across the city, tailoring travel to passenger needs.
Moscow Transport presented a range of mobility solutions the city has been establishing. Representatives from Moscow Transport presented the Troika smart card, a single carrier with flexible payment system which is enabling multi-modal travel. The app has attracted 2.2million downloads and 550k active users per month.
The success of their scheme undoubtedly holds some very interesting lesson for others seeking to follow suit!
Leuven is serving up a sustainable mobility feast
Take one medium sized city, add a range of innovative pilot projects, stir in data driven decisions… and cook in a strong citizen-public-private partnership. The terraces are open, and Leuven is serving up an innovative mobility menu!
The Belgian city of Leuven has long been a frontrunner in mobility innovation. David Dessers joined the Autonomy session, "Transforming Transport in Leuven: The recipe for success in Europe's Capital of Innovation," to present how the city has- and continues to- achieve this.
The city is seeking to expand its role as a living lab for mobility innovation. Indeed, with projects including WeCount, MOMENTUM and eHubs, Leuven has become a centre for new transport and logistics solutions.
Citizens have been at the heart of this movement.
"Achieving emissions goals requires radical modal shift, but in a fair and equitable way. However, modal shift requires mental shift, profound changes in behaviours," warned Mr. Dessers.
To do this, a partnership between local government, citizens and private stakeholders called, 'Leuven 2030' has been established, bringing together 600 partners.
Lessons from Leuven: The key ingredients
Do it together- Residents have been empowered to take a central role in setting up mobility plans, with citizen panels, citizen science projects like WeCount, and many other pilot projects in districts across the city.
Data driven plans- Data forms the basis of Leuven's plans, and enables strategies to be shifted according to changing needs. Through the MOMENTUM project, the city is testing local traffic with models, testing interventions in advance, giving the city objective basis to make better choices.
Shared mobility- Leuven has launched eHUBS, city's objective is to provide citizens with a total number of 50 electric and shared mobility stations.
Logistics- The city has been responding to surging e-commerce demand to focus on the local economy, establishing local delivery services to support trade.
Rome pedals ahead
The speed at which cycling infrastructure in Rome has been erected is jaw dropping. The Italian capital sits atop of ECF's CO​VID-19 measures tracker, as the frontrunner in construction of new cycling lanes following the pandemic.
Part of this success has been the city's involvement in the ambitious Handshake project. Rome has greatly benefitted from this initiative, prioritising walking cycling interventions. With a budget of 3.2million Euro, the city is building 150km of new cycle lanes.
Francesco Lacorossi explained more about Rome's approach.
"We aim to transform our city into a cycling capital. COVID-19 has accelerated this process, but our measures have been in place for several years," said Mr. Lacorossi.
The city is not seeking to establish temporary or "pop-up" measures, but rather a "transitory" approach, which embeds the cultural and behavioural change required for long term modal shifts.
"We still have a lot of work to do, but Rome has already made a substantial commitment to active travel, and spending on bike lanes is a worthwhile investment," he asserted.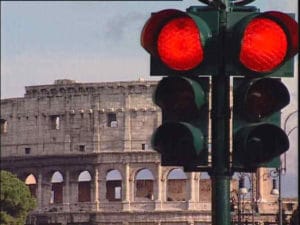 Key lessons:
Start them young- the city has been engaging children and young people in active travel programmes, encouraging sustainable travel from the outset.
Learn from others- Rome has been taking inspiration from Amsterdam through the Handshake project
Temporary solutions are not enough- while pop-up cycle lanes have been a fantastic addition to the urban landscape during the pandemic, these cannot be purely temporary changes, they must be regarded as the first steps in a new commitment to active travel!
MaaS is… MaaSive!
If there was ever a "buzzword" in urban mobility, 'MaaS' is a clear contender! Yet, for all our talk about MaaS, there remains much uncertainty around the role it will play in the transition towards more sustainable mobility.
This is a topic POLIS has been exploring in depth through its Traffic Efficiency as well as Governance & Integration Working Groups.
POLIS Secretary General, Karen Vancluysen moderated a panel of representatives from Ile-de-France, Brussels, the International Transport Forum and others, to discuss governance models and what new technologies mean for public-private partnerships.
Ms Vancluysen challenged the panelists to outline the roll they believed MaaS will take in the future of urban mobility.
"Maas will help generate a shift away from privately owned cars," said Martin Lefrancq from Brussels Mobility.
"However, it will depend on other policies and their implementation," he warned.
They agreed public authorities need to take an active role in the deployment of MaaS. Indeed, Ile de France has begun to take a leading role across their region Publishing a guide to good practices and principles of interactions between mobility actors.
London: Recovering, restoring and reigniting
As Britain begins to emerge from the COVID-19 pandemic, London is looking to redouble its efforts to expand and enhance its commitment to sustainable mobility.
"Public transport has been critical for keeping the city moving during the pandemic, and Transport for London (TfL) is working hard to support London's recovery" said Stuart Reid from TfL.
However, like all cities and regions across Europe, the pandemic has placed immense strain on local authorities and public transport operators. London, like its neighbours, now has its sights firmly on the horizon.
From cycle lanes to low emissions zones, the capital is firmly in the fast lane to a sustainably mobile future, aiming to have an 80% mode share for active travel and public transport.
Mr. Reid detailed several of London's main achievements and goals:
The city has expanded active travel infrastructure, reallocated 22000sqm for walking, with 100km in cycle routes delivered or under construction.
Low traffic neighbourhoods have been implemented and 20mph speed limits imposed in local areas.
An e-scooter hire scheme will go live next month. This pilot will help the city understand how to operate such mobility solutions.
London is a world leader in low-emissions zones. Their Ultra-low emissions zone is now due to be expanded later this year.
Electrification is underway for buses, with the entire fleet to be electric by 2037.
Electric vehicles are being supported with new charging facilities- there are now 5000 charging points across the city.
On-demand logistics: Can we cope with the explosion?
Ecommerce has exploded over the last year. While online ordering and delivery was growing before the pandemic, lockdown measures have precipitated an exponential growth in the sector.
Giacomo Lozzi, Coordinator of POLIS' Urban Freight Working Group moderated the panel from POLIS members Gustav Eiffel, the City of Groningen, Budapest Transport and others, to explore the impact on urban freight, and how cities and regions are- and can- respond.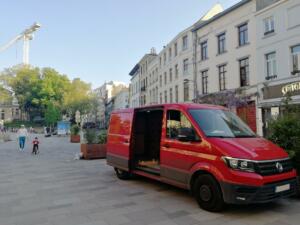 "The key question will be, will these new ecommerce behaviours continue? I would say it will; we have seen supermarkets collaborating with gig-economy or on demand platforms, expansion of click and collect, all services which are encouraging this trend to continue to grow," said Heleen Buldeo Rai, Logistics City Chair at University Gustave Eiffel.
Budapest and Groningen shared their solutions for sustainable logistics:
Dynamic time windows- through on and off-peak operating times
Cargo bikes-are expanding as zero-emissions solution for last mile delivery services
Support local- Platform for local shops to present themselves online and run delivery services
Digital twinning - Digital Twins are a digital replica of a complex real-world urban environment that represents different processes, actors, and their interaction. Find out more about how they can support experimentation and decision making with on-demand logistics operations in a public-private urban setting-
Industry experts shared their advice too. Attention to the entire supply chain from regional warehouses to last mile urban centre delivery was identified as key to long-term sustainable logistics.
"Logistics stakeholders are like roommates, we need to get to know one another and share what we are doing and what is going on across our freight activities," said Charlotte Migne, Group sustainable development director at FM Logistic.
Find out more about how POLIS Urban Freight Working Group is partnering with industry stakeholders to create more sustainable logistics networks- HERE.
Baden Württemberg goes global  
Travel between urban centres is a key challenge for regional authorities. For many regions situated close to international borders this can be an issue. Mobility does not stop at borders… but unfortunately, mobility app information and tickets usually do.
This shortcoming discourages use of public transport, pushing passengers towards personal vehicles.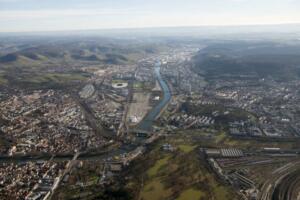 POLIS member region, Baden Württemberg has established as a cross-transport integration platform for mobility-relevant data- including timetables and real-time information from public transport, as well as data from road transport, such as parking spaces, and new mobility services such as sharing systems.
This scheme is a "work in progress", a platform for an open innovation process, however, big changes are afoot.
"By 2030, open data for cross border mobility will be far more natural, and the next generation will be far more likely to be using these services," said Monika Burkard Head of New Mobility at NVBW - Nahverkehrsgesellschaft Baden-Württemberg mbH.
Find out more how POLIS members have been pioneering data sharing platforms here.
Resigning the chaotic commute to history
 For many of us, the crush of the daily commute to work seems all but a distant memory. The pandemic has prompted a culture of homeworking, interrupting previous commuter crowds.
However, commuter transit remains a central concern for cities. As we prepare for a rebound in daily travel, the race is on to reinvent corporate mobility- and it requires close cooperation between employers and local authorities.
In the session "Decongesting the commute: corporate mobility reinvented," POLIS' Ivo Cre moderated a discussion between Arnhem Nijmegen and a range of international experts to explore opportunities for creating long-term sustainable commuter travel.
POLIS member, Arnhem Nijmegen shared how their focus on improving short and long-distance cycle networks has supported commuting between urban and peri-urban areas across the entire region. Mobility services such as eHUBS and fast cycle routes are establishing a joint approach for changing mobility behaviour.
The session also explored the World Business Council for Sustainable Development's (WBCSD) corporate mobility pact, which is supporting cooperation between city officials and businesses to create tailored commuting practices for individual cities.
Want to know more about POLIS membership?

If you are interested in finding out more about our membership options, please contact Pasquale Cancellara.