31/03/2021
Urban Freight working group meets to discuss key issues for urban logistics
On Monday 29 March POLIS' Urban Freight Working Group convened to discuss the impact of Covid-19, Zero Emission Zones for freight and public-private partnerships within the logistics industry. The meeting was highly productive, with members- including POLIS latest member Ravenna, exchanging strategies and practices.  
The working group meets regularly to discuss challenges facing urban freight, bringing POLIS members together to share and debate sustainable solutions. These are flexible discussions, which aim to respond to members' needs and construct clear and open conversation and networking between cities, regions and private operators. 
Post-pandemic logistics: Distributing long-term solutions  
The pandemic has precipitated unprecedented requirements for e-commerce, accelerating the need for reliable and resilient distribution chains. This has hastened the emergence of a growing number of innovative solutions for last-mile logistics, from  
A year on from the introduction of lockdown measures across Europe, Working Group participants reflected on measures being taken, and how cities and regions must respond to the long-term changes Covid-19 has brought.  
This discussion was opened by Madrid, where a representative offered several insights from the capital's recent work. 
Zero-Emission Zones for freight (ZEZ-Fs): Tackling freight emissions 
 
Working group participants then moved on to discuss Zero-Emission Zones for freight (ZEZ-Fs). Later this month, POLIS is launching a new project, funded by Environmental Defense Fund Europe (EDF Europe), providing practical advice for city planners and other freight stakeholders in developing a vision and implementation pathway for the design and implementation of ZEZ-Fs.  
Urban freight produces an outsize share of air pollution and CO2 emissions, yet few cities and countries have developed a specific vision for zero-emission freight operations. As we strive to meet urgent emissions reduction targets, the sustainability of last mile logistics is a pressing concern. With vans representing 14% of NOx emissions from vehicles in cities, action is needed, fast. 
ZEZ-Fs present an effective policy solution; however, it is a complex process involving a range of stakeholders. Indeed, recent research from European Public Health Alliance (EPHA) identified Zero-Emissions zones as effective tools for improving air quality- with Low emissions zones in Lisbon, prompting PM and NO2 levels to drop by 23 and 12% respectively.  
This discussion presented an opportunity to hear from cities that have begun planning ZEZ-Fs, building on the How-to Guide on Zero-Emission Zones for Freight, a joint publication from POLIS, TDA and C40 which provided practical advice for developing such zonal planning.   
Delivering sustainability through public-private partnerships 
The meeting continued the topic of public-private partnerships. 
"It is important we have a shared understanding with the industry," reiterated Giacomo Lozzi, the Freight Working Group leader. 
To create durable and flexible solutions for freight, permanent and strategic dialogue between public and private mobility stakeholders is key. In 2018 POLIS (representing Cities & Regions) and ALICE (representing Industry) established an effective partnership to address urban freight-related challenges together.  
The meeting generated several highly productive discussions and POLIS looks forward to welcoming more members to participate in future dialogue on how cities and regions can use freight solutions to work towards urban sustainability goals. 
For any questions regarding the group please contact Giacomo Lozzi. 
POLIS working groups are open to our members. If you are interested in finding out more about our membership options, please contact Pasquale Cancellara.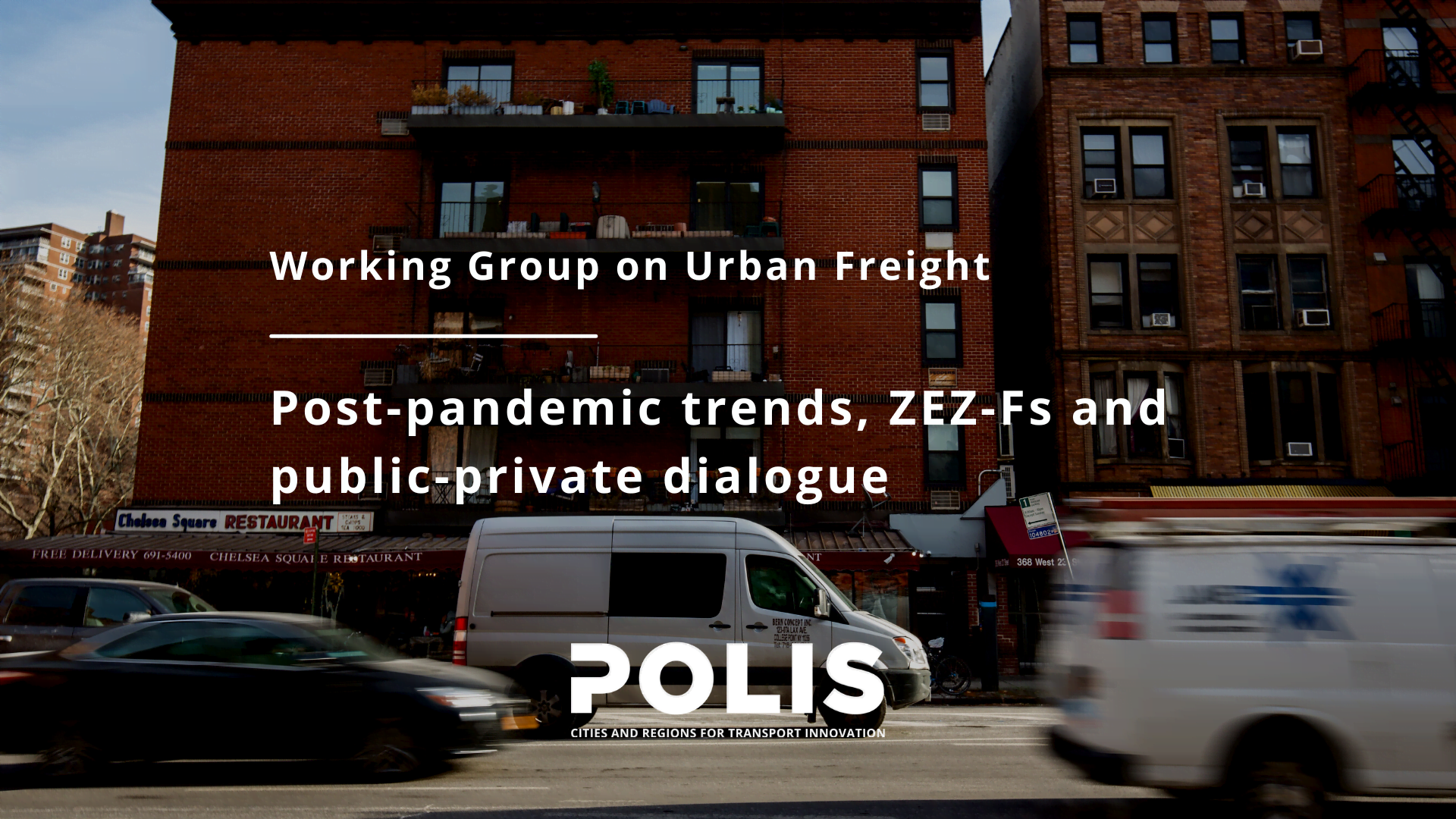 Topics
Staff member(s)