06/02/2023
Learn about Digital Twins and Urban Logistics in new e-course!
To facilitate experimentation and decision-making with on-demand logistics operations in a public-private urban setting, LEAD will develop Digital Twins of urban logistics networks in six cities.
As it draws closer to its conclusion, the LEAD project is launching a Massive Open Online Course (MOOC) to share its main findings on Digital Twin's potential to respond to the severe strain put on last-mile delivery systems by on-demand logistics.
LEAD is launching its shiny new Massive Open Online Course, open to all interested. It will launch on 23 February, 11:00-12:00 CET, with the goal of "Unlocking the potential of Digital Twins for sustainable on-demand urban logistics".
The course builds upon the results of the project's Living Labs to deliver a Digital Twinning Capacity Building Programme, with a first-of-its-kind focus on urban logistics, to improve the capabilities and skills of personnel of authorities and researchers on open-source tools and modelling for Digital Twins. The course will also provide a general introduction to urban freight, with a focus on on-demand and last-mile logistics.
The MOOC will be split into five different units spread out, over the course of a couple of months, with a break planned between Units 1-2 and Units 3-5. Students will have to complete all units to achieve course certification.
You can access the full programme for Units 1 and 2 here. 
Interested?
Sign up here to join the kick-off webinar on 23 February, 11:00 – 12:00 CET to learn more about what to expect from the e-course and each unit. The e-course is free of charge and will be hosted on the Mobility Academy platform. You can find instructions on how to register here and the registration link here.
In case of any questions, do not hesitate to contact Claudia Ribeiro or Raffaele Vergnani.
About LEAD
LEAD will create Digital Twins of urban logistics networks in six TEN-T urban nodes (Madrid, The Hague, Lyon, Budapest, Oslo, Porto), to support experimentation and decision-making with on-demand logistics operations in a public-private urban setting. City logistics solutions will be represented by a set of value case scenarios that address the requirements of the on-demand economy and the pressures caused by the increase in parcel deliveries while aligning competing interests and creating value for all different stakeholders. Each value case will combine a number of measures coined as LEAD Strategies to cover the complete dynamics and complexity of a city's logistics challenges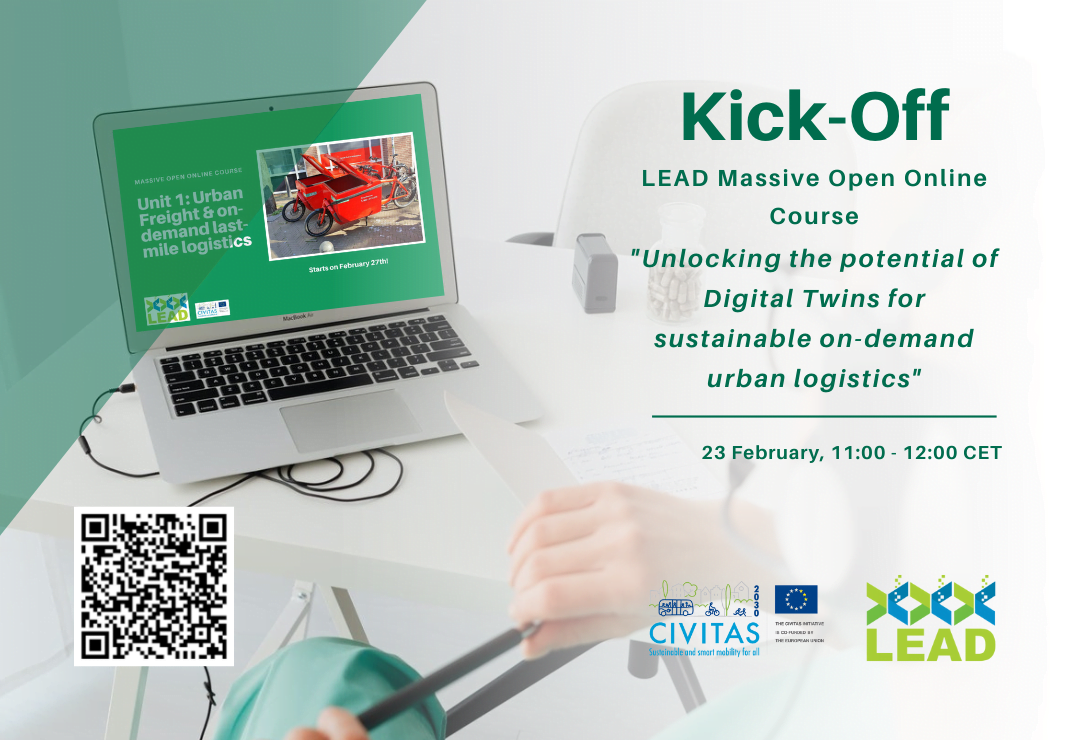 Topics
Staff member(s)