24/06/2022
POLIS x Pride 2022: Mind the queer public transport gap
Cities are striving to provide inclusive public transport for all. This cannot and will not be achieved without tackling gender and homophobic-based violence across our transit systems. While this is undoubtedly a major undertaking, POLIS members

—

and their peers

—

are proving real action is possible. 
Transport-related social exclusion has been studied in depth along the lines of race/ethnicity, disability, income, and age, yet sexual and gender-nonconforming identities remain largely under-explored.
However, thanks to multiple and frequent reports, the widespread discrimination against queer individuals in public transport is increasingly being put under the spotlight.
Indeed, Transport for London found that LGBTQIA+ passengers are three times more likely to encounter unsolicited sexual behaviour on London's public transport compared to heterosexual people.
Fear of violence and crime encountered on and around public transport is also a pivotal factor in the travel choices — or lack thereof — amongst the queer community, forcing them to limit their options and apply self-policing behaviours; this inevitably makes queer people pay hidden costs to travel safely.
Safe public transport - a case for POLIS members
However, change is afoot — and we dont just mean the rainbow coloured crossings (nice though they are!). Local authorities are rethinking public transport in more inclusive ways and including a queer perspective in the process; and we are proud to see our members leading the way.
Barcelona
In 2021, Transports Metropolitans de Barcelona (TMB), the main public transport operator in Barcelona — a city that, as mentioned in our article on queering urban space, has already a wide range of policies and strategies for placing diversity front and centre — launched an awareness campaign on LGBTQIA+phobia on the metro and bus network with the collaboration of the Observatory Against Homophobia.
Alongside the launch of the campaign, authorities announced a specific protocol for combating LGBTQIA+phobia on the TMB network to complement the existing code to combat sexual harassment that has been in place since March 2021. Notable recommendations and measures to be implemented by the company according to the protocol included the development of awareness campaigns, the creation of a specific channel for complaints and customer support, and a boost to information and training on prevention, detection and protection against LGBTQIA+phobia aimed at those in direct contact with users.
Moreover, authorities have been working on employing video surveillance inside metro carriages and buses to strengthen the perception of security and discourage discriminatory behaviours, as well as improving lighting in foyers, platforms and corridors, and ensuring visibility at bus stops.
Berlin
Berlin, another forward-thinking city on all things diversity and inclusivity, offers, along with the cities of Vienna and Cologne, a QueerCityPass — a tourist ticket for lesbian, gay, bi, trans and queer visitors that allows combined access to public transport and worthwhile discounts for queer bars, clubs, cultural events, and sightseeing hotspots.
Moreover, the Senate Department for Justice, Diversity and Anti-Discrimination has been actively working in helping and supporting LGBTQIA+ people facing discrimination by providing an effective reporting system for homophobic and transphobic violence in many areas of everyday life — transport included.
Other initiatives, such as the Berliner Register, a website that tracks discriminatory attacks in the city, help with collecting and publishing citizens' reports (trigger warning: a selection of the reports concerning LGBTQIA+ discrimination on and around buses and rail is available here and here) that can be used by local decision-makers to develop measures and take targeted actions against discrimination and exclusion.
Dublin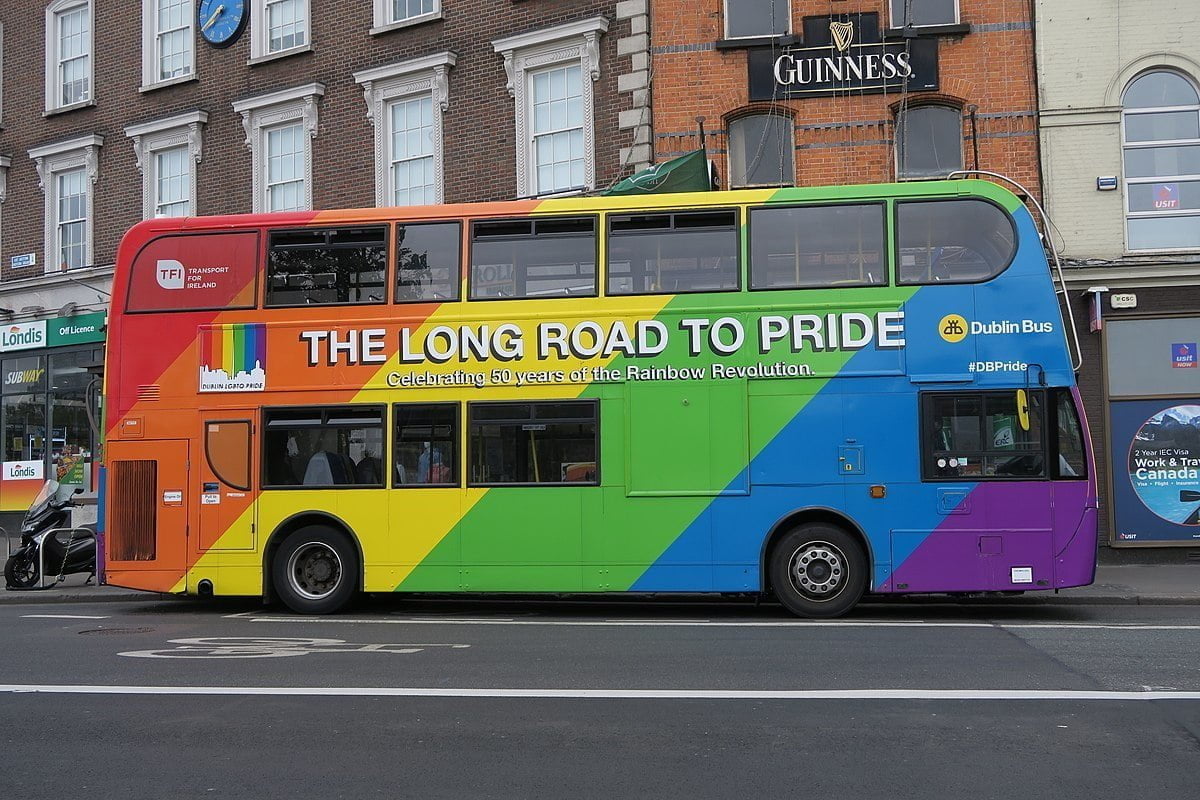 In 2017, Dublin Bus collaborated with TENI (Transgender Equality Network Ireland) to develop their Workplace Gender Transition Policy and Guidelines. Over the past few years, it also teamed up with numerous associations to release multiple videos featuring a variety of queer voices and taking action to support the community. Among their exciting initiatives, there were, for example, "Proud Dads"  and "The Long Road to Pride".
Part of Dublin Bus' championship of diversity and proof of their continuous support for the Pride Festival in Dublin (for more than 10 years the company has provided an open top tour bus for the event), the Proud Dads initiative saw Dublin Bus supplying tour buses to give dads of queer individuals a platform to actively support pride and their children.
The campaign The Long Road To Pride paired elderly LGBTQIA+ people travelling to their first Pride event with younger members of the community who shared either origins, jobs or life experiences with them: together, they attended Dublin's Pride Festival in 2019. The initiative aimed to put a spotlight on senior LGBTQIA+ who, despite their crucial role in the queer liberation movement, are often forgotten and have likely become disconnected from the community.
London
Transport for London (TfL) has been actively making public transport safe and inclusive for all — starting within their own ranks with the creation of the OUTbound, a staff network group for the LGBTQIA+ community. TfL's diversity and inclusion action plans also address the full range of issues facing LGBTQIA+ passengers, including waiting at stations — a crucial and problematic issue for both women and LGBTQIA+ individuals.
In 2021, 10 Pride roundels designed by staff and notable members of the LGBTQIA+ London Community were installed across the Tube. The roundels featured uplifting slogans, vibrant colours, and depictions of the London LGBTQIA+ community.
Last but not least, TfL's commitment was furtherly proved when they banned adverts from 11 countries with poor human rights records concerning LGBTQIA+ people. 
Vienna
Since 2001, Vienna trams have been decorated with rainbow flags. The goal? To increase the visibility of the LGBTQIA+ community in public spaces! Wiener Linien has supported Pride for many years as a cooperation partner and active participant on their social media channels with the hashtag #weridewithpride.  
"For Wiener Linien, diversity and tolerance are core values and part of everyday life. That is why we have been supporting Pride for many years. We are pleased to be a partner and to be able to send an important signal of solidarity," emphasises Alexandra Reinagl, Managing Director of Wiener Linien.
Less public transport-related but still worth mentioning, Vienna's same-sex couples' pedestrian lights have represented a popular statement on equality since their appearance in 2015 — a legacy of the 60th edition of the Eurovision Song Contest that was held in Vienna's Stadthalle following the win of trailblazing queer icon Conchita Wurst.
As well as their value as a subtle yet powerful declaration of love for the community, these special pedestrian lights have improved road safety even more than normal lights apparently ever did. Indeed, a study revealed that fewer people would cross the road at red when the lights feature the couples, rather than the usual single man.
More cities leading (and 

queering

) the way
Other cities across the world are also taking on compelling initiatives.
In the UK, Bristol recently launched a brand-new Pride Bus, sporting a livery decorated with the 'Progress' pride flag and the phrase "Love Wins"; Birmingham, on the other hand, has been participating in Pride with their buses since 2012.
In Australia, the state of Victoria created an LGBTQIA+ Strategy outlining their plan to advance equality for LGBTQIA+ communities over the next 10 years — with an action plan directed towards transportation. On the other hand, Melbourne is committed to delivering LGBTQIA+ Cultural Safety in Public Transport training frontline workforce. 
What happens next?
Pride parades and parties in Brussels, Vienna, Groningen and other cities, exhibit how both capitals and smaller municipalities are celebrating, not just merely tolerating their queer communities.
However, it is important to not remember how long the road to equality and safety for all still is.
Across Europe — and indeed the globe — public transport remains a site of fear and exclusion for many queer individuals; while it is indeed a time to celebrate cities' successes, we cannot afford to be complacent: as Pride month draws to a close, we must continue to work together to make urban mobility more inclusive for everybody.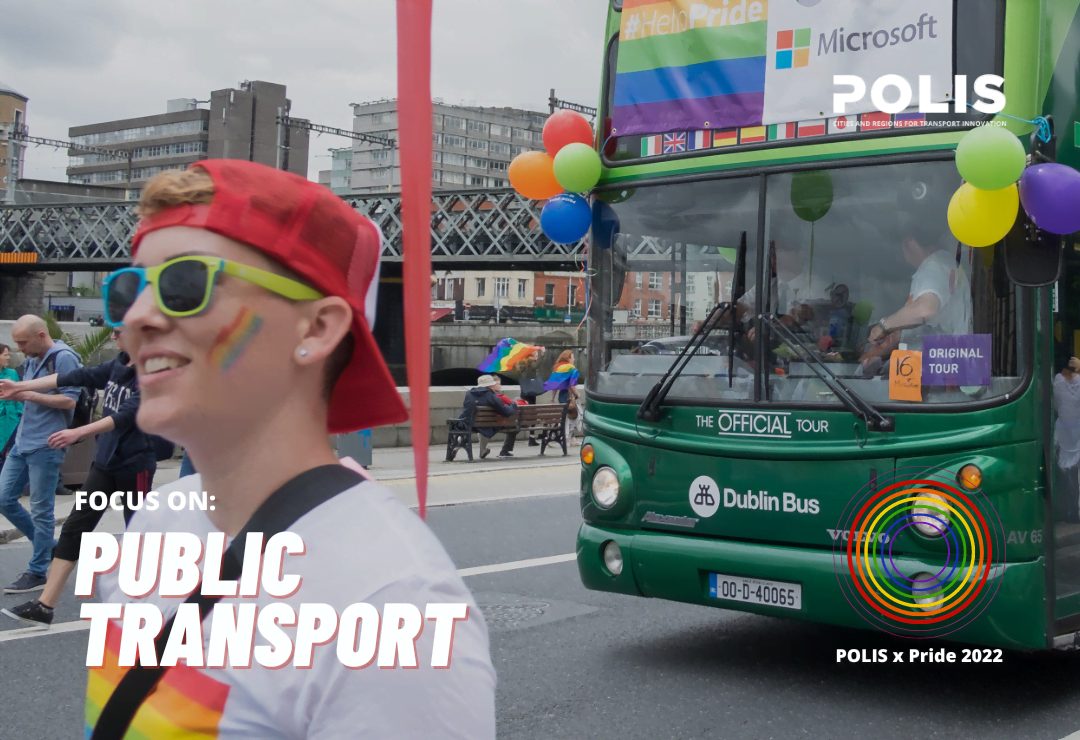 Topics
Staff member(s)