2023 Annual POLIS Conference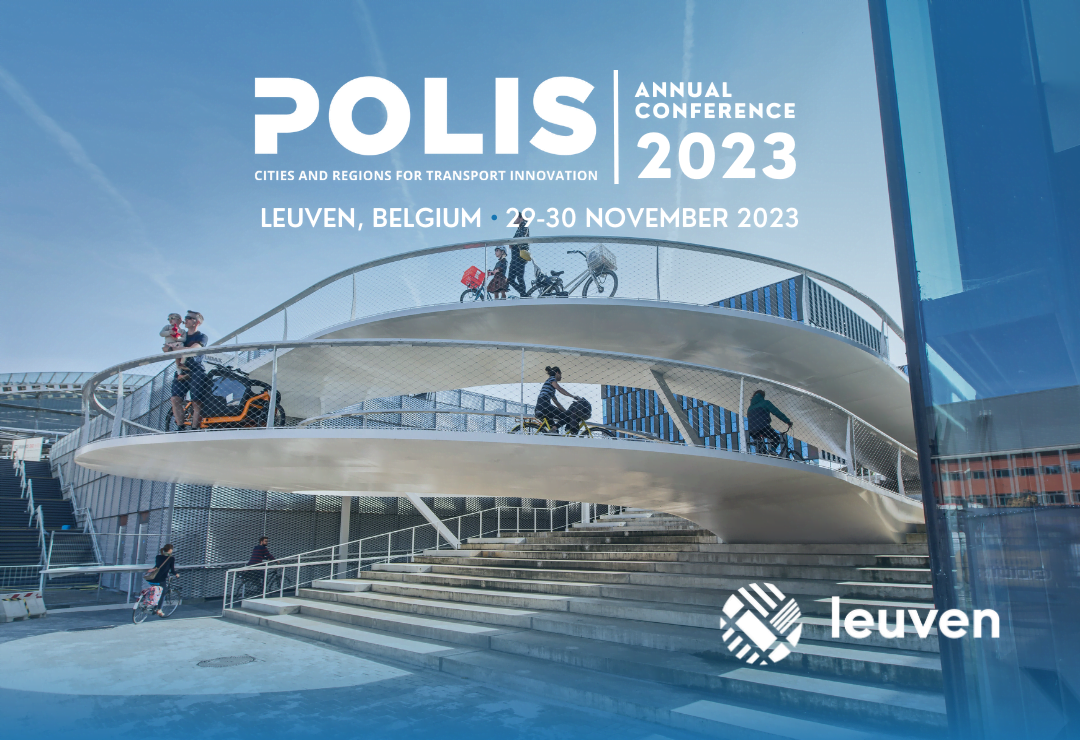 Frequently Asked Questions
Where and what can I find in the programme?
Our programme is available here. In it, you will find our complete and updated agenda for the 29 and 30 November, as well as information about venues, transport options, and accommodations.
Will bike rentals be available?
All participants will be able to rent a bike at a reduced price for 28, 29, and 30 November. The costs for renting a bike will be 15 EUR for a traditional bike and 25 EUR for an e-bike.
How will we reach the venue of the Conference from Leuven?
All conference participants will be offered a free direct bus shuttle service from Leuven's railway station to Brabanthal, the conference venue, throughout the conference.
Are there available accommodations?
You can book your stay for #POLIS23 using the booking link provided by our partner RoomTrust. Alternatively, you may use the following Visit Leuven's resources: Hotels & similar accommodation, B&Bs & guesthouses, Hostels, Holiday rental, and Group accommodation.
I am a POLIS member

— can I participate for free?
Only 3 of your representatives can participate for free — anyone else joining should pay EUR 310 before 30 September (early bird rate deadline) and EUR 410 after!
I am a journalist

— are there Media tickets?
Journalists can join the POLIS Conference for free as long as they provide a copy of their press card or proof of profession to Alexia at acollignon@polisnetwork.eu.
I am a student

— can I join the conference

?
The Annual POLIS Conference is for everyone, and if you are an undergraduate student, you can benefit from our special student ticket rate (EUR 75). Send your student card to Alexia at acollignon@polisnetwork.eu!
How can I become one of your Sponsors?
Our Sponsorship package is available here. For further questions, please contact Alexia at acollignon@polisnetwork.eu.
I'd like to be kept in the loop on all things #POLIS23?
If you wish to receive updates about the conference directly in your inbox, contact Alessia at agiorgiutti@polisnetwork.eu.
Where is the #POLIS23 Style Guide?
You can find the POLIS and #POLIS23 Style Guide here. For inquiries about the Annual POLIS Conference Media kit  and communications, contact Alessia at agiorgiutti@polisnetwork.eu.
Capacity: 60 (4 groups)
Duration: 2,5 hours
Organised by: Mobility and Public Works departments, City of Leuven
In 2016, Leuven rolled out an ambitious traffic circulation plan in the city centre, in combination with an impressive upgrade of its public space. This resulted in an increase of cycling in the urban core from 34% to 48% of all trips. This tour will show you Leuven's complete makeover of urban space, with both temporary and permanent measures for traffic circulation. It focuses on the Leuven approach to reallocating space in favour of sustainable transport modes (walking, cycling, public transport) with traffic safety through traffic calming as a cornerstone.

Capacity: 20
Duration: 2,5 hours
Organised by: Mobility Department, City of Leuven
In the cycling city of Leuven, the basis for more cycle use is increasing bicycle ownership. A diverse range of high-quality bicycle parking facilities supports this goal and will be visited on this tour. Leuven also offers high-quality (e-)shared mobility services, including carsharing, cargo bike sharing and bike sharing, at more than 40 mobility hubs (Hoppin Points) all over the city.

Capacity: 40 (2 groups)
Duration: 2,5 hours
Organised by: Province of Flemish Brabant
Leuven is located in the heart of the cycle highway network in Flanders, with connections to all surrounding cities. Together with the province of Flemish Brabant, the city is developing cycle highways to form the backbone of the cycle network in and around the city. During a bike ride along the F24 cycle highway, you will experience top-quality cycling infrastructure and witness the integration of a cycle highway in an urban environment. Cycle tunnels, cycle bridges and cycle streets connect infrastructure along the railways, bringing cyclists straight to the heart of the city.

Capacity: 40 (2 groups)
Duration: 2,5 hours
Organised by: The New Drive
This technical visit will take you on a discovery tour around Leuven's station area. Using a serious game, you will get to know MaaS and (shared) mobility in Leuven in a smooth and accessible way. The Mobility Safari gives you the chance, with a specially compiled toolbox with maps and apps, to 'hunt' for different types of shared mobility: spot them, use them and photograph them! There are also missions concerning other mobility solutions. How does bicycle parking work? How do you buy tickets?… The aim is to observe, feel and use the MaaS ecosystem.

Capacity: 40 (2 groups)
Duration: 2,5 hours
Organised by: Mobiel 21, Telraam.net, Transport & Mobility Leuven
During this walk or bike tour, locals will guide you through the bustling city of Leuven. You'll encounter state-of-the-art infrastructure for cyclists and pedestrians. You'll interact with citizen scientists who count traffic in their street and meet novices who are taking their first cycling classes. You'll discover how Leuven, through technology, infrastructure and social programmes, embraces sustainable mobility and turns climate ambitions into action. Join us to get inspired!

Capacity: 40 (2 groups)
Duration: 2,5 hours
Organised by: Mobility Department, City of Leuven, Cargovelo, Ninatrans
This visit will show which initiatives are running and in the pipeline to consolidate and green urban city logistics. This includes  Leuven's Ecozone, the parcel lockers at MobiHubs, the city distribution centre CityDepot, future dynamic access control and flex curb management initiatives, and Stella Artois brewery's green logistics interventions.

Capacity: 45 (3 groups)
Duration: 2,5 hours
Organised by: Departments of Neighbourhood Development and Public Works, City of Leuven
The city of Leuven is running a citizens engagement programme 'Kom op voor je Wijk', in which citizens are guided through a co-creation process. When redeveloping urban space, we also try to make room for nature-based solutions in relation to mobility interventions. In the Constantin Meunierstraat, a temporary installation is testing what implications mobility changes can have for the neighbourhood, whilst making room for green spaces. During this tour, you will explore various realised (temporary) redesigns of streets and squares as a prelude to the future.

Capacity: 45 (3 groups)
Duration: 2,5 hours
Organised by: Urban Planning and Sustainability Department, City of Leuven
Sustainable urban development in Leuven is visible throughout the city. This technical visit will take you on a walk through the lower town. The area is an old industrial site that over the last two decades has been transformed into a residential district, paying particular attention to sustainable mobility, energy, greening, biodiversity, etc.

Capacity: 100
Duration: 1,5 hours
Leuven has all the vibes of a big city diverse and creative, trendy and full of life, with a world-renowned history and university. But Leuven is also pleasantly small. This makes it really easy to explore the city on foot and experience it to the fullest. This tour will take you along the must-see highlights of the historic city centre, not only including the fairy-tale city hall, but also many other gems and hidden corners.

Capacity: 25
Duration: 2 hours
Leuven is completely intertwined with beer given its numerous pubs and cosy restaurants, as well as local breweries. Beer connoisseurs will take you on a unique beer walking tour etc., including some local beer tasting. As a beer enthusiast, you will not be left thirsty in Leuven.

Capacity: 30
Duration: 2 hours
The M Museum Leuven is hosting a major international retrospective exhibition starring Dieric Bouts. Never before have so many works by this Flemish Master been brought together in his hometown. What's more, you get a whole new perspective on an oeuvre of over five centuries old through a radical encounter with today's visual culture. Guided tour.

Capacity: 60
Duration: 2 hours
Stella Artois is part of the world's largest brewery concern, AB InBev, and is still firmly rooted in its home base Leuven. Take part in the new interactive guided tour, experience the brewery in action, and enjoy a tasteful Stella Artois after your visit. In short, experience beer in its purest form!