28/02/2023
POLIS launches Calls for Speakers and Sponsors for the Annual POLIS Conference 2023
POLIS is calling for dynamic Speakers and Sponsors to join the Annual POLIS Conference 2023, which will take place on 29 and 30 November 2023 in Leuven, Belgium.
Do not miss your chance to actively participate in Europe's leading event on sustainable urban mobility in cities and regions: read below how to submit an abstract or become our Sponsor!
CALL FOR SPEAKERS: Submit an abstract by 28 April!
The Call for Speakers for the Annual POLIS Conference 2023 is officially open!
If you are interested in speaking at our Conference, all you have to do is pick one of our 50 priority topics and submit your abstract by 28 April 2023.
We are looking for dynamic speakers to share their insights on the latest trends and developments in urban transport innovation. Whether you're a seasoned professional or a rising mobility star, the Annual POLIS Conference is the perfect platform to tell your mobility story and connect with like-minded individuals!
Highlight the innovative dimension of your work in upscaling e-mobility, share the results of your research on digital multimodal platforms, present the lessons you have learned in reducing speed, promote your just and accessible mobility actions, tell us how you are radically reallocating space, and more!
Mix current practices with cutting-edge innovation, and bring up ambitious plans from cities and regions, urban transport research, and the industry — do so by using both traditional and less-known session formats: the bolder, the better!
CALL FOR SPONSORS AND EXHIBITORS: Pick one of our 12 packages!
Enhance the visibility of your organisation or initiative through one of our 12 Sponsorship and Exhibition packages: our Call for Sponsors and Exhibitors is now open - check it out and download our Sponsorship form to apply, too!
We are happy to accommodate individual needs and develop a tailored sponsorship package that meets your expectations: do not hesitate to contact our Event Manager Alexia Collignon (acollignon@polisnetwork.eu) to find your perfect match!
Do not miss the opportunity to meet 900 key stakeholders involved in smart, innovative, and sustainable transport solutions in cities and regions.
View our Call for Sponsors and Exhibitors
Next steps
Abstracts for the Conference should be submitted by 28 April 2023
Registrations will open in June 2023
Diamond and Platinum Sponsors that want to be featured in the third issue of the POLIS magazine Cities in motion (November 2023) should finalise their Sponsorship deal before 1 September 2023
For an overview of other important dates, please check the timeline below: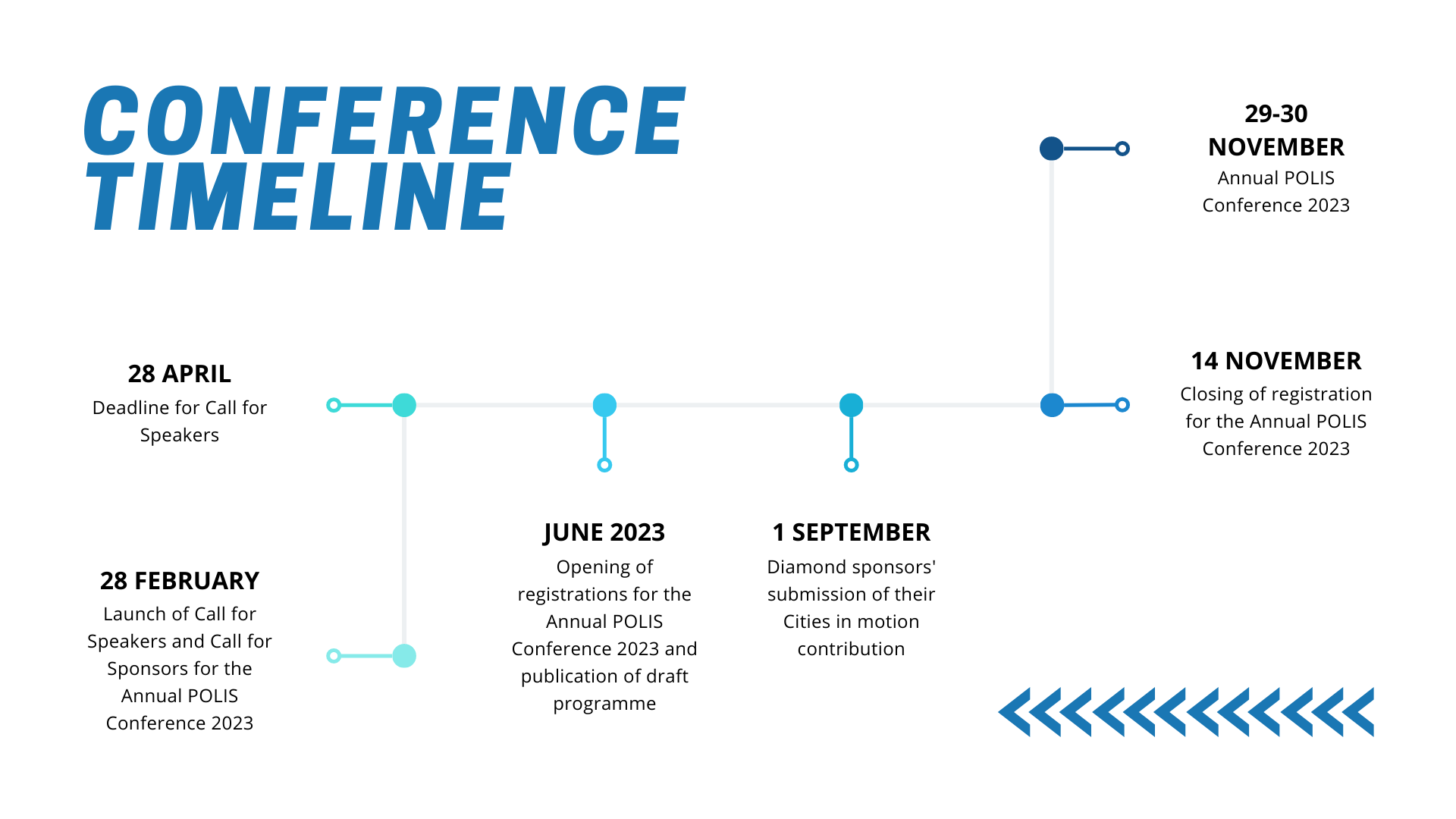 To find more information about the upcoming Annual POLIS Conference 2023, please check the official page of the event.