2021 - 2022
Ride2Autonomy
Automation: an essential part of future transport development.
Running from April 2021 until November 2022, Ride2Autonomy is an EU-funded project demonstrating autonomous shuttles' integration into the transport system in ten EU cities. The variety in approach and context allows the project to analyse the system
performance because of safety and environmental impact and its multimodal integration with the transport network. The individual and public response and the socio-economic potential of the services are also looked at. Ride2Autonomy helps develop new mobility concepts for passengers leading to healthier, safer, more accessible, sustainable, cost-effective, and demand-responsive transport. 
The "Scalable Model" toolbox provides a set of blueprints and recommendations to support any town or city in this undertaking. Ride2Autonomy aims at harmonising research and innovation efforts around automated shuttle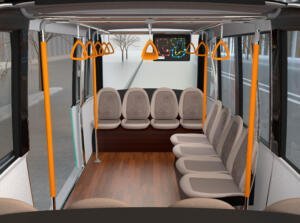 solutions. It collects lessons learned from the pilot sites and other sites expressing willingness to exchange knowledge and lessons learned. To establish these key deliverables, Ride2Autonomy involves partners of three major shuttle demonstration projects: SHOW, FABULOS, and ART-Forum, and their demonstration sites. 
The Project Partners are Rupprecht Consult (coordinator), LuxMobility, MAPtm, Future Mobility Network, ERTICO, UITP, European Passengers' Federation, Forum Virium, Ubiwhere, Aveiro Municipality (PT), Instituto de Telecomunicações, Pendel Mobility, Sales-Lentz, HITRANS, Department of Engineering, University of Modena and Reggio Emilia (UNIMORE), VTT Technical Research Centre of Finland, Sensible 4 Business Tampere, Modern Mobility, Institute of Communication and Computer Systems (ICCS), Navya, and POLIS.
There are ten pilot cities involved: Esch (LU), Contern (LU), Pfaffenthal (LU), Aveiro (PT), Barcelona (ES), Inverness (UK), Trikala (EL), Tartu (EE), Reggio Emilia (IT), and Tampere (FI). 
On 17 November 2022, the Ride2Autonomy Final Conference will be held in Lisbon (PT) and online. More information about the event can be found here.
You can read theRide2Autonomy Final Conference's draft agenda HERE.
For further information, please contact Ivo Cré, Mark Meyer and Emiliya Kamenova.