09/09/2021
POLIS & members at the EU Week of Regions and Cities
POLIS and our members join the 19th EU Week of Regions and Cities (EWRC) to discuss the leading challenges for urban mobility- and more!
When: October 11-14, 2021
The EU Week of Regions and Cities returns this year, with a hard-hitting agenda traversing the leading challenges for Europe's shift to a sustainable future and opportunities for achieving climate goals. Now into its 19th Edition, the event brings together policy makers, academics, NGOs and other experts to present a range of innovative approaches to sustainable urban mobility, public space, digitisation and more!
Taking its theme, "Together for recovery", this year's programme is focused on the capacity of the EU and of national and regional governments to support European citizens and their local communities with practical measures and public policies aimed at investing in a fairer, greener and more digital future for recovery.
POLIS and many members will be participating in the program. Here is what you can look forward to…
Regions and Urban Nodes contributing to the European Year of Rail
Wednesday October 13 9.30 – 11.00 AM
As train travel begins to rebound from pandemic induced challenges, POLIS member regions lay the tracks for a rail renaissance.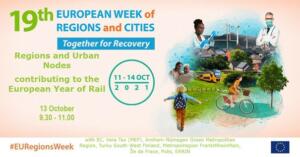 Unless action is taken, transport risks becoming an even larger source of GHG emissions, jeopardising the EU's ability to meet its overall objectives set out in the Green Deal. Regions & urban nodes tackle this challenge by facilitating more long ánd short-distance train travel. This is a challenge POLIS has been working closely on with its members.
This workshop will discuss best practices on stronger links between regional urbanisation and (inter)national transport, and potential EU support actions and policies.
Hear from POLIS members, Green Metropolitan Region Arnhem-Nijmegen, Metropolitan Region FrankfurtRheinMain, Ile-de-France and others about the central role  regions and urban nodes can- and must- play in the shift to sustainable mobility.
More information and registration here.
Local Digital Twins: Forging the cities of tomorrow
Wednesday, October 13, 4:30- 6:00 PM
As freight expands at rapid speed, new solutions are required to support demand while keeping cities and regions on the path to climate goals. POLIS and our members share some rather innovative solutions
City managers and policy-makers face challenges in delivering effective urban change due to the complex nature of city processes and systems. Local Digital Twins (LDTs) disrupt siloed policy-making by enabling systemic impact exploration of and experimentation with new ideas across virtual replicas of cities and regions.
This is a concept POLIS Urban Freight working group and associated projects have been working on, forging collaboration between local authorities and industry stakeholders.
Join POLIS colleagues Claudia Ribero, EMT Madrid and others to discuss experiences implementing this concept and how others can follow suit.
More information and registration here.
Co-learning for mobility co-planning
Tuesday, October 12, 4:30- 6:00 PM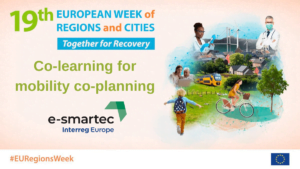 One of the main principles of successful and acceptable SUMPs is the active involvement of citizens. Placing citizens close to the decision makers of their cities gives them the floor and strengthens confidence in decisions, while at the same time contributing to the generation of ownership. In this participatory lab, the e-smartec project presents tailored guidelines on citizens' engagement.
More information and registration here.
Citizen science - tools to achieve a real impact on policy-making
Tuesday, October 12, 2:30 - 4:00 PM
The WeCount project is organising a workshop to present their findings and the most successful strategies to engage citizens in the transition to green smart cities.
this workshop will present key outcomes and lessons learned from projects that have successfully responded to H2020 calls on improving air quality and urban mobility in European cities and reducing their carbon footprint, by enhancing citizen engagement.
More information and registration here.
Promoting soft mobility in the Mediterranean: towards more sustainable mobility systems
Thursday, October 14, 11:00 AM - 12:00 PM
The Urban Transports Community will unveil policy recommendations for the implementation of soft mobility in the Mediterranean and will showcase the results of a successful project to replicate soft mobility solutions in the Mediterranean through a mentoring process.
It is time for cities and regions to double down on their investment in soft mobility as the key to more sustainable and resilient mobility. We will show how pioneers in the Mediterranean are doing it.
More information and registration here.
You may also like…
Public transport as a driver of the energy transition in the transport sector
Tuesday, October 12, 2021 2:30 - 4:00 PM
Panelists present responses to how public transport can actively contribute to increasing the share of renewable energy in electric public transport operations- examining planning strategies and the pilot results of the Interreg CE EfficienCE project, and provide policy recommendations.
More here
Boosting hydrogen-electric mobility
Wednesday, October 13, 4:30- 6:00 PM
The workshop will present interim results from relevant feasibility studies, interregional cooperation, exchanges of experience, capacity building and policy development in hydrogen-electric mobility. Find out more about how POLIS has also been working on this topic!
More here
How can "public innovation labs" contribute to post-crisis resilience and the green transition?
Wednesday, October 13, 9:30-11:00 AM
POLIS member, Lille Metropole joins the panel to explore their experiences using "public innovation labs" based on design or user-centric methods: co-designing with citizens, experimenting, prototyping, testing and many other forms of innovation.
More here
Smaller and Medium-sized Cities (SMCs) - Challenges and solutions to scaling up the digital transformation
Monday, October 11, 4:30- 6:00 PM
This event will look at the specific challenges and opportunities of digitalisation in smaller and medium-sized cities, focusing on the concept of interoperability as a means of accelerating digital service delivery and creating positive spill-over effects for the broader economy. Find out more about POLIS' own work with our SMC members.
More here
See the full agenda HERE.
Topics
Staff member(s)