Final Neighbourhood Projects Event: Towards sustainable mobility – one neighbourhood at a time
How can co-creation at the neighbourhood level help reshape urban development across Europe?
This webinar will showcase the processes and results of four European projects working towards better mobility solutions with people in their neighbourhoods. The four projects SUNRISE, Cities-4-People, Looper, Metamorphosis brought back the city to their citizens. In 21 locations across Europe and beyond, local residents, stakeholders and public authorities re-assessed and re-imagined their immediate surroundings with the guidance and support of the project teams. All this was done in the spirit of co-creation and participation. This webinar will also function as the final and joint event for the four neighbourhood Projects. 
The webinar was moderated by Meia Wippoo from Waag.
Featured speakers were:
Andrea Arcelli (INEA)
Meia Wippoo (Waag)
Ivo Cré (POLIS)
Luana Bidasca (DG MOVE)
View the recording here
During the webinar there will be five different break-out sessions where participants can join:
Level the playing field and invest in citizen participation. Moderator: Imre Keseru – Vrije Universiteit Brussel (VUB)
The benefits of the neighbourhood level, co-creation, participation and education. Moderator: Kristin Tovaas - Rupprecht Consult
Ensure diversity, inclusivity and allow experiments in communities. Moderator: Susanne Wrighton - Austrian Mobility Research, FGM-AMOR
Look at the big picture and be where the people are. Moderator Graham Stanley - Oxfordshire County Council
Manage expectations - evaluate and value the interpersonal and social results. Moderator: Joe Ravetz - University of Manchester
Follow-on event:
You are invited to the follow-on event LO-CO-GOV-3.0 together with the book launch for Deeper-City  on 20 October at 17:00. Many voted to 'take back control' – but what and where is this control?
The Synergistic Conversations explore in-depth the potential for 'collective local intelligence' (an event in association with the LOOPER project). For further details, please visit this page.
About the projects:
Cities-4-People, METAMORPHOSIS and SUNRISE are all projects under the CIVITAS Initiative.
SUNRISE project (Sustainable Urban Neighbourhoods – Research and Implementation Support in Europe) aims at developing new tools to facilitate collaborative ways to address mobility challenges at the neighbourhood level. Six action neighbourhoods will be equipped and empowered to broaden the range of options for the inhabitants, beyond conventional mobility and transport solutions.
Cities-4-People is an H2020 project revolving around sustainable and people-oriented transport as a solution to the many challenges linked to mobility and faced by urban and peri-urban areas today. Aiming to implement mobility solutions developed by the people for the people, Cities-4-People taps into participatory practices of social innovation and neighbourhood governance and builds on three main pillars:
LOOPER Living Labs serve as new models for experimental design and innovation at the urban and community level. They can address practical problems such as air quality, road safety, noise, crime or greenspace. The Living Labs are based on the involvement of stakeholders, continuous monitoring of changes and direct consideration of their impact on the implementation process. There are Living Labs in Brussels, Manchester and Verona.
Metamorphosis aims to transform neighbourhoods with a focus on children. Metamorphosis starts from the premise that when a neighbourhood has many children on its public spaces, this is a major indicator that it is well designed as a sustainable neighbourhood. The word sustainability itself is already inseparably combined with children as it implicates "designed for the next generations".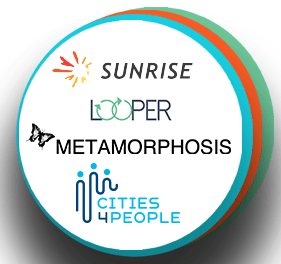 Topics
Staff member(s)