The end of free floating?
17/02/2021
The end of free floating?
Shared micromobility services are more popular than ever. However, operators still face a number of challenges when it comes to local safety regulations.

Alexandre Gauquelin

,

Sebastian Schlebusch

and

Matthieu Faure

examine how one company is working with local authorities to promote smart parking and riding, enhancing user experience and integrating micromobility into the urban landscape.
Current shared micromobility services were born from the Chinese bike-share wave that landed in Western countries in 2017.
Ofo and Mobike scaled up the free-floating model, disrupting the established public bike-share industry. The e-scooter sharing wave shortly followed in 2018, highlighting the immense potential of shared micromobility services. When thousands of e-scooters were launched in major Western cities, the vehicles were quickly adopted by a large number of users across European cities.
However, the rapid adoption of the 'free-floating' model came with a few problems. While riders gave a big thumbs-up to the door-to-door model, non-riders were riled by bad parking and riding behaviours, while both local authorities and operators were not quite prepared for the number of e-scooter riders that took to the streets. There was also a worrying lack of feedback about shared e-scooter usage patterns and habits, leaving the new market largely unregulated.
In the last few years, the situation has dramatically improved. As research expanded, authorities and operators started collaborating to supervise usage and operation. Authorities established 'codes of conduct' for operators, such as those instituted by Paris City Council, and set fleet caps to control the number of vehicles in use.
Although these were much needed, they limited the efficiency of services. Meanwhile, operators, including Dott, enhanced their apps, adding rider education features or incentives for good riding and parking behaviour, in an effort to promote more diligent use. In France, Italy and Spain, cities are now taking the lead in shared micromobility management. Licenses are now required to operate in more places and authorities are using this process to promote environmental and socially responsible practices as well as incentivize high-quality operations that include parking and riding management.
Dott's experience in Paris, where a holistic parking strategy has been implemented, highlights the impact of these measures.
The rise of smart parking
In response to high – and rising – demand for micromobility, the Paris City Council established 2.500 dedicated parking bays (with an average of six spaces per bay) across the city, reallocating public space from cars to micromobility. Those parking bays can host the 15,000 e-scooters allowed by approved licenses and are funded through the 50€/scooter/year fee collected by the City Council. This scheme reveals, an obvious solution to the problem of bad parking behaviour is... simply to offer sufficient appropriate space.
Parking bays are also a way for authorities to support and promote intermodal trips. According to a 6t study, 17% of all shared e-scooter trips taken in Paris are made in combination with public transport. Creating shared micromobility hubs close to bus, metro or train stations enables better parking and vehicle availability, which in turn encourages intermodality. Shared micromobility is becoming an important part of the public transport network and is also able to extend capacity during peak hours, as recent data from Lyon highlights.
Free-Floating – the future

Short-term free-floating rentals allow you to rent a vehicle (car, moped, bicycle, scooter) without a reservation, by picking it up and dropping it off where you want and paying only for the length and trip mileage (for cars) of your rental. And all this can be done using only your smartphone. It's therefore a self-service way of renting without needing a docking station: drivers are no longer restricted to making roundtrips or one-leg routes, offering them complete freedom and flexibility.
For users to accept a reduction in door-to-door benefits, the parking bays' density has to be high. While 90% of the users agree to walk for up to two minutes to their vehicle, only 50% are prepared to walk for up to five minutes! The 2,500 parking bays in Paris require users to walk only 102 meters, or 1 minute on average, to find the nearest vehicle. In comparison, the successful Vélib' bike-share scheme only has 1.000 stations in inner Paris.
In France, the recent LOM (loi d'orientation des mobilités or, in English, Mobility Orientation Law) encouraged local authorities to transform car parking spaces located near pedestrian crossings or crossroads. Allocating this space to shared micromobility hubs instead improves both pedestrian safety and also the visibility of shared micromobility services.
For now, the bays contain painted boxes featuring a scooter symbol to help with identification; as hardware has evolved to offer better stability with improved kickstands, it's not necessary to provide racks or other kinds of street furnishings. This makes the global investment required lower and offers more flexibility in terms of the locations of the bays.
Nonetheless, changes in parking behaviour must be supported by the operators for full user compliance. In addition to educational in-app features, Dott chose to adopt a mandatory in-bay parking policy, if users in Paris park outside a bay, they will be charged 10€. Enforcement is done through a photo of the parked vehicle in case of any doubts, which helps to compensate for the lack of accuracy of GPS systems. If we compare this with a competitor's incentives policy in Oslo, results show stricter policies lead to improvements in parking.
Dott's goal is clear: every single trip must end in a designated parking bay. And the company is on the right track: the rate of incorrect parking behaviour reported in Paris dropped from 65% in Spring 2019, to 29% in Autumn 2019 (both figures from 6t studies) and Dott's own investigation revealed this to be only 3% in Autumn 2020. Interestingly, this correlates with the development phases of e-scooter sharing in France and exhibits the hugely positive impact of implementing designated parking bays.
Smartening up your act
E-scooters not only have an impact on the urban landscape when parked, but also when ridden. Thanks to increasingly precise geofencing technologies, operators can implement no-riding, no-parking, or low-speed zones. The vehicle, the user's smartphone, and the operational software interact to adapt information on the riding or parking rules according to their location, taking into consideration everyone's needs for a good cohabitation of the different modes of transportation.
Dott is working closely with the Paris City Council to design these zones that are instantly updated. Being able to update these zones allows for high flexibility to adapt to the life of the city, such as when live events or demonstrations are taking place. For example, authorities can request that a no-riding zone is set up in an area where there is due to be a protest, while operators can easily organise a demonstration in a neighbouring city. Smart riding also means safe riding.
An established cycling infrastructure is a requirement for safe e-scooter riding, as feeling unsafe while riding is a major barrier to usage. It's worth noting that during the pandemic, infrastructure development has sped up, making riders feel safer – incidences of feeling unsafe have reduced from 54% in April 2019 to 9% in July 2020 (Dott data). Dott is already working on different in-app educative features and incentives to encourage riders into cycle lanes so that these improvements can continue.
Vehicles will also play a role in smart riding. In its next-generation e-scooter, Dott will add embedded navigation. This means that the rider will be able to reach their destination using the safest route, without having to check their smartphone and let go of the handlebar. This is a huge step forward in safely navigating busy streets.
Dott, a sponsor of the POLIS 2020 Annual Conference, is a European micro-mobility provider, founded by Maxim Romain and Henri Moissinac. The mission of Dott is to free our cities with clean rides for everyone through micromobility and to make it accessible for everyone.

Headquartered in Amsterdam, with local offices around Europe, Dott currently operates over 30,000 e-scooters in 15 selected cities in Belgium, France, Germany, Italy and Poland and will launch its proprietary E-bike product, manufactured in Portugal, in early 2021
E-bike parking and riding can be smart, too
Another step towards smarter cities will be for Dott to become multimodal. Offering multiple vehicle types in a single service will not only enable them to address a wider range of urban transport needs, but also to attract users who do not feel comfortable riding an e-scooter, or who are not able to. From the outset, Dott has been investing in designing and producing the best possible shared e-bike offering – tailor-made for Europe! – with all the benefits of their e-scooter development experience.
Two years of research and development will culminate in the first project launch in London in early 2021. When e-bikes hit the streets, similar riding and parking rules will apply and e-scooter parking bays will become multimodal. Launching a home-designed vehicle will enable the integration of new positioning technologies such as dead reckoning. That will enhance the accuracy of location tracking to under one meter (as opposed to ten meters, where it stands today). This will allow for better enforcement of parking rules and a faster and more precise response to geofenced zones.
It will also improve the safety of riders and non-riders alike, in conjunction with an embedded navigation solution similar to that which has been implemented for the e-scooter.
Improvements through tech and collaboration
The results of smart parking are already impressive, with Paris having achieved 97% appropriate parking. It might not be long before the goal of 100% is met, thanks to continual improvements in positioning technologies which will soon reach a centimeter-level accuracy, improving parking and riding monitoring in every corner of the city. It will also simplify things for the user, as there will no longer be a need for photo checks as part of the process.
The digitalization of shared micromobility services makes it possible to share up-to-date information via the user's smartphone. Push notifications are a convenient way to communicate policies to riders, such as strict enforcement of parking rules or modifications to the service area design. Any changes can be implemented quickly to improve compliance with the city's needs and operator's rules, as well as riders' safety. Dott, for example, recently launched an in-app ID check feature in Lyon and Verona to verify riders' age.
Close collaboration is the catalyst for continuous improvement, when local authorities, operators, and even riders work together to achieve a collective goal of establishing smarter shared micromobility riding and parking. Transforming the urban landscape with parking bays requires authorities and operators to agree on both their location and also their design. It needs to be easy for riders to find and identify the parking bays, and they also need to be protected from uncontrolled parking.
The next generation of bays should soon be upgraded with in-street signage, that will require a collaborative design approach to ensure the expectations of both parties are met.
Dott's approach to parking, which builds on user needs while working collaboratively with local authorities, has proved successful. As micromobility services continue to expand, such smart services will need to keep up. We are set for an interesting (and intelligent) evolution.
Smart parking in a nutshell

1. Enables both the best city experience (tidy streets) and user experience as bays improve vehicle and parking availability.

2. Requires a dense enough network of bays with a focus on public transport stations to support intermodality.

3. Allows to easily reassign public space from cars to micromobility with low investment (paint and light urban furniture).

4. Triggers a deep change on riders' behaviour. Dott's experience in Paris: from 35% to 97% of good parking behaviour!
About the authors:
Alexandre Gauquelin is a Consultant and Blogger with Shared Micromobility, alex@shared-micromobility.com
Sebastian Schlebusch is Head of Market Development at Dott, sebastian.schlebusch@ridedott.com
Matthieu Faure is Head of Marketing & Communications at Dott, matthieu@ridedott.com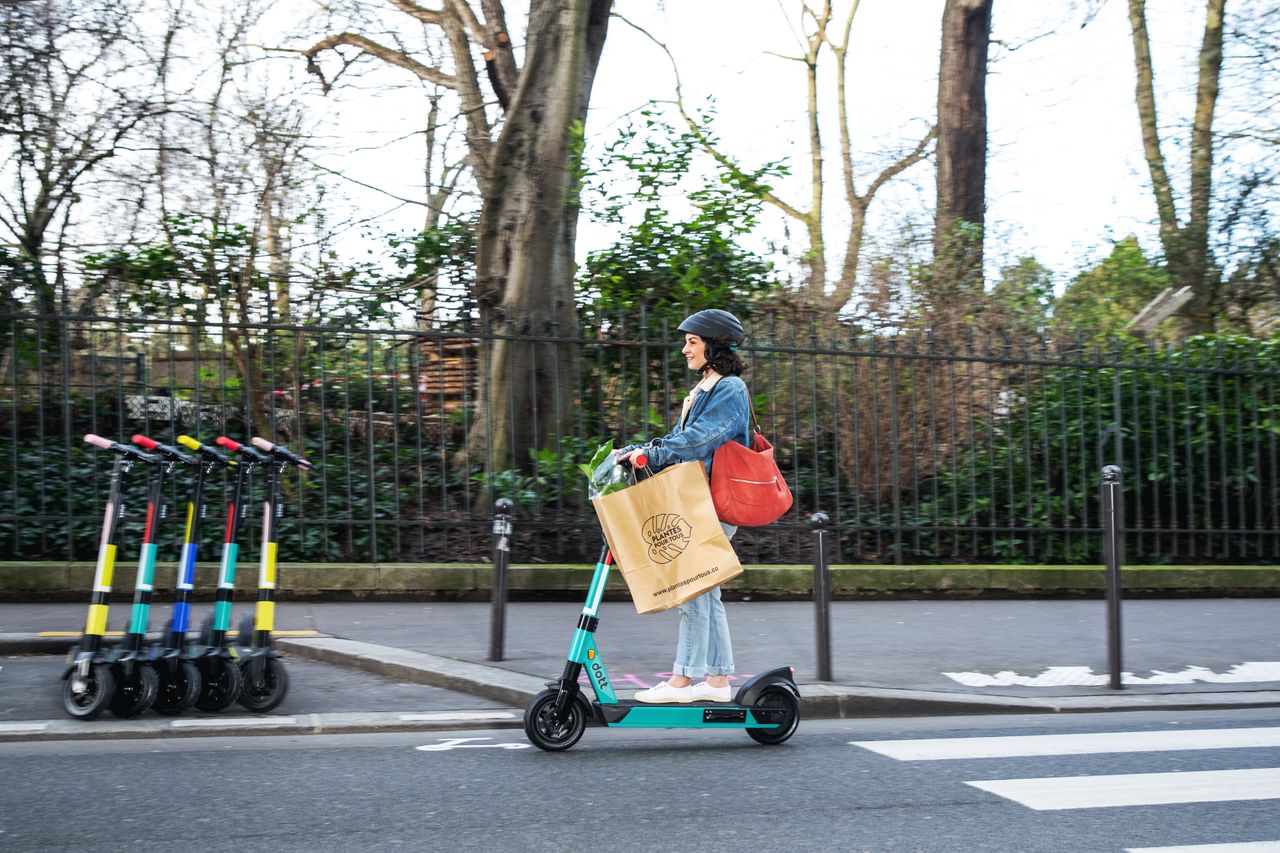 Topics
Staff member(s)