05/06/2020
Post-Lockdown Mobility Webinar report: Public transport and COVID-19: Getting the offer right… and safe!
The session was hosted by Ivo Cré, Director of Policy and Projects at POLIS. Public transport has been a factor of stability during lockdown, with operators continuing to provide essential journeys for those that still need to travel in this challenging time. Public transport is the backbone of our cities and offers efficient and sustainable transport of people, but with more new challenges, namely social distancing requirements, how can public transport adapt and respond? Whilst the future is uncertain, rebuilding trust between public transport operators and passengers will be key to recover passenger numbers whilst keeping everyone safe whilst travelling. 

Delphine Grandsart, European Passenger Federation: Public transport users' expectations in times of COVID-19 
Delphine provided the passengers' view of public transport's recovery from COVID-19. Lockdown has had a considerable impact on travel demand and the modal choices that we all make, with public transport patronage hit hard in many places, particularly in the early stages of lockdown. During this challenging period public transport has played an essential role to keep cities moving, with essential workers such as health workers being supported by maintaining key services and in some cases setting up new dedicated services. 
Delphine noted that a key issue will be rebuilding trust between citizens and public transport. To do this, several key factors need to be considered. Firstly, ensuring that public transport is clean and hygienic is vital. Actions such as more frequent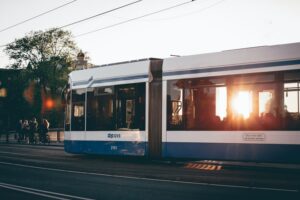 cleaning, good ventilation systems, virus-resistant materials and hand sanitisers for passengers will be important. These measures also need to be well communicated to passengers to show what actions are being taken. Secondly, social distancing needs to be taken into account on-board vehicles. However, Delphine noted that full social distancing measures would reduce vehicle capacity to only 20%, which will harm the economic recovery and sustainability of public transport operators. Therefore some degree of social distancing should be combined with measures such as the use of face masks, the optimisation of passenger flows (i.e. when boarding or queuing), as well as occupancy information and passenger counting. Additionally, strong focus needs to be placed on ensuring the rights of passengers, for example through offering refunds for cancelled services and rebooking of tickets. 
Looking to the future, public transport needs to place focus on the new and ongoing needs and priorities of citizens to recover passenger numbers. Yes, public transport must play its part in reducing the spread of the virus, but urban mobility needs to be viewed in the bigger picture of climate change, air pollution and road safety to avoid a shift to increased car use. Although huge challenges face public transport, there are also opportunities to rethink and change how things are done, for example through increased digitalisation, greater efficiency of operations, and a chance to cut emissions and increase road safety in urban areas. To close, Delphine noted that public transport remains the backbone of our transport systems and should remain so going forward.
Tiago Farias, Carris (Lisbon): Public transport -- the right offer ensuring maximum safety to staff and passengers 
Carris is Lisbon's city-owned transport operator covering, and the largest operator in the Lisbon metropolitan area of 3 million people, carrying 140 million passenger journeys per year. Carris was experiencing strong growth pre-COVID, with new lines, ticketing systems and vehicles across the city. However, passenger numbers fell by 80% or more during lockdown as travel restrictions came into place. Carris took the decision to retain two-thirds of its vehicles in operation however, to ensure that those who still needed to travel could do so easily. During lockdown vehicle capacity was reduced to 33%, with operational restrictions such as no ticket validation or on-board sales brought into place. Reinforced cleaning of vehicles and protective measures for drivers were introduced. Throughout the crisis a large focus was placed on communication, ensuring that passengers and the general public were aware of new rules and measures, for example through informational posters, adverts, and social media campaigns. Communication was also targeted at staff to thank them for their hard work and provide guidance on what steps to take to stay safe at work. 
Portugal is now moving into the post-lockdown phases, bringing new challenges and conditions for public transport. Carris is now back to operating over 90% of its vehicles, whilst vehicle capacity has been capped at two-thirds to allow for social distancing. Masks are now mandatory, whilst operations have been adapted to meet these new conditions, including the return of ticket validation and on-board ticket sales. Looking to the future, Tiago noted that focus must be placed on rebuilding trust with customers and communities, and considering what new offers and services will be needed in the coming months.
Julieta de Micheo, EMT (Madrid): Accessibility measures and post-lockdown campaign 
Julieta provided an overview of EMT's (Madrid's public transport operator) recent campaign to promote accessibility on public transport post-lockdown. EMT has been placing a strong focus on accessibility and inclusion in recent months, aiming to make every stage of the journey as accessible as possible. EMT is taking action to ensure that 100% of its buses are low-floor, have access ramps and offer contactless payment options. Around 80% of EMT's vehicles also have extended central platforms to offer greater accessibility. Focus has been placed on various issues, including providing greater provision and access to information, training and awareness raising for staff, and on-board priority measures for people with additional needs. 
EMT has taken effort to collaborate with stakeholders on accessibility issues, working together on various campaigns, including the 'Creemos en tu Autonomia' ('We believe in your autonomy') campaign aiming to help people with learning disabilities have greater access to education and employment. The most recent campaign, launched post-lockdown, focuses on helping those passengers most in need to have access and comfort when travelling on buses. Focusing on the key message 'Don't leave anyone behind', the campaign encourages all passengers to assist vulnerable groups by helping them to their seats, keeping a safe social distance and respecting priority seating. 
COVID-19 has shown EMT that implementing measures and taking action can be done quickly and effectively. As many others have noted, EMT see some opportunities from this crisis, specifically to improve accessibility and enhance collaboration between stakeholders. 
  
Ryan Cooper, Transport for London: Technical delivery and operational aspects of bus stop solutions 
London has received wide acclaim for its Streetspace Plan, which is seeing space reallocated for walking and cycling across the city. Ryan explained that the Streetspace Plan was informed by the use of Geographic Information Systems (GIS) providing data on footway widths, population density, transport interchanges and more, thus allowing key points where intervention is needed to be identified.   
A particular problem for complying with social distancing was identified at public transport stops and stations, especially in built-up areas. These locations often result in close contact between people who are competing for limited space. One such location
was Brixton, which has busy bus stops, as well as metro and train stations. To alleviate pressure in these areas, Transport for London (TfL) have been making interventions to reallocate street space. Road space has been reallocated for walking around public transport stations, leading to a doubling in the width of footways on one key street. This has provided more space for passengers waiting to board vehicles, and has separated passengers from pedestrians whilst maintaining accessibility. This has received a very positive reception from citizens, with people decorating the new pedestrian space with chalk drawings. Ryan explained that the new space had been designated using 'bolt-down kerbs', though various measures are available to achieve this space reallocation. Ryan noted that these measures can be introduced in a matter of a few days, but that a proper methodology should be followed, ensuring that issues such as drainage are given full consideration. 
A recording of this session and all presentations are available in the Members Area. For further details about the Post-Lockdown Mobility series, please see our website. 
Topics
Staff member(s)