17/12/2019
Small cities, big impact! Ambassadors Initiative for Small and Medium-sized Cities
SMALL CITIES, BIG IMPACT
The Small and Medium-sized Cities (SMCs) Ambassadors Initiative was launched during the 2019 Polis conference by the founding partners of the Polis SMC Platform, the cities of Helmond and Emmen (NL).
With most EU-citizens (over 70 %) living in urban areas of which most in small and medium-sized cities, Polis and its members strongly believe in the potential of the SMCs as ideal grounds for testing and implementing new transport technologies and services. During the Polis Political lunch which took place on the first day of the Polis conference on 27/11/2019, Vice-mayor of Emmen Guido Rink invited other political representatives from SMCs to sign up to the SMCs Ambassadors Initiative. The Alderman called upon SMCs to cooperate and exchange knowledge and experiences on:
Deployment: match-making between SMCs to share knowledge & best practices on new urban mobility solutions for SMCs and their surroundings
Promotion: promoting the accomplishments and innovations of SMCs through Polis to other cities, thereby showcasing them as excellent living labs for innovation to the outside world
Challenges: discussing common challenges inherent and specific to SMCs.
Taking into consideration that the interaction between cities, suburban and rural areas is becoming a key challenge, SMCs can play a crucial role when it comes to test up new and innovative mobility solutions such as new business models and private/public partnership for shared mobility services such as micro-mobility and DRT systems to connect the city to its suburban/rural surroundings, etc.
"We believe that this initiative can help to promote the accomplishments and innovations of small and medium-sized cities and position them as excellent living labs for innovation" said Polis Secretary General Karen Vancluysen.
Below the list of the first signatories:
City of Emmen (NL)
City of Helmond (NL)
City of Groningen (NL)
City of Arad (RO)
City of Eindhoven (NL)
Region of Twente (NL)
City of La Rochelle (FR)
City of Leuven (BE)
City of Perugia (IT)
Mobility Agency of the city of Bologna (IT)
Rogaland County (NO)
Arnhem-Nijmegen City Region (NL)
If you are also a Small and Medium-sized City and you wish to support this initiative and get on board, please contact:
City of Emmen, chair of the Polis SMC Platform:
Pieter Faber: p.faber@citiesnorthernnetherlands.eu
Polis Secretariat
Karen Vancluysen, Secretary General: kvancluysen@polisnetwork.eu
Pasquale Cancellara, Project and Membership Services Manager: pcancellara@polisnetwork.eu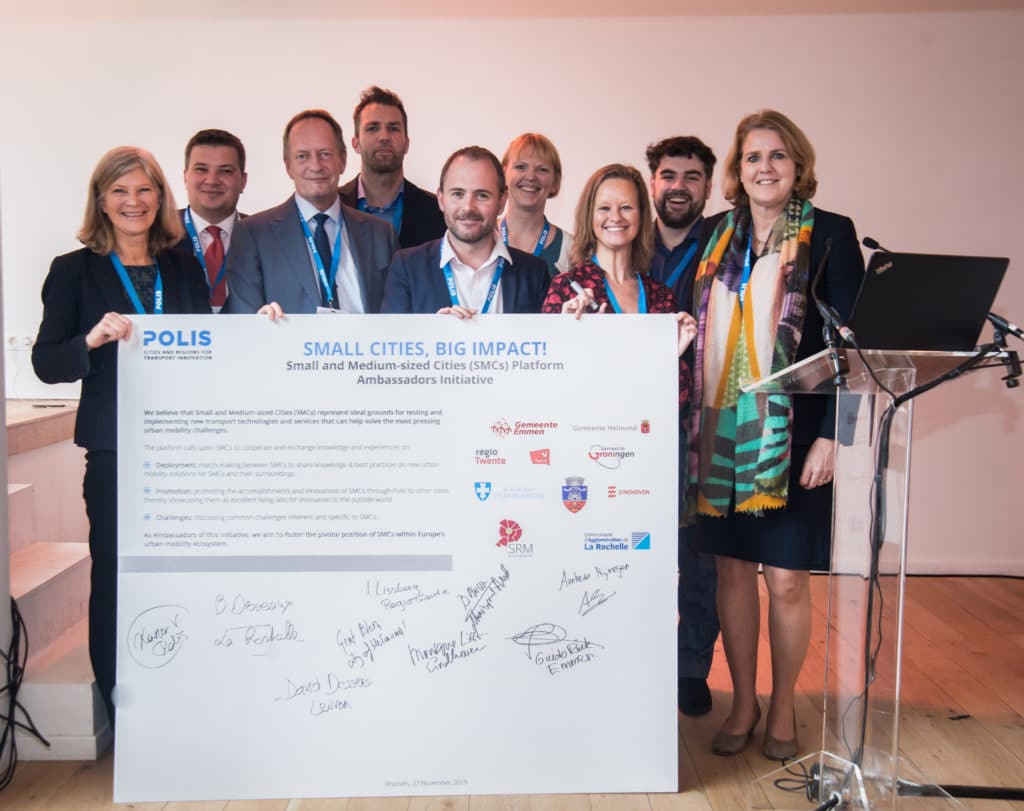 Staff member(s)