Mobilising Mobility: Data-driven Urban Mobility Planning and Citizen Science - a match made in heaven
How can data be used to contribute to sustainable urban mobility planning? What are the most cost-effective tools for public authorities? Can citizen-science contribute to this effort?
As COVID-19 creates new and complex challenges for urban mobility, and policy makers face tighter budgets, these are key questions which must be addressed. The webinar will draw from the experience of two EU-funded initiatives, WeCount and ClairCity, to examine the potential for citizen science to deliver data-driven urban mobility planning. 
This webinar was moderated by Balázs Nemeth.
Featured speakers included:
Kris Vanherle (Transport Mobility Leuven)
Enda Hayes (University of West England)

Lucia 

Paz 

Errandonea

 (

Ideas 

For

 Change)

 

Giovanni 

Maccani (Ideas 

For

 Change)

 
View the full recording here
The webinar was a POLIS initiative in cooperation with WeCount and ClairCity.
About WeCount and ClairCity
WeCount is the first European Citizen Science initiative enabling citizens to create a better understanding of road traffic flows at local level, gathering insights into the impact of road transport on air pollution, public health, and road safety. It uses innovative low cost, road traffic counting sensors and multi-stakeholder engagement mechanisms. 
ClairCity was a research project which worked with citizens to refine a model for citizen-inclusive decision making on clean air and climate change. The largest EU project of its kind, 8302 citizens, from 6 cities/regions, participated in local policy-making.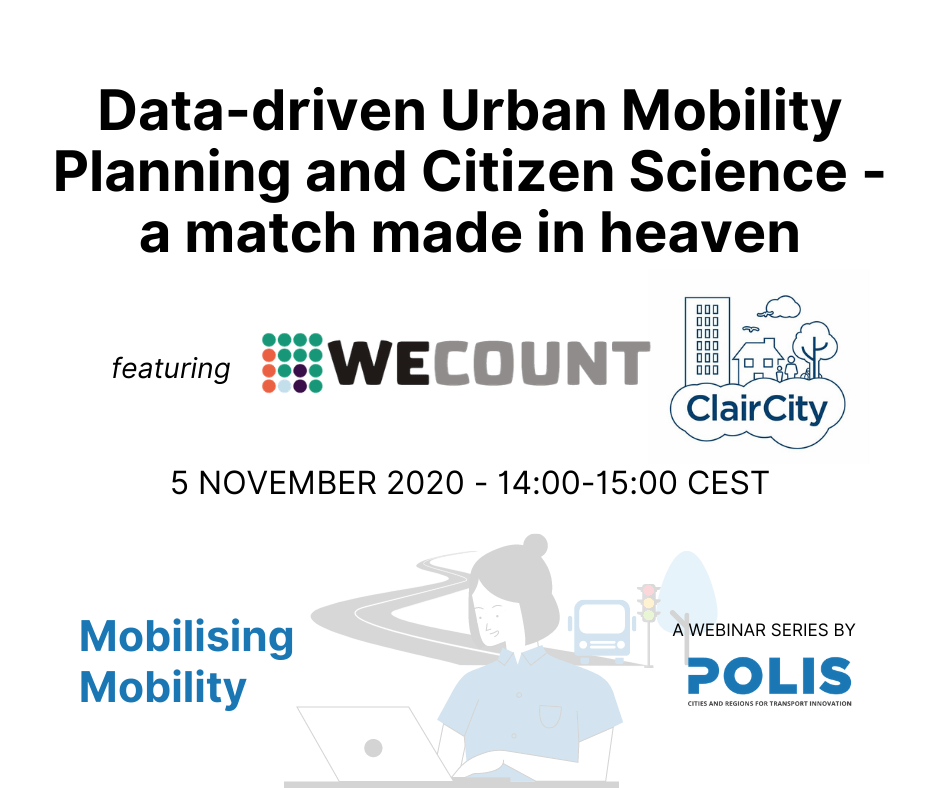 Topics
Staff member(s)