20/09/2021
"Public Transport Lab" webinar series kicks off with a bang
On 17 September 2021, POLIS kicked off the Public Transport Lab, a new webinar series on the future of public transport in a post-pandemic world. 
Public transport has been one of the most disrupted sectors of the COVID-19 pandemic. Lockdown measures slashed ridership by as much as 80%–90% in major cities across the globe.  
Nevertheless, crises breed opportunity, and the pandemic has created a chance for a fundamental inflection on urban transit and (long overdue) strategic long-term planning. The first Public Transport Lab webinar reflected on what has happened, where we are going, and how we are going to get there. We explored how cities and regions are combatting COVID-19 induced setbacks, and how can these lessons help pave the way forward. 
"These services have kept our cities running, there is no doubting their potential, but the pandemic exposed need for revitalisation and reinvestment," said Karen Vancluysen, POLIS Secretary General. "We can learn from what our cities and regions are doing to move forward."
Taking stock in Sweden 
Roger Vahnberg, Senior Vice President of Västtrafik talked us through what is happening in many Swedish cities. 
Västtrafik is responsible for public transport in the Västra Götaland region, Sweden. Each day, 947,000 journeys are made with the organisation's regular public transport. 
The pandemic prompted a 50% drop in ridership in just a few days, causing a dramatic fall in revenue. Efforts to curb infection have also radically reduced the capacity of vehicles.  
While the organisation endeavoured to maintain services levels, they also encouraged active travel for short and medium trips, assisted by their Travelplanner app, which provides advice on transit options. 
"We do not see people taking short trips via active travel as a problem for us, it is when public transport is replaced with private vehicle travel, this is where concerns arise," said Vahnberg. 
The organization is taking a range of measures to encourage passengers back on board, with a new flexible ticket for those who are in the office 2-3 days per week​, as well as free trial periods. 
Västtrafik is now looking towards the future of public transport, enlarging their electric fleets and installing a wave of new charging stations.  
"This is not a vision any longer, it is a tangible plan, and we added almost 150 electric busses last year" said Vahnerg. "However, we cannot do this alone. We have to work with local authorities like the city of Gothenburg to ensure all citizens are served." 
Lessons learned, fixes found, passengers persuaded 
To explore how public transport operators have been responding, Sergio Fernández Balaguer from EMT Madrid laid out how his organisation has tackled the challenges (understatement of the year) created by the pandemic. 
EMT Madrid is Madrid's main transport operator and a member of POLIS, with over 2000 buses and other transit vehicles. 
Public transport in Madrid suffered a devastating drop in ridership during 2020. Between February and April 2020, bus ridership dropped to less than 10% of previous figures. While this trend is reversing, private vehicle travel is still incredibly high, and passenger numbers on public transport remain far below pre-COVID levels.  
"Mobility habits are changing fast," said Fernandez Balaguer. "Peak hours have changed due to work from home options and many are reluctant to use services. This means we have to strive hard to regain ridership, with approaches which cater for user demands."  
Over the last year, Madrid has invested significant effort into enhancing and updating the city's public transport system, going above and beyond to encourage public transit use, recovering trust in the system, and capitalising on new active mobility patterns.  
 From technological developments including integrated ticketing platform, Madrid 360, to electric fleets and their 'Women and Safe Transport' Observatory, EMT Madrid have established short- and long-term avenues for making public transport appealing, accessible and competitive post-COVID. 
Understanding uniqueness 
Drawing from her own research, Dr Sinziana Rasca from University of Agder presented the case of two regions with small and medium sized cities (Agder in Norway and the greater Innsbruck area in Austria) and two European capitals, Vienna and Oslo, to illustrate this spectrum.  
"We are not running on a business-as-usual scenario today", said Rasca. "To establish optimum management options, we need to compare what has worked and what hasn't." 
She shared several graphs which outlined the variation in public transport patronages across the cities as well as monthly ticketing income variation. 
The future is bright, the future is green! Norway's novel approach 
The CEO of Public Transport Norway, Olov Grøtting presented the implications of changing mobility patterns and criteria for effectively capitalising on these.  
"We wanted a shared approach across Norway, in which cities and the industry collaborated," said Ms Grøtting. "We need to be more flexible, and be more market driven," she asserted. 
Utilising big data more effectively will be a major component for success. As public transport operators and local authorities have often asserted, capturing and deploying data is critical for understanding individual community needs, fulfilling user transport demands, and responding to ridership patterns.  
Underpinning this are major overhauls in financial models in order to maintain the competitiveness of public transport services. Public Transport Norway is exploring the capacity for adapting business models to increase revenue from core operations and discover new avenues. 
"We are concerned about financing in the future, assistance from local authorities have been indispensable during the pandemic, so we are continually exploring how we move on from here," said Grøtting. 
Looking to the European level 
Responding to this question of future financial, Dr Giacomo Lozzi, Senior Project Manager, POLIS reflected on how public transport can and must relaunch itself over the next few years. 
The objectives of the European Green Deal demand a 90% reduction in Greenhouse gas emissions by 2050. This cannot be achieved without public transport.  
POLIS has been collaborating with Penteia and Roma Tre University on a document for the European Parliament, 'Relaunching transport and tourism in the EU after COVID-19',​ which aims to take stock of the recent changes and propose solutions for supporting the transition to sustainable urban mobility. 
This study has involved consultation with POLIS members and other industry stakeholders examining the impact of COVID on management, budgets and wider financial models. 
Losses have continued into 2021; however, funding mechanisms provided by national governments during the pandemic are now being revised. New financial models must be found to support the innovation required to bring people back to public transport and decarbonisation. 
"There is no one-stop-shop solution," warned Lozzi.  
Going forward: 
 It is clear cities and regions must pull out all the stops to bring public transport to pre-pandemic levels and beyond.  
"Networks for knowledge exchange, like POLIS, have been essential for us", said Sergio from EMT Madrid. 
Indeed, this conversation was a fascinating insight into how local authorities and operators are planning for post-COVID mobility, and a conversation which will continue. 
Find the presentations in the documents section below, and view the recording here
Further case studies:
Hong Kong: Contain and Control: How public transport can learn from Hong Kong, Thinking Cities, Contain and Control: How public transport can learn from Hong Kong - POLIS Network  
Rotterdam: Conditions for urban resilience to COVID-19:Building back stronger, Erasmus University Rotterdam, 2020-06-policy-brief-1-conditions-urban-resilience-covid-19 (eur.nl)  
Budapest: "Restarting Budapest" – how not to return to business as usual, POLIS conference, 2020, https://www.polisnetwork.eu/wp-content/uploads/2020/12/4A_Andras-Vagany-Laszlo-Sandor-Kerenyi-BKK.pdf  
Catalonia: Catalonia launches public transport campaign for post-lockdown travel, https://www.polisnetwork.eu/article/catalonia-launches-public-transport-campaign-for-post-lockdown-travel/?id=122791 
Further resources: 
Covid-19 and mobility plans: COVID-19 & Mobility - POLIS Network  
Covid Mobility Works, New Digital Database Identifies Over 500 Global Mobility Responses to COVID-19 - POLIS Network  
KU Leuven, Covid-19 externality and optimal transport policy, Bruno DE BORGER and Stef PROOST- dps 2104 final.pdf (kuleuven.be)  
Will Covid-19 put the public back in public transport? A UK perspective, Roger Vickerman, Will Covid-19 put the public back in public transport? A UK perspective (nih.gov) 
Intelligent Transport Podcast, COVID-19 special – Bernard Tabary, Keolis : Intelligent Transport Podcast: COVID-19 special – Bernard Tabary, Keolis  
COVID-19 Impact on Public Transport and Safe Revival: Practices and Innovations: COVID-19 Impact on Public Transport and Safe Revival: Practices and Innovations - HVT (transport-links.com)  
A Guide for Public Transportation Pandemic Planning and Response (NCHRP Report 769): APTA-Coronavirus-Brief-03-05-20.pdf  
Urbanism Next Europe, The future of public transport in the era of emerging modes, https://youtu.be/aj4raZnPIoY  
Sustainable mobility in times of COVID-19, POLIS annual conference, 2020- https://www.youtube.com/watch?v=8e5hTpRwV3Y&list=PLtkY4LhfFrS3hgjx9V0Y7An65lZPs-jzQ&index=19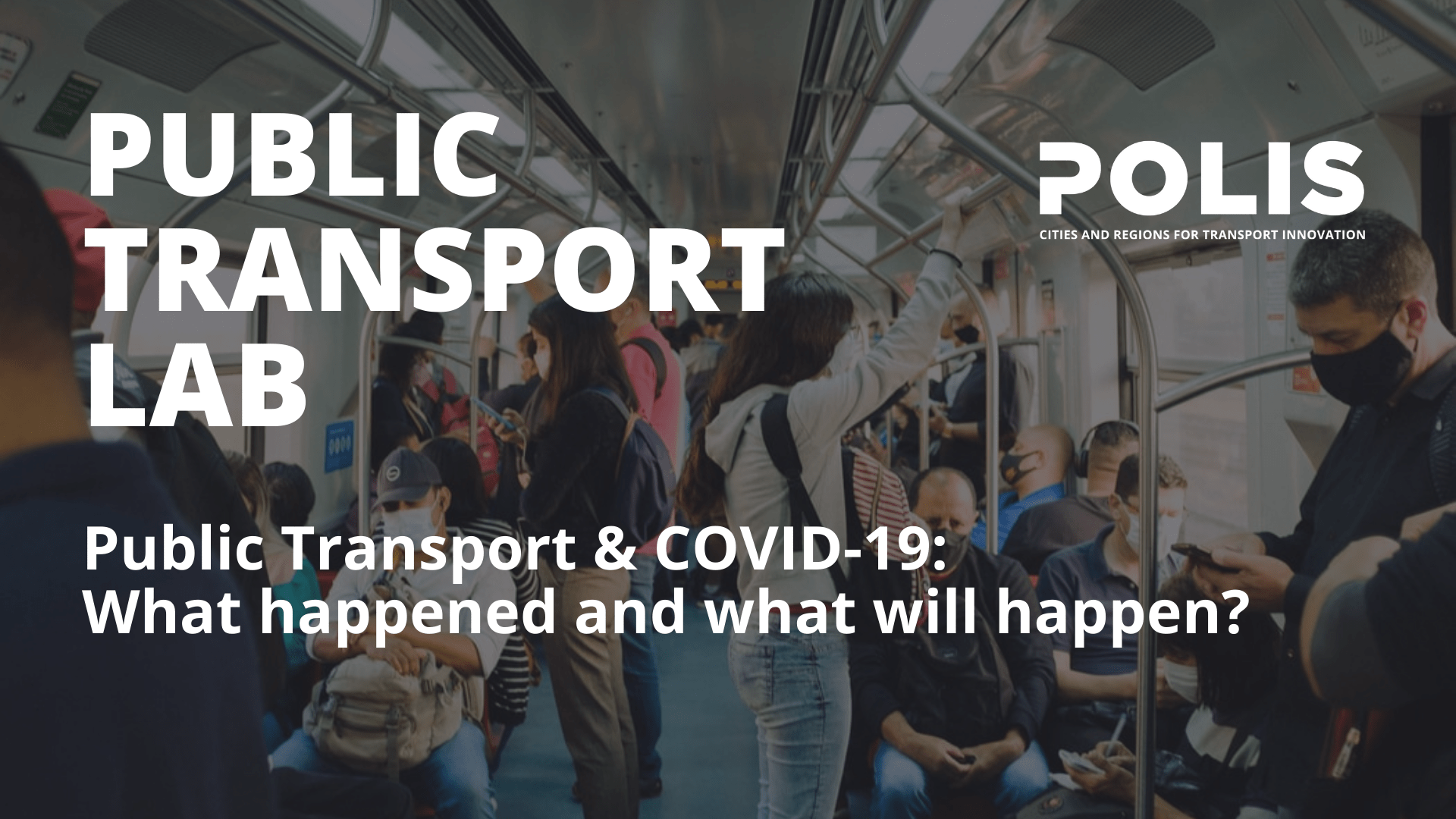 Topics
Staff member(s)