30/06/2020
New Digital Database Identifies Over 500 Global Mobility Responses to COVID-19
Partnership of International NGOs Launches COVID Mobility Works Website to Catalog Transportation Initiatives Responding to Pandemic
POLIS has joined a partnership of nonprofit transport organisations has launched a new digital database of global mobility responses to the public health and safety crisis brought on by the new coronavirus. 
COVID Mobility Works is an independent platform dedicated to collecting, synthesizing and sharing mobility initiatives that are keeping the world moving through the COVID-19 crisis and recovery. Recognizing the myriad actions taken to provide safe mobility around the world, the platform is intended to support policymakers, planners, innovators, researchers, service operators and advocates as they rise to the challenge of creating more resilient, inclusive and sustainable transportation systems for all.
"Organisations of all sizes mobilized rapidly to respond to the transportation-related challenges created by the pandemic, such as curtailed public transit service," said Harriet Tregoning, Director of NUMO. "COVID Mobility Works is an NGO-led effort, in partnership with academia,  to collect those responses in a digitally searchable format so they can be easily identified, shared, studied and scaled."
The platform is the result of a partnership of global nonprofit organizations — including NUMO, the New Urban Mobility alliance; Polis; TNO; TUMI, Transportation Sustainability Research Center; University of California, Berkeley; the Transformative Urban Mobility Initiative; Urbanism Next at the University of Oregon and the World Economic Forum's Global New Mobility Coalition — dedicated to resilient, inclusive and sustainable mobility for all.
Over 500 responses from nearly 250 cities have been initially collected on COVID Mobility Works, and the partners plan to add new entries monthly through Spring 2021. These responses — ranging from actions taken to safely continue mobility services for essential workers to addressing the provision of transportation services to identifying modifications to critical infrastructure — represent public, private and nongovernmental organization efforts to ensure the movement of people and goods during the novel coronavirus pandemic response and recovery.
"These responses were intended to support public health amid the COVID-19 pandemic and will have a lasting impact long after the crisis subsides," said Christoph Wolff, Head of Mobility at the World Economic Forum. "We are at the tipping point of a great reset of our global transportation ecosystem that could usher in a new age of resiliency, inclusivity and sustainability. We hope researchers and operators reflect on the actions taken out of urgency and learn from and act toward a better tomorrow."
Karen Vancluysen, Secretary General of POLIS, said:
"As a network committed to helping cities and regions navigate these difficult times, we are happy to contribute to the COVID Mobility Works initiative. It is important to show how local authorities in Europe and beyond kept things moving during the lockdown and how urban mobility is being reshaped now that confinement measures are being eased.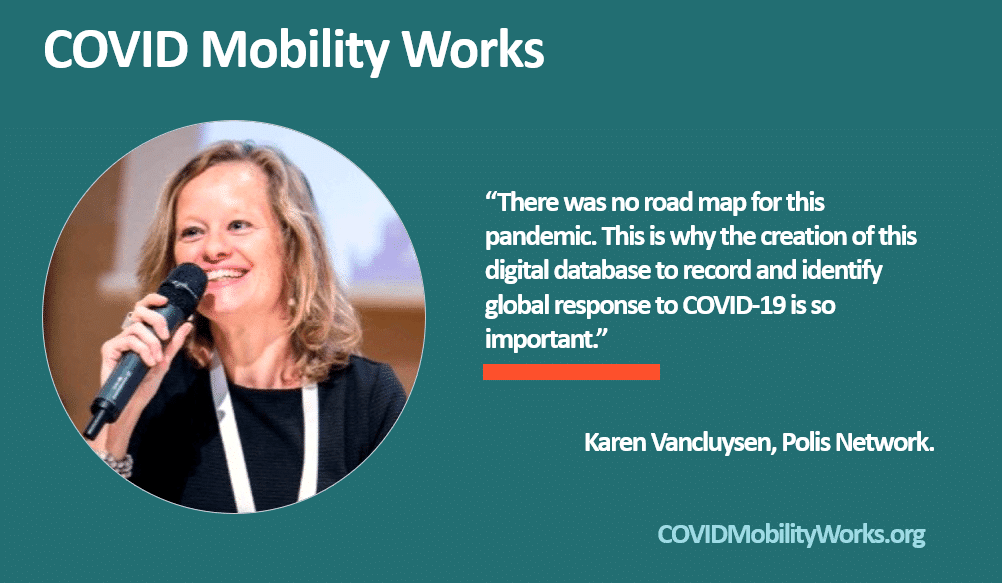 Learn more at www.covidmobilityworks.org. For media inquiries, please contact Madlyn McAuliffe at madlyn@numo.global.