24/06/2020
Post-Lockdown Mobility webinar report: Recharging urban mobility in Europe -- Next steps for electromobility
The session was moderated by Karen Vancluysen, Secretary General at POLIS. This webinar, hosted in cooperation with Transport & Environment and Uber, investigated the next steps for electromobility in Europe post-lockdown and how cities can speed up the transition to zero-emission transport. 
Sabina Asanova, Coordinator for Clean Vehicles and Air Quality at POLIS, provided an overview of POLIS's activities on e-mobility. POLIS is an active member of the European Alternative Fuel Observatory and was a founding member of the European Electromobility Platform. Sabina highlighted an upcoming webinar organised in cooperation with SEEV4CITY on smart charging taking place on Wednesday 24 June, which you can register for here.
 
Saul Lopez, Manager e-Mobility, Transport & Environment 
With a strong focus to decarbonise the transport sector, e-mobility will play a key role in reducing emissions from transport, particularly when it comes to private vehicles. Saul highlighted that even in the worst case scenario in countries with high-carbon electricity production, electric vehicles (EVs) produce 30% less carbon than conventional petrol and diesel cars, rising to as much as 80% less carbon in countries with low-carbon electricity production. As well as reducing carbon emissions, EVs also hold huge potential for improving air quality in European cities.
Whilst the growth of EV sales has been slow in recent years, 2020 and the end of 2019 saw a significant growth. Saul explained how new EU CO2 emission standards for vehicles has resulted in a large increase both in the production and sales of EVs in Europe. Only 500,000 EVs were produced in Europe between 2017 and 2019, but this increased to over 2 million in 2020. The risk of large fines for failing to meet average fleet CO2 emission targets has caused car producers in Europe to place new focus on EV investment, with around 60 billion Euros invested in EVs in Europe in 2019, up from just 3.2 billion Euros in 2017-18. 
With COVID-19 causing major economic challenges for citizens, businesses and governments alike, the e-mobility sector will face challenges in the coming months. However, Saul noted how the shift to e-mobility is already underway, and with city dwellers having enjoyed cleaner air during lockdown, there will be a need to increase e-mobility in cities to ensure that these benefits are not lost. 
Saul closed by highlighting a recent T&E report on how taxis and ride-hailing fleets can help to clean up air in cities. E-mobility offers potential benefits for taxi and ride-hail drivers, with the Total Cost of Ownership (TCO) being lower for EVs under certain conditions, saving thousands of Euros a year in some cases. However, to deliver these cost-saving benefits, slow-charging at-home or on-street charging points need to be available. T&E made a number of recommendations to speed up the transition to zero-emission taxi and ride-hailing operations, including expanding fast charging at taxi ranks, preferential charging rates for taxis and ride-hailing, easier access for home or on-street charging, and financial incentives to help drivers switch to EVs. 
Florian Lipowski, Coordinator for Air Quality, City of Amsterdam 
Amsterdam has been taking major steps in recent years to speed up the transition to e-mobility. EU standards on air pollution have had a big impact on developments in the city, with improvements in air quality experienced in recent years. Amsterdam is now looking to raise its air quality standards further by adhering to the stricter World Health Organisation standards. 
Amsterdam has to date taken a demand-driven approach to charging infrastructure, with over 3000 charging points now in place across the city. The city has experienced a huge growth in charging points available since 2014, with e-mobility becoming an increasing priority for the city administration. Around 25% of taxis are now electric in Amsterdam, with this figure set to grow further going forward.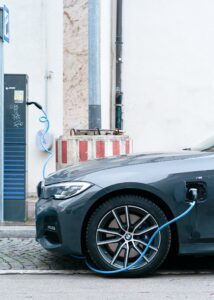 In 2019 Amsterdam set out its Clean Air Action Plan, a long-term strategy for improving air quality in the city. A range of measures are proposed, including subsidies for e-mobility, increased charging infrastructure and pilot projects. The Plan sets out ambitious targets, including emission-free traffic in the city by 2030. An aim for an emission-free city centre from 2022 may be relaxed in light of COVID-19, with allowances made for EURO 6 buses and coaches. Communication and consultation are underway with a wide range of stakeholders and citizens to ensure that these plans meet the needs and expectations of everyone. 
Florian closed by looking to the future of e-mobility in Amsterdam. More charging points means increased electricity production and consumption, which brings challenges. However, an increasing proportion of the electricity supply in Amsterdam comes from renewable sources. Amsterdam is also aiming for a gas-free grid by 2040, which will bring opportunities for carbon reduction but challenges for intermittency of electricity supply. To address issues of electricity supply and storage, smart charging pilot projects are being explored. Around 900 charging points across the city are now equipped with smart charging capabilities, allowing vehicle-to-grid electricity storage and supply, helping to balance the electricity grid. Looking forward, Florian noted that despite good progress, further efforts are needed to achieve a shift from vehicle ownership to vehicle use, making greater use of Mobility-as-a-Service and shared mobility in the future. 
Maurits Schonfeld, Benelux General Manager, Uber 
Uber is aiming to increase the electrification of its drivers' vehicles in the coming years. For Uber's Amsterdam operations, the company is aiming to have 750 zero-emission taxis by the end of 2020, with 100% of in-app vehicles in the city being electric by 2025. Maurits explained how Amsterdam is around four years ahead of comparative European cities in terms of EV charging infrastructure, which has enabled Uber to set these ambitious targets for decarbonising their drivers' vehicles.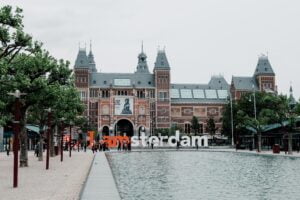 Amsterdam has a comparatively large proportion of slow chargers, which has helped to drop the TCO of EV taxi operation by allowing drivers to charge their vehicle overnight at their own home or on the street. Maurits noted how a wide network of on-street or at-home slow charging is essential for expanding the number of taxi and ride-hailing services using EVs. Cooperation between cities and taxi and ride-hailing companies in mapping out the demand for charging points will be important in rolling out more electric taxis and ride-hailing services.  
Looking ahead, Maurits sees several key opportunities and challenges for growing electromobility in the future. There is a need to expand the second-hand EV market to make e-mobility an option for a wider range of people. Industry initiatives such as Uber Green, which allows customers to choose drivers using electric vehicles (launching in Amsterdam today), will help to increase the visibility of and demand for e-mobility in the ride-hailing sector. To achieve a growing shift towards electric ride-hailing services, collaboration between cities and taxi and ride-hailing companies in the future will be key. Drivers need time to get used to the transition to EVs; increasing the convenience of EVs by expanding charging infrastructure, as has been done in Amsterdam, will greatly aid this transition. 
Presentations and a recording of the session are available to view through the Members Area. To find out more about the rest of the Post-Lockdown Mobility webinar series, please see here. 
Topics
Staff member(s)