25/08/2021 - 26/08/2021
Online
Transition to a new mobility era: join GECKO's final conference
On 25-26 August, the GECKO research project will hold its final conference online, presenting lessons learnt and key recommendations for the mobility sector on emerging disruptive innovations.
The GECKO project (Governance principles and mEthods enabling deCisions maKers to manage and regulate the changing mObility systems) supports authorities in developing the most appropriate regulatory framework and governance model for the transition to a new mobility era.
The project has been coordinated by UITP in collaboration with the project partners: Fit Consulting, POLIS, CORTE, Abo Akademi University, Absiskey, University College London, Rupprecht Consult and Universita' Bocconi Milano.
Through the extensive knowledge of its partners and engagement with a wide range of stakeholders, including authorities and new mobility providers, the project has provided guidance, recommendations and case studies for sustainable city networks.
If you're interested in hearing more on technological, operational and social trends and innovations, want to learn about regulatory and governance frameworks, or are keen to take a closer look at the GECKO regulatory compliance map, make sure to join the event!
As this is a crucial topic of discussion worldwide, we welcome attendees from across the world to participate.
Attendance is free for everyone and the sessions will be held each day 10.00-11.15 CEST with repeat sessions at 15.00-16:15 CEST.
Check out the event programme below:
Day 1, 25 August (10.00  - 11:15; REPEATED 15:00 - 16:15)
10:00 - 10:10: Welcome and Introduction, UITP
10:10 - 10:20: GECKO and the broader context
10:20 - 10:30: Overview and project legacy of GECKO, UITP
10:30- 10:40: Technological, operational, business and social trends and innovations, University College London
10:40- 10:50: Regulatory and governance frameworks, Ignat Kulkov, Åbo Akademi University
10:50- 11:15: Q&A - Final comments - Close
Day 2, 26 August
10:00 - 10:10: Welcome and Introduction, UITP
10:10 - 10:20: Transfer session: Impact assessment and prospects for regulatory schemes, Maria Meta, FIT Consulting
10:20 - 10:30: New regulatory approaches to devise new regulatory schemes, frameworks and governance models, UITP
10:40- 10:50: Exploitation: Regulation and SUMP, Marlene Damreau, Rupprecht Consult
10:50- 11:15: Q&A - Final comments - Close
Please note, the programme may be subject to change.
GECKO Final Conference programme
For more information contact Yannick Bousse (yannick.bousse@uitp.org), Pasquale Cancellara (PCancellara@polisnetwork.eu) or Daniel Herrera (DHerrera@polisnetwork.eu)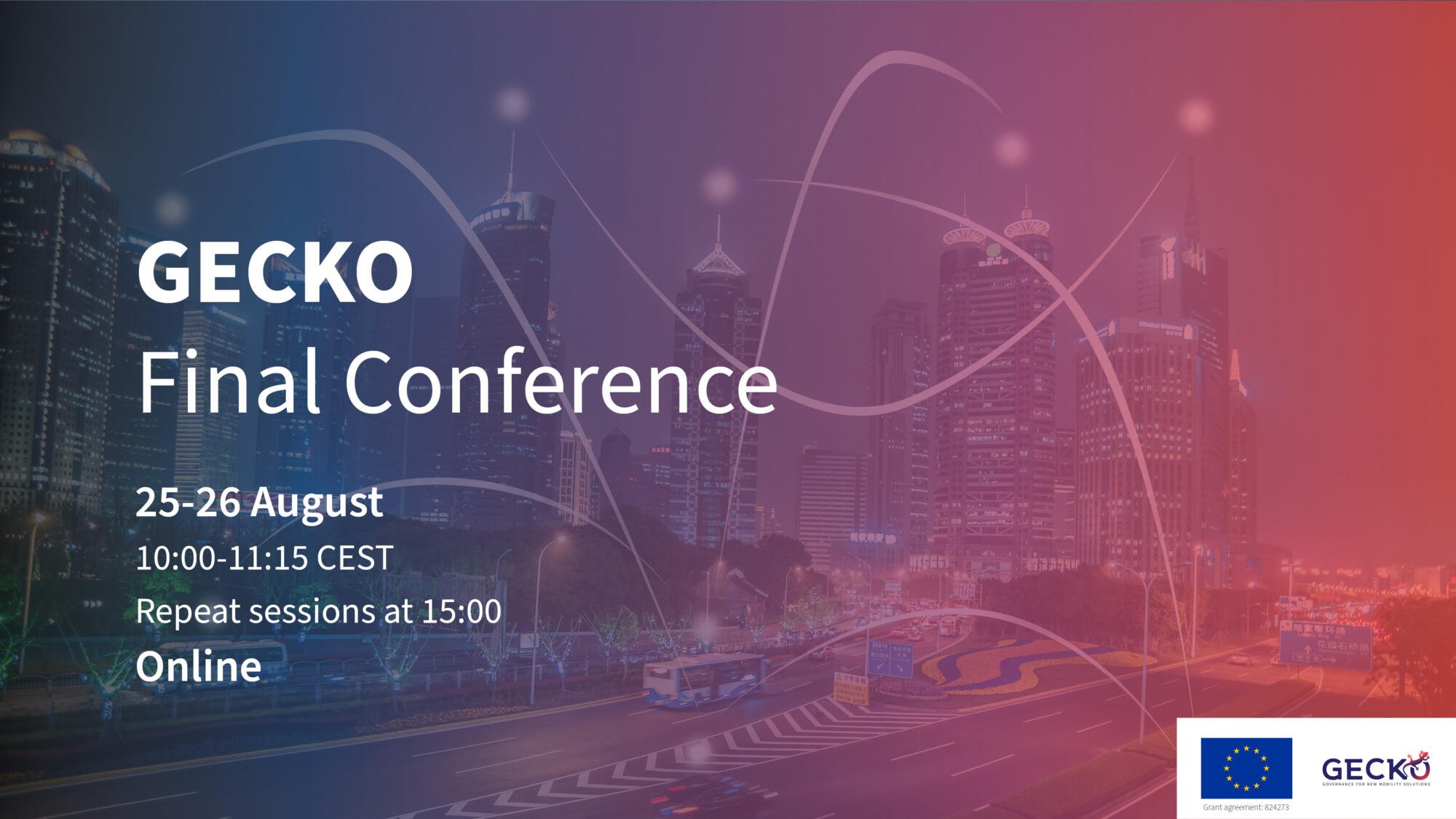 Topics
Staff member(s)