30/08/2019
Upwardly mobile
Small and medium-sized cities: living laboratories for urban transport innovation, by Pasquale Cancellara
When it comes to testing and implementing innovations in the field of mobility, size doesn't really matter. Over the past few years, smaller cities have shown that they can be living laboratories for innovation just as much as their bigger counterparts. Nevertheless, their potential often seems to be overlooked by those looking for the perfect place to trial their next big mobility solution.
When it comes to the plethora of new mobility services that are entering our market these days, SMCs also notice it is often more challenging to attract such service providers to deploy in their area. Still, such services do have the potential to complement existing public transport supply particularly in SMCs where the mobility offer is sometimes less extensive compared to big cities.
For small and medium-sized cities, size is a strength rather than a problem. Testing new transport technologies and services in a smaller city means that it will be easier to assess their impact with lower financial risks. In smaller cities it is also easier to build cross-sectoral alliances to turn a mobility innovation into a success for all. The strong ties with local suppliers and industry can also prove to be beneficial.
That's why small and mediumsized cities, or SMCs, no longer see themselves in the shadow of large metropolitan cities when it comes to testing and implementing innovation. In autumn 2018, the Polis network established the SMC platform for small and medium-sized cities to discuss their specific mobility governance issues.
This article lists some examples of successful mobility measures and projects that have been developed in small and medium-sized cities to highlight that SMCs are just as ready and able to join today's transport transformation.
"Testing new transport technologies and services in a smaller city means that it will be easier to assess their impact with lower financial risks"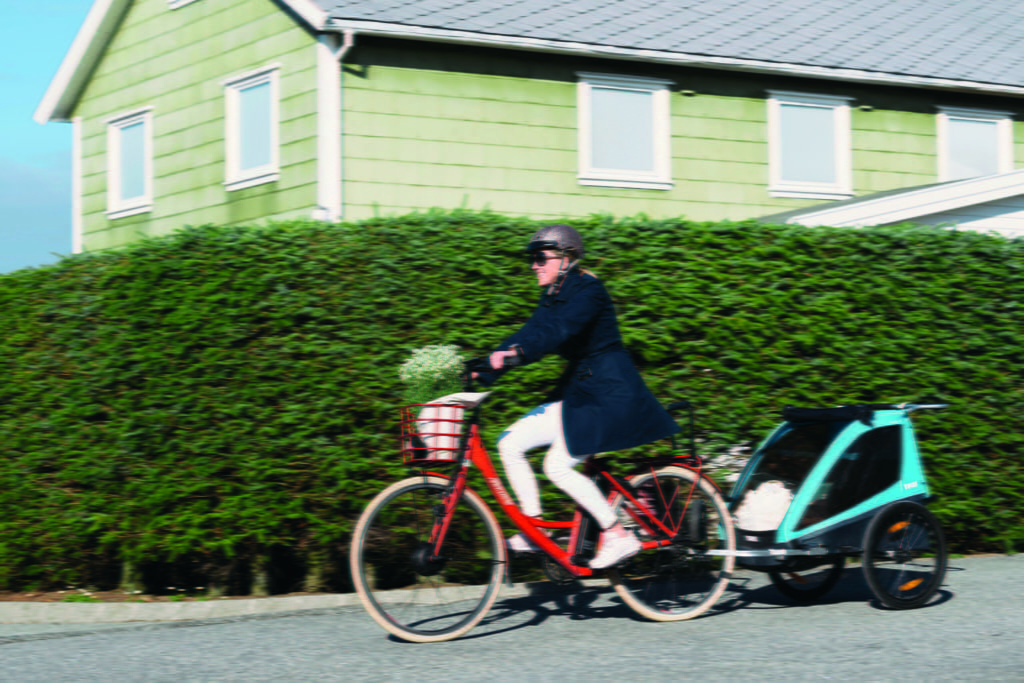 HJEMJOBBHJEM: PUBLIC AND PRIVATE JOINING FORCES TOWARDS MODAL SHIFT
The cities of Stavanger, Sola, Sandnes and Randaberg in Norway are cutting car traffic in urban areas by encouraging employees to walk, cycle or use public transport to and from work. HjemJobbHjem (home-work-home), the mobility solution aimed at the business market and set up by the mobility company Kolumbus and the four cities in 2015, has engaged 600 companies and 60,000 employees so far.
Enabling a shift to sustainable transport modes, according to Siri Melberg, leader of HjemJobbHjem in Kolumbus, is possible "by providing good information on public transport availability, cycling and walking. Our services consist of a 30-day public transport pass, electric city bikes, competitions and activities on company premises. We have also developed our own mobility concepts, focusing on health and micro-mobility," says Melberg.
This is working. According to a study conducted by the Norwegian Research Centre and the University of Stavanger (UiS), the number of employees using their cars to work has decreased, while use of public transport has risen. "We can see that many employees have cut the total number of days on which they use their cars to work, and some have entirely switched to other means of transport after joining HjemJobbHjem. All this happened before the new toll system was put in place in October 2018. It looks as if HjemJobbHjem encourages workers to reconsider their travel habits and cut down their use of cars", says Daniela Müller-Eie, associate professor at UiS.
ARNHEM NJIMEGEN: THE ONLY DUTCH CITY REGION WITH TROLLEY BUSES
Moving south to the Netherlands, the city of Arnhem is showing leadership on the development of clean mobility innovations. Arnhem, a city of 150,000 in the Eastern part of the Netherlands, is the only city in the country where overhead wire buses, or trolley buses, can be found. With a battery pack on board, these vehicles can travel a journey of about 10 km without overhead wires. The batteries are charged when driving under the overhead contact line. It is the first application of In-Motion Charging (IMC) in the Netherlands, which makes it a perfect example of how the Arnhem Nijmegen City Region is an ideal place to test new mobility solutions and services.
The trolley buses rely on the existing overhead wire network, which is used as a charging path. The 18m electric buses are charged in motion, so that they do not have to stand still while charging. This ensures a high rate of availability for buses and a higher efficiency. Service without overhead wire facilitates the extension of the existing bus line without having to build overhead wiring, which facilitates the replacement of diesel/gas bus lines.
"The bus runs faster and quieter than with a diesel unit. That is not only pleasant for the travellers, but also for the residents along the route" explains Jan Lagerwey, trolleybus instructor and driver, after his first trip.
The self-learning energy management system is unique. The bus gradually learns on its routes where and how much energy has to go to the batteries to cover the intended route.
With this, Arnhem claims to have a world's first.
The vehicles are a valuable laboratory test, too. Data is received and analysed by the HAN University of Applied Sciences in Nijmegen. Data pools are useful as a basis for further developments. Together with Interreg Germany-The Netherlands, the province of Gelderland is one of the sponsors of the project. Regional minister Conny Bieze announced at the launch of trolley 2.0 that, as far as she is concerned, there will also be a pilot with a smaller trolleybus 2.0.
Overhead wire as charging station
Electromobility will boost cities' energy demand. Therefore, the extension of the energy network is necessary. In the E-Bus 2020 project, the overhead wire network is expanded as a smart grid. Assembled charging stations for electric passenger cars are developed with batteries and connected to the overhead wire. The batteries hold brake or sun energy. Besides for local public transport, the charging concept can also be used for other transport modes. As 'launching customer', the cities of Arnhem and Renkum provide a platform that allows testing of all the technologies across companies.
BILBAO: COOPERATIVE ON STREET PARKING MANAGEMENT
In Spain, the city of Bilbao is using innovation to tackle the mobility challenges it faces. Take parking, for instance. Bilbao's on-street parking management system is based on the digitalisation of 16,000 parking spaces, an open ticketing system and a surveillance system. Through a ticket reimbursement system, city authorities can identify when users free the parking space. Bilbao's objective is to find a cooperative operational model to improve the quality of parking availability data.
The city is also looking into the development of a service that will allow drivers to receive real time information on urban parking availability, with the aim to improve traffic flows and reduce congestion. This initiative is backed by the EU via the C-Mobile project. Bilbao's goal is also to develop similar services for freight vehicles and disabled people, each with their specific parking needs and specific reserved areas on the curb.
Inclusive Vertical Mobility
The capital of the Basque country is often referred to as "El Botxo" (the hole) by its inhabitants, revealing a complex orography: the city was founded on a valley and grew towards the surrounding hills. As a result, there are 25 upper districts that host 50% of the total population. This fact, along with the progressive ageing of the citizens (24% of inhabitants in Bilbao are older than 65) makes Inclusive Vertical Mobility one of the city's greatest challenges.
Currently, a total amount of 40 lifts, both vertical and inclined, and 20 outdoors ramps and escalators provide free mobility assistance in Bilbao, enhancing universal access to the upper neighbourhoods. Together, these services accounted for more than 8 million trips and, over 20 million passengers in 2018. The city expects to further extend this service in the near future.
Even though there is an average availability rate of these services of close to 98%, the public bus network (Bilbobus) provides operational support when required. Both vertical mobility systems and e-biking (public shared electric bikes) services are available 24/7, providing mobility options to commuters at night, without involving further investment of the Council.
Pasquale Cancellara
Pasquale Cancellara is project officer at Polis
Helmond: A lab for living in
Pasquale Cancellara talks to Gert Blom (pictured), strategic advisor on mobility for the city of Helmond about its relatively recent rise to prominence in the ITS and smart mobility fields
Why is Helmond hosting the 2019 ITS European Congress?
The city of Helmond in the Netherlands won the iMobility award in 2011 for its work in the field of C-ITS. Strangely enough, nobody in the region was aware of this. The average citizen in Eindhoven or Helmond is not aware of what's going on locally in the field of mobility, and which companies and organisations are involved. For this reason, Helmond decided to apply as host for the ITS European Congress. The reason why the city was successful with the bid, is because it already is a living lab for ITS.
Helmond is recognised in the field of ITS, but it was not always like this. What do you think was the key to becoming a hub of innovation and cooperation with innovative companies?
Helmond can show real ITS services on the ground. The city has an automotive campus, a highway equipped with ITS, companies working on ITS, and some ITS services in operation. I think this is the main reason why we were successful with our bid.
It may sound a bit silly, but the key is not wanting to do everything. Helmond is focusing on some niches and trying to excel in those. It's important to know what you're not good at. What we really wanted to do, because we have an automotive campus, was to create a bridge between the automotive sector and innovative mobility. ITS is about connecting vehicles with the environment. So, I would say the key is focus – focusing on what you're good at, but also reflecting on the mobility issues we face in our cities. We didn't decide to become involved in European projects just for the sake of it. We did it because they can offer solutions to the mobility challenges in in our city.
To give an example, we have a lot of traffic, a lot of heavy-goods vehicles and trucks coming to the centre of our city. Fifteen years ago we had two options. The first one was to build new roads and tunnels, but this was very expensive and of course we did not have the space for it. The other option was to investigate more innovative solutions. The European C-ITS projects we became involved with really start from challenges we face in our city. So, what made us successful was to start from our real problems, to focus on what we are good at, but also to actually turn policy into practice and not just talk about things. Sometimes for big cities, things can be a bit more complicated, whereas it's in the DNA of small and medium-sized cities to get things done and be pragmatic.
What are the main innovations that have become part of the way you manage mobility in Helmond?
We have some C-ITS services that we piloted in an EU project and then implemented. In one case, we worked on the connectivity between trucks and emergency vehicles and traffic lights. It's just a niche, a small part of ITS, but it was very successful. We ran some tests seven years ago within the FREILOT project. We have been using it for many years now. Talking about something very different, we have introduced flexible-on demand transport services within our public transport system. Using an app, people can opt for a mini-bus and mini-shuttle on-demand. This started as an experiment, but it has now become fully operational and is very successful. As a small city we do not have a metro, so these flexible buses and minibuses extend the public transport offer, and we are now planning to upscale the service.
How is the response of citizens to this innovation?
As you said, the reputation of Helmond as an ITS leader is not very widely known locally. This is the reason why we are hosting the ITS Congress, to make citizens more aware of all this. Ahead of the Congress we will host a public day in Dutch. We want to show the public how we are working on innovation in the automotive sector. The past couple of years, we did not focus on end users but on professional users. It proved to be useful to work with transport companies and their drivers, because they are directly affected by the innovations and can act as ambassadors. This two-step approach is very useful and efficient, but we now want to involve the public too.