15/12/2021
The new Urban Mobility Framework is an important step in the right direction
On 14 December, the European Commission launched a new Urban Mobility Framework as part of the wider "Efficient and Green Mobility Package". The initiative is an important step in the right direction. Now, let's keep walking. 
Accelerating the shift to sustainable urban mobility is indispensable to meet the goals of the Green Deal. Local and regional governments and transport authorities hold the keys to advance fundamental measures. They must be supported, through a concerted effort with the European Commission. We must think local and act European.
The new Urban Mobility Framework is an important step in this direction, and the POLIS Network warmly welcomes its publication. As a document of this importance deserves, in the coming weeks we will conduct a detailed analysis and discussions with our members and several stakeholders and allies for sustainable mobility, to guide future action.
For now, we can already point out as very positive the importance assigned to:
Public transport, walking and cycling;
Sustainable Urban Mobility Planning and indicators in the TEN-T Urban Nodes;
The links between legislation, funding, and capacity building;
For the first time in an EC communication about urban mobility, the strong links with "hard" legislation, in coherence with local policy ambitions;
Targeted funding across different instruments;
Valuing and strengthening the existing initiatives.
This Framework sets a course. Now, taking the steps that we need to take, and raising the speed at which we must advance, remains a challenge for all. As we look at the decisive decade ahead, we must all be effective, ambitious, and brave. POLIS will keep pushing for cooperation, innovation, and action.
POLIS' positions on the new Urban Mobility Framework, integrated ticketing and TEN-T
POLIS' contribution on the new Urban Mobility Framework is accessible here.
Earlier this year, POLIS, EMTA and UITP published a joint letter on integrated ticketing. Read it here.
POLIS and ERRIN have published a joint position paper on the revision of the TEN-T guidelines. Read it here.
Background
The New Urban Mobility Framework announces a more ambitious approach to sustainable urban mobility planning (SUMPs) and related indicators. This complements the proposal for revised guidelines for the Trans-European Transport Network, according to which the largest 424 EU cities on the TEN-T network should adopt a sustainable urban mobility plan (SUMP) by 2025 and collect relevant data.
In a bid to promote active mobility and protect vulnerable road users, revised SUMP guidance documents will have a strong focus on walking and cycling. Moreover, new guidance will be released on the safe use of micromobility devices and quality infrastructure for vulnerable road users.
The new framework also covers making urban transport resilient, environmentally friendly, and energy-efficient by identifying zero-emission solutions for urban logistics.
Measures to achieve this objective include obligations to put in place recharging and refuelling infrastructure for electric and hydrogen vehicles in cities, improved coordination, dedicated funding for cities under the EU Mission on Climate-neutral and Smart Cities, and integrate sustainable urban logistics plans (SULPs) within the SUMP framework.
Dedicated guidance will follow covering on-demand passenger transport, such as taxis and Private Hire Vehicles with drivers (PHV), to ensure it can become more sustainable and deliver efficient services to citizens while helping the single market to function smoothly and addressing social and safety concerns.
In addition, urban mobility is incorporated in the ongoing legislative work on the provision and processing of commercially sensitive data for multimodal digital mobility services – such as Mobility as a Service (MaaS) applications – and a common European mobility data space to facilitate access to and sharing of mobility data. The EUropean Commission will also explore which digital solutions are available to enable more effective and user-friendly low-emission zones and other types of urban vehicle access regulation.
For more information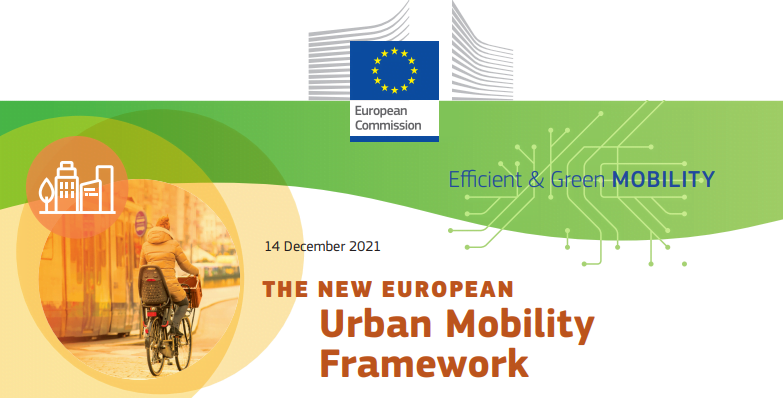 Staff member(s)