16/12/2019
Polis leads COP25 workshop on the role of cities in combatting climate change
On 7 December 2019, a workshop focusing on mobility and climate change took place in Madrid as part of the UN Climate Conference (COP25). Titled 'Mobility and climate change: The integrated approach of cities', the workshop was moderated by Karen Vancluysen, Secretary General of Polis, and featured presentations from numerous high-level speakers and urban mobility experts.
Organised by EMT Madrid, itself a member of Polis, the workshop explored the capability of cities to overcome transport challenges and assessed the adequacy of their standard toolbox of solutions, highlighting potential weaknesses and recommending improvement measures. With urban populations expected to increase significantly between now and 2050, there is a growing consensus that cities have an instrumental role to play in the fight against climate change. Sustainable urban mobility action presents cities with an opportunity to contribute to the achievement of climate goals, whether it be through the reduction of congestion as a result of modal shifts, through decarbonisation initiatives or through the betterment of air quality. Underscoring the discussions was the strongly held conviction that cities should be recognised as major engines for bringing about much-needed change in the transport sector, especially at times when action taken at the national level is lacking momentum.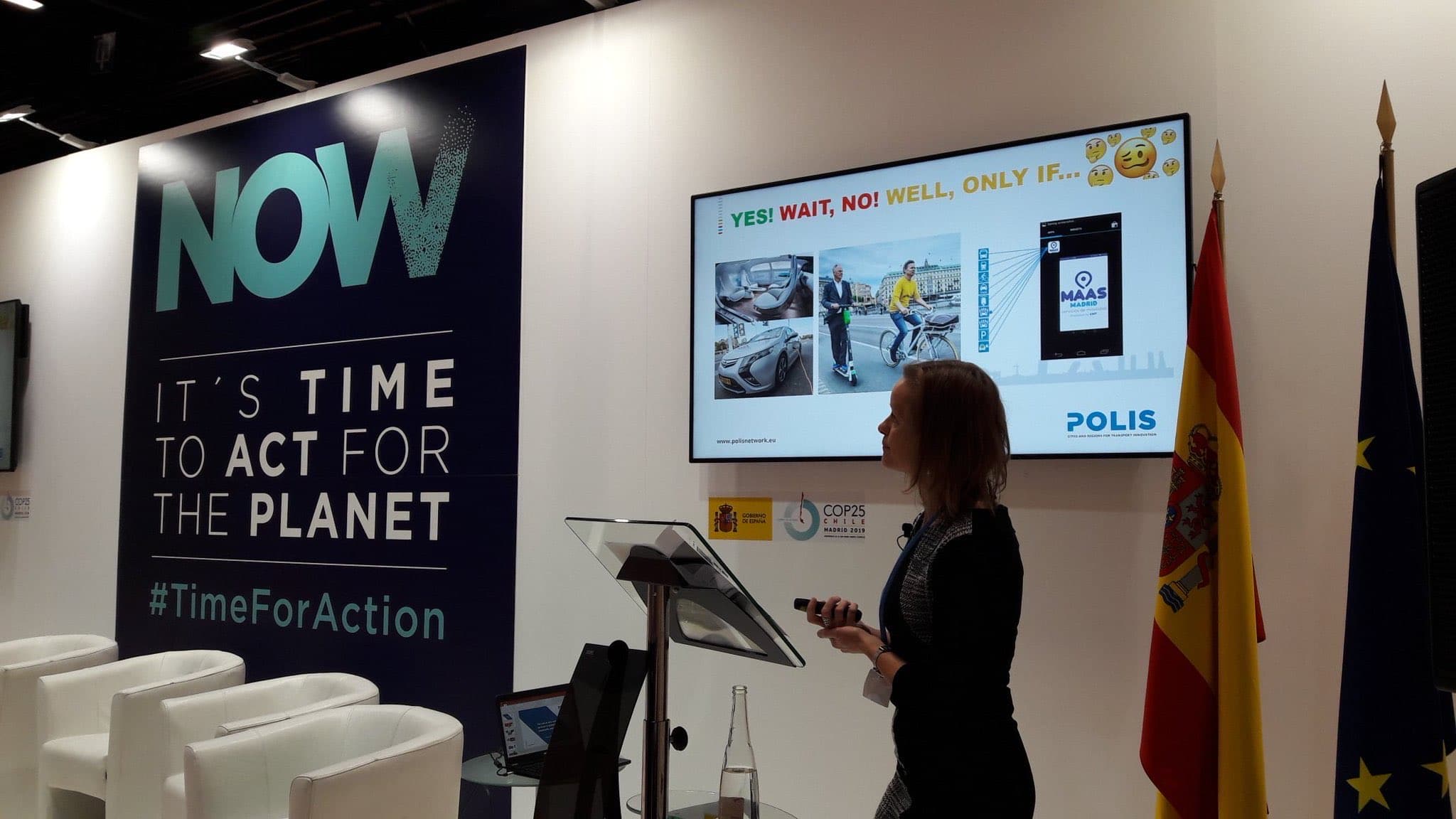 In addition to moderating the workshop, Secretary General Vancluysen delivered a presentation on the potential role of new mobility services when it comes to achieving sustainable mobility goals.
Kicking off the new institutional cycle, COP25 provided recently appointed European Commission President von der Leyen with a platform to pitch her European Green Deal to participants, a deal which comprises a crucial part of the European Union's plan to achieve climate neutrality by 2050.
Separate to this workshop, Polis participated in a UNFCCC official side event to the COP titled 'Transport Mitigation Actions in Cities', which took place on 4 December and where Karen Vancluysen was a panellist in a debate on low-carbon transport measures in cities, also featuring representatives from the International Transport Forum (ITF), the International Association of Public Transport (UITP), and the International Union of Railways (UIC). The event was webcast and the video may be viewed here.
Topics
Staff member(s)