10/05/2023
Leuven's Park Belle-Vue wins the Public Space Award 2023
POLIS president Leuven has won the 2023 Public Space Award with their pioneering approach to redeveloping the land for active travel and public space.
The sixteenth presentation of the Public Space Prize award was awarded to the city at the Congress & Forum Public Space on 9 May in Antwerp. The Belgian city, host of the upcoming POLIS 2023 Annual Conference, won the award for their redevelopment of Park Belle Vue. The park, which was previously a busy street and car park, with narrow bicycle lanes, has been transformed into a car-free bicycle street and has become one of the most popular cycling routes in Leuven.
Go there today, and you will find the former car park is 750 meters long and only 50 meters wide space with grass areas, trees and plants, playgrounds and 2 neighbourhood squares. There are also plant compartments providing more greenery for locals- and visitors.
"We transformed the grey back of Leuven station into a lively place, with lots of greenery, a play park and a flexible square for meeting and neighbourhood activities," says Mohamed Ridouani, mayor of the city of Leuven.
The city faced tough competition for the award, up against neighbouring cities, including fellow POLIS member Mechelen, whose Korte Veluwestraat, a fully-fledged street garden, has also attracted accolades. However, the award, which is voted for by the public, is a recognition of Leuven's - perhaps unparalleled- commitment to enhancing public space and promoting active travel while working with its citizens in the process.
The Public Space Award is just another to add to their growing cabinet of trophies; Leuven's efforts have gained the city many awards over the last few years, including the European Capital of Innovation in 2020, as well as the 'Best Open-Minded Destination in Europe'.
Located 30km from the capital of Brussels, the city is embarking on a journey to become carbon-neutral by 2050, supported by a collaboration between residents, local authorities and the mobility sector. Despite being a smaller city- what it lacks in size it more than makes up for in pioneering urbanism.
Indeed, cycling is at the heart of Belle Vue. The new bicycle connection runs in front of the houses and is an essential link in the regional cycling network. The cycle route through the park, via a tunnel under the Tiensesteenweg and along the railway embankment, strengthens the position of the bicycle as an urban and regional transport alternative.
This coordinates well with the city's new circulation plan, introduced in 2016, which pushed out car traffic from the city centre and redesigned public spaces for pedestrians and cyclists to utilise, and this strategy has seen the number of cyclists rise by 40%. This is being championed through the eHubs project, through which on-street locations bringing together e-bikes, e-cargo bikes, e-scooters and e-cars, provide a range of sustainable transport options in a single location.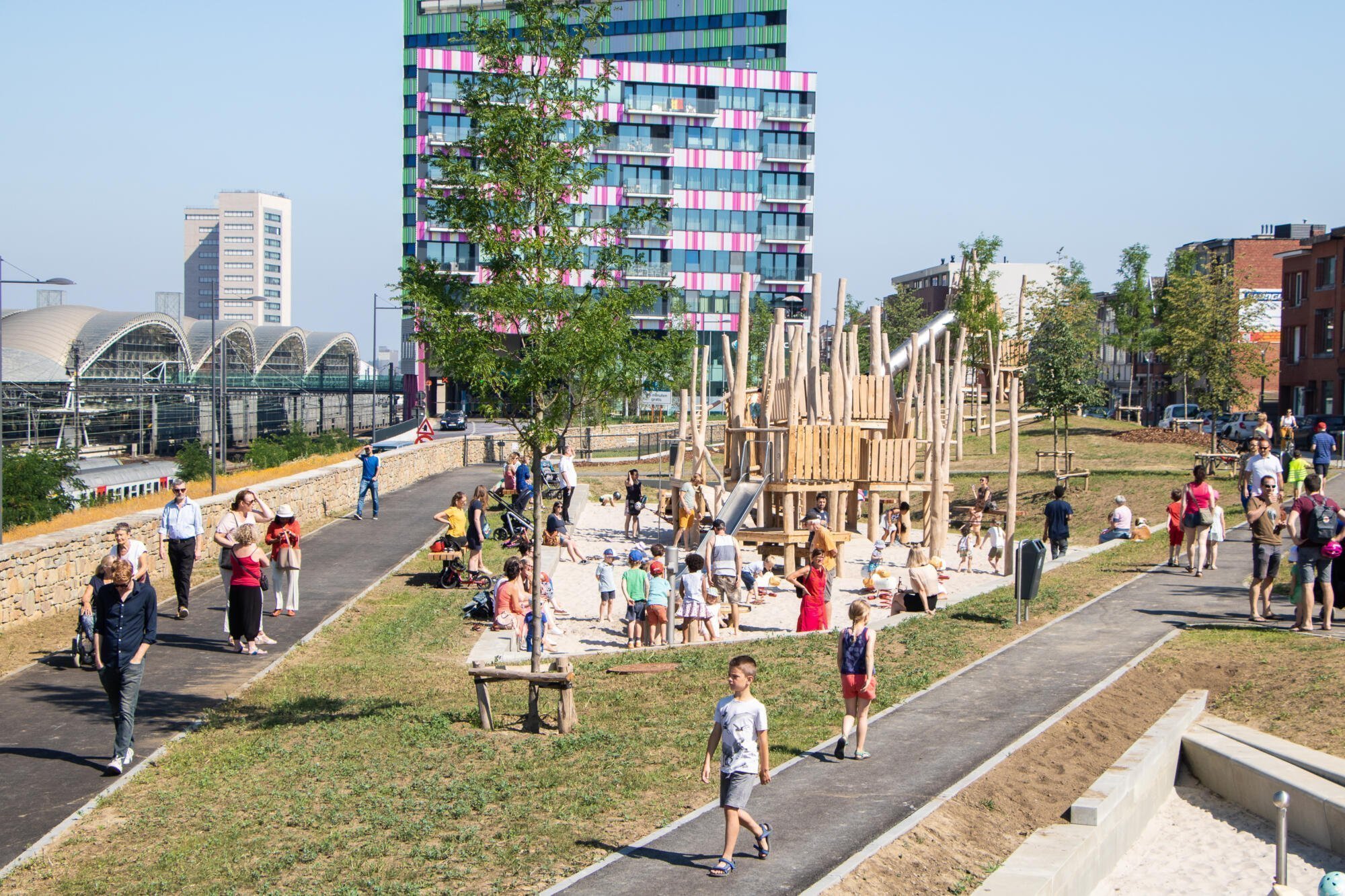 Topics
Staff member(s)