20/12/2021
Carsharing – what do we know so far? Insights from the MOBI-MIX project
Carsharing services have become common across most medium and large European cities. There is a wide variation between business models, observed impacts, as well as ways in which policy makers have tried to steer the development of carsharing.
Carsharing plays an important role in the MOBI-MIX project, as cities are linking it with mobility hubs (Norfolk), MaaS (Antwerp), and free transport pilots (Mechelen), while also testing different business models (Rotterdam). The first part of this carsharing insight series explores the status quo – what we know about its advantages and disadvantages, various city experiences, as well as policies that might maximise city-wide benefits. The literature review was conducted by Ghent University and complemented by primary data collected by the Bax & Company team through interviews with city representatives. To understand the causal impacts of carsharing, the second part will focus on Rotterdam. Using the novel MObility DEcisions (MODE) framework we designed, we will be able to measure and reveal shared mobility impacts, offer transport decision-makers strategic support in the planning, implementation and assessment of mobility pilots, projects and policies.
What do we mean by carsharing?
In MOBI-MIX, carsharing is used as the equivalent term of car clubs in the UK. Carsharing refers to free-floating, station-based, cooperative, and peer-to-peer systems, which are different from ride-sharing services (e.g., Uber, Bolt), carpooling (e.g., BlaBlaCar), traditional rental services (e.g., Sixt), and long-term rentals (e.g., Swapfiets).
In this insight we focus primarily on free-floating (FF) and station-based (SB) carsharing, which can have different business and operational configurations: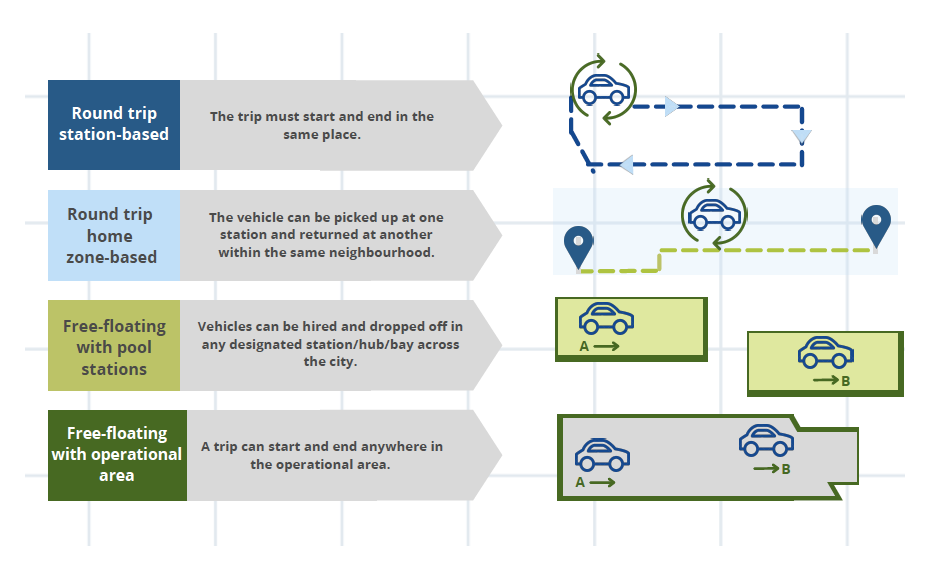 Carsharing models (Adapted from Movmi, 2018)
Advantages and disadvantages – a complex picture
The impacts of carsharing programmes are often difficult to understand, which is why we developed a novel methodology in MOBI-MIX, to shed light on causal impacts. The following three examples illustrate the complexity, demonstrating the need for thorough evaluation and corrective policy actions.
Increase in transport affordability
Carsharing reduces the need to own a private vehicle, eliminating the associated fixed costs (e.g., purchase, insurance, regular inspections and maintenance, fuel, etc.). From this point of view, the price structure makes the occasional use of a vehicle more accessible for those who cannot afford a private car or who do not have access to public transport. Nonetheless, carsharing prices might still be too high for low-income households, especially if certain activities such as accessing the workplace or performing caring activities require daily/prolonged car use.
Reduction in the number of private cars & parking
One of the biggest promises of carsharing is the reduction in the number of cars and associated parking needed. This happens when people get rid of their personal cars and switch to other modes of transport, including shared cars. The evidence from CoMoUK shows that over 22% of the carsharing users would have bought a car if they had no access to shared cars. However, other studies have shown that specific groups of users – such as those with an affinity for private cars or those looking to start a family – might still plan to purchase a car, despite having access to shared cars. In other situations, if carsharing is used by people who did not previously own a car, it can lead to an increase in the number of car kilometres driven in a city.
Support the development of sustainable transport options
When carsharing leads to a reduction in private car usage, it can generate multiple positive environmental impacts. For instance, lower air and noise emissions can be observed thanks to shared cars being newer and/or electric. Nonetheless, if carsharing users are switching from other more sustainable means of transport (e.g., public transport, cycling and/or walking), this can have negative effects on the city's modal split (ultimately causing higher emissions and congestion), and on the capacity of other services to remain financially viable. The pricing of carsharing is a mechanism to ensure that trips are not switched from sustainable modes in large quantities and overall carsharing and public transport mutually reinforce each other.
Experiences in 5 European cities
As these different impacts vary depending on the context and supporting policies, we interviewed five policy makers from Berlin, Brussels, Paris, Prague, and Stuttgart, to compare their cities' experience. The tables below summarise some key characteristics and the most important lessons learned - find the full quality tables in the Related pictures tab at the bottom.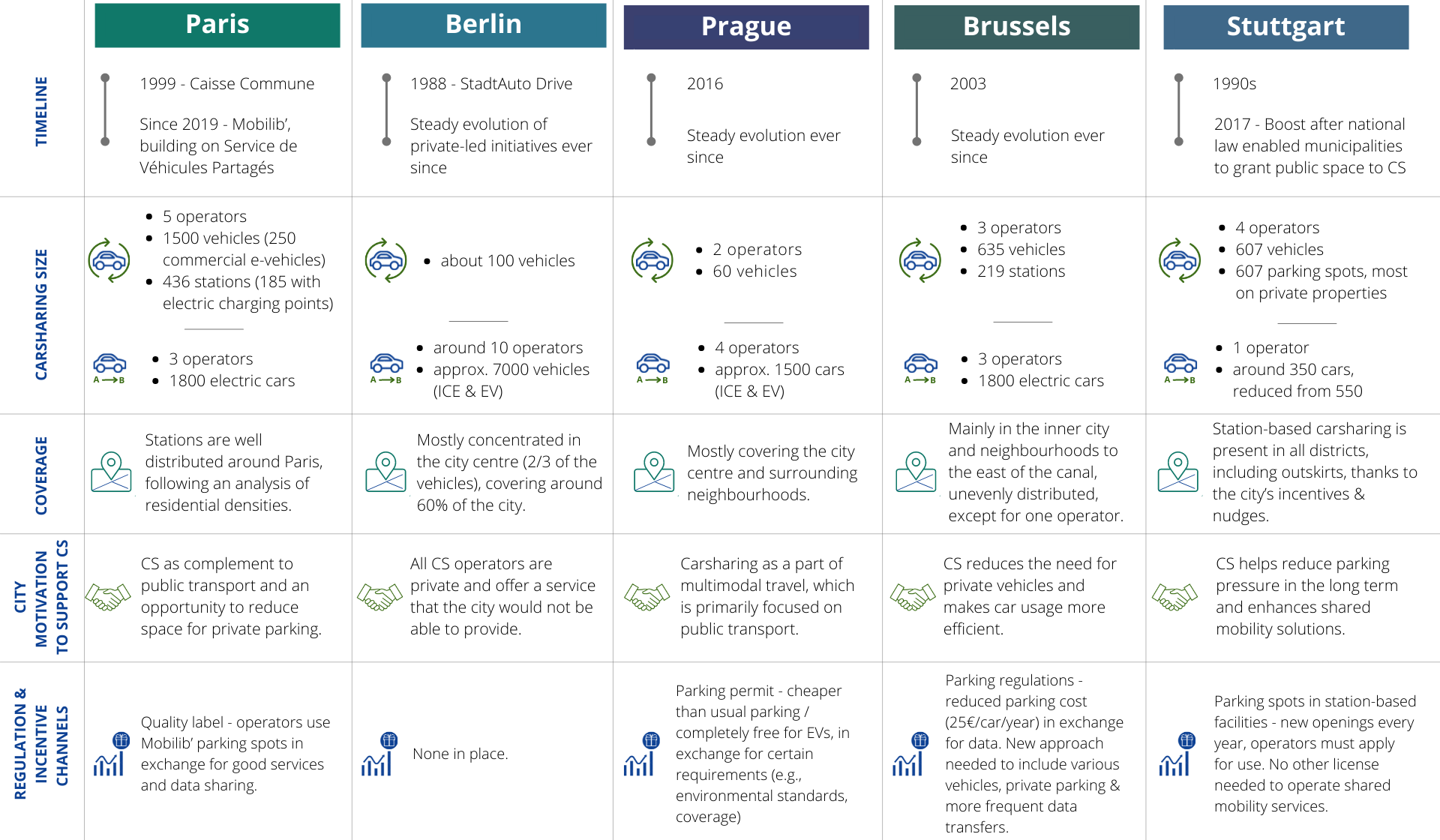 Policy recommendations to reduce disadvantages
Building on these experiences and lessons from other EU projects, we suggest some preliminary policy recommendations:
Embed carsharing policies within the wider city goals, connecting them with other sustainable transport modes through a Sustainable Urban Mobility Plan.
Create hurdles for private car ownership (through traffic and parking management), while offering viable and better alternatives for multimodal transport. Combine these with investments in urban densification, good quality housing, and public space development.
Ensure an optimal geographic spread and affordable access to carsharing, connecting it with safe walking and cycling infrastructure, shared and public transport. Enhance integration through Mobility as a Service platforms that facilitate multimodal route planning, booking, and payment.
Use a combination of carrots and sticks to attract carsharing providers and support their operation, while also benefitting from the data they can provide.
Raise awareness and encourage more people to try carsharing, while also joining forces with employers who can substitute work cars with shared ones.
This is only a selection of the possibilities available for policy makers to support carsharing and maximise its benefits. The longer MOBI-MIX Insight Report offers a comprehensive overview - you can find it at the bottom in the documents tab -, and our next insight will analyse the impact of carsharing pilots in the city of Rotterdam.
Topics
Staff member(s)