Dynaxibility4CE Final Conference
The Final Conference of the Dynaxibility4CE project will take place on 17 May in Leipzig, Germany.
The Interreg-funded Dynaxibility4CE project worked fostered the exchange of cities in Central Europe and beyond. The results of this cooperation on CCAM, MaaS and UVAR will be presented in Leipzig, Germany.
Over the last years, each of the partner cities have made advancements on their focus topic, which will be presented in dedicated sessions on these three topics. Whereas Parma and Krakow highlight their roadmap towards an UVAR zone, the cities of Graz, Budapest and Koprivnica will share their MaaS implementation plans.
The third block of presentations and panel discussions will focus on CCAM and the related research of Leipzig, Stuttgart, Graz and Parma.
The conference, which will be held in the same week as the ITF 2022, will give you the opportunity to learn more about the achievements of Dynaxibility4CE related to MaaS, CCAM and UVAR. 
Find out more and register HERE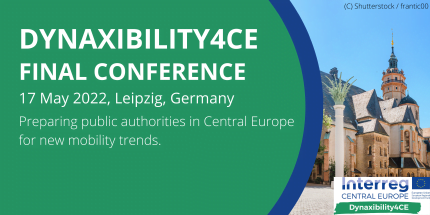 Topics
Staff member(s)