DriveStart – a success story
30/08/2019
DriveStart – a success story
Analyse, understand, research, design, implement, evaluate: bringing theory into practice, by Dan Campsall, George Ursachi, Tanya Fosdick and Steve Ferris
Collisions involving young drivers aged between 17 and 24 that resulted in injuries have reduced significantly over the last 10 years, but information from the most recent period has shown a plateau in casualty reduction (Figure 1). The initial reduction was largely seen as a result of a lower number of young male drivers rather than a reduction in collision rates per driver.
The effect of education on driver behaviour has been the subject of significant scrutiny, leading researchers to conclude that relatively low expectations should be set against potential outcomes. Meanwhile the road safety com - munity has been challenged to develop interventions based on recognised theoretical approaches whilst implementing robust evalu - ation frameworks. Further strands of research have also identified a questionable reliance on 'fear appeal' and a lack of behavioural change techniques (BCT) in studies of existing education programmes.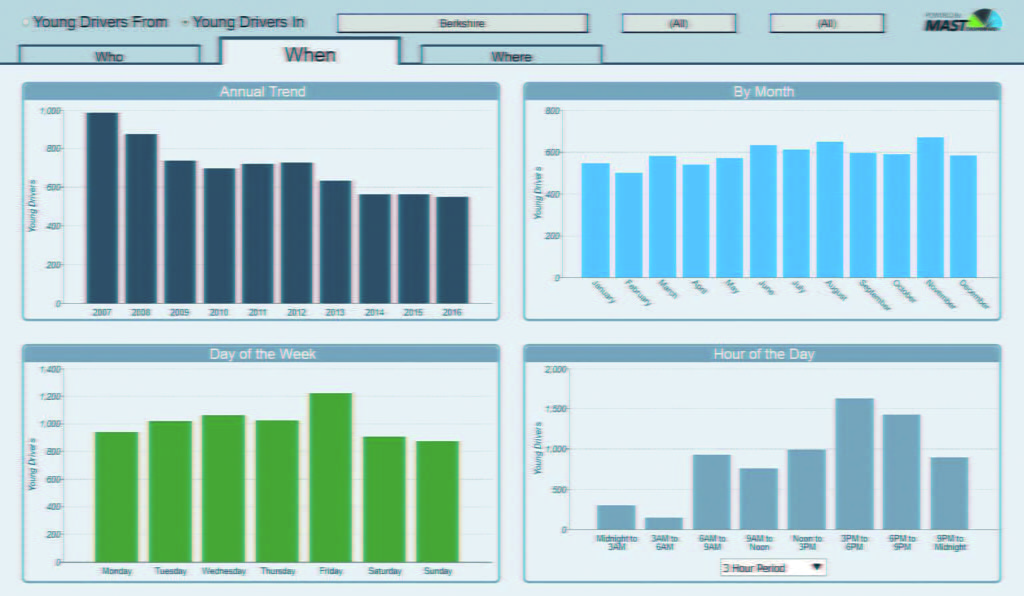 DriveStart utilised behavioural insights on over 3,000 young people drawn from seven years of young driver evaluation studies carried out by Road Safety Analysis 1 . These stud - ies reveal positive intentions, but wider studies reveal a greater pro - pensity for adopting unsafe practices. This disparity is explained through the Prototype Willingness Model (PWM), which proposes that personal vulner - ability, risk images, willingness and social norms are all better predictors of behaviour than intentions.
Through critical evaluation of other schemes, it became evident that a new approach was required. Qualitative evaluations of a pilot programme revealed a danger of normalising bad behaviour through conventional approaches to predriver interventions, which often use shock tactics and emphasise illegal activities.
The refined DriveStart content ensures the incorporation of 16 identifiable BCTs from across taxonomy groups. Given the evidence-base, increasing perceived vulnerability whilst not negatively affecting social norms should be delivered through practical sessions.
The day-long experience is aimed at pre-drivers and comprised a variety of interactive sessions targeting issues highlighted in research as contributing to novice drivers' high risk. Topics include hazard perception, distractions and impairment, and practical information regarding licensing and test procedures and selecting a driving instructor. Games and demonstrations are used to employ a variety of BCTs, including action planning, social comparison, problem solving and behavioural practice. Rather than deliver a broad education and awareness message to large audiences, these workshops are for 32 people who often work in smaller groups.
STOP DOING THE 'SAME THING', DO THE RIGHT THING
The behavioural science utilised within DriveStart is pioneering. The development of 'Experience' events, thoroughly re-designed utilising PWM as the underlying behavioural theory, was a first for Road Safety.
Reframing the entire intervention using behavioural science has required agencies to adjust their content, expectations and tone of delivery. Presenters are coached to operate within established guidelines, ensuring the innovative approach is not compromised. Recruitment is carried out using a variety of methods including a highly successful social media portfolio that drives significant numbers of attendees.
COMPARING THE RESULTS WITH PREVIOUS INTERVENTIONS – IS IT WORTH THE EFFORT?
Significant movement in the desired direction was reported for many of the behavioural aspects investigated. Significant success was achieved in changing social norms and willingness, especially around messages covering distraction.
Where results were not statistically significant, the movement was still positive. It appears high baselines (indicating an already appreciable understanding about the risks) only allowed a smaller movement.
The level of engagement and satisfaction among participants was higher than previous or comparator 'traditional' interventions based on 'fear appeals'. Feedback has shown they appreciate interactivity, especially where this is reinforcing positive behaviour, showing them how to engage in correct actions and providing coping mechanisms for challenging situations.
DO WE WANT IT CHEAP OR DO WE WANT IT GOOD? OR WE CAN HAVE BOTH?
DriveStart operates within a relatively low budget per annum. The investment comes through local authority teams and Safer Roads Berkshire to support six experience events, involving nearly 200 young pre-drivers each year; and engaging with over 7,000 users on social media each month.
Costs include event staffing, resources, equipment and web and social media support. With a cost of less than £100 (€113) per pre-driver for a full day of practical advice and behaviour change activities resulting in statistically significant results, it represents clear value for money. Larger-scale interventions usually have lower costs per head but often fail to deliver significant changes in behaviours.
SCALABILITY & WIDER IMPLEMENTATION
The principles behind the scheme are entirely replicable, either through emulating the entire scheme or through re-framing of messages in existing pre-driver schemes.
The DriveStart Experiences are supported by a thoroughly documented approach allowing other road safety bodies to replicate the entire scheme with a high degree of probability that it can deliver comparable results.
Involvement from a range of public and commercial partners is key to ensuring the ongoing feasibility of the program. The redesigned intervention has served to reduce the financial and human resource commitment for each participant organisation, compared to previous interventions.
In 2017-2018 DriveStart was awarded a number of very prestigious awards2 that come to underline and support once again, the practicality of the program, its innovative approach and the promising results.
FYI
Dan Campsall, Chairman - Agilysis, and Marketing & Communication Director - Road Safety Analysis Dan.Campsall@agilysis.co.uk George Ursachi, Senior Research Analyst – Agilysis George.ursachi@agilysis.co.uk Tanya Fosdick, Head of Research – Agilysis, Associate Researcher – Road Safety Analysis Tanya.fosdick@agilysis.co.uk Steve Ferris, Programme Manager – Agilysis Steve.ferris@agilysis.co.uk
Topics