22/02/2021
Report sheds light on the main challenges, trends and factors influencing city logistics
The resilience of the logistics chains is essential and has been increasingly put to test with the dawn of on-demand logistics, attempting to accommodate citizen's expectations for fast delivery at low or even or zero cost. Urban logistics have long been an important element of sustainable urban mobility, with its importance being further reinforced with the COVID-19 crisis. The fast-changing patterns of consumers, who are increasingly turning to online on-demand platforms, is also bringing additional stress to the existing systems and to last-mile deliveries with pressing calls for action.
With this in mind, LEAD partners from Molde University and POLIS have recently published the report "City Logistics landscape in the era of on-demand economy: main challenges, trends and factors influencing city logistics". The study provides an analysis of the strategic, regulatory, business, technology, environmental factors influencing complex city logistics systems in the on-demand economy era. It includes a literature review and a survey with 125 respondents to identify the most relevant factors influencing urban logistics, including an analysis broken down per type of stakeholder. The research concluded that new technologies, consumer requirements and economic and demographic elements were selected as the factors that most influence on-demand logistics.
To favour the identification of the innovative solutions to be tested in the LEAD Living Labs and the different LEAD strategies, the study schematises the typologies of agile storage and last-mile distribution schemes, based on four categories: i) Delivery locations, modes and times; ii) Loading and unloading area management; iii) Consolidation iv) New technologies. This will help local partners to understand how the solutions will likely perform under various economic, environmental and social conditions, looking at concrete experiences and evaluations throughout Europe and the rest of the world.
The study also identifies different green vehicles, classifying and evaluating these considering the needed requirements for their effective integration with logistics operations. An enablers and barriers map identifies the necessary actions, while for each vehicle the following are discussed: policy and legislation; technology and innovation; infrastructure; consumer acceptance. A common element is a need for a charging infrastructure network suitable for the upscaling of these vehicles. This exercise is valuable for the deployment of LEAD Living Labs but also provides insights on their level of maturity and complexity, relevant for an assessment of which are better suited for different contexts.
Want to know more? You can access the document here.
Note: The Deliverable is pending approval by the European Commission.
About LEAD
LEAD operates under the Research and Innovation Actions funding scheme, as facilitated by Horizon 2020 and the 'Mobility for Growth programme and it will run until May 2023. This project has received funding from the European Union's Horizon 2020 Research and Innovation Programme under Grant Agreement No 861598.
Contact
Giacomo Lozzi, Senior Project Manager – Coordinator Urban Freight, Polis GLozzi@polisnetwork.eu
Cláudia Ribeiro, Project Officer, Polis CRibeiro@polisnetwork.eu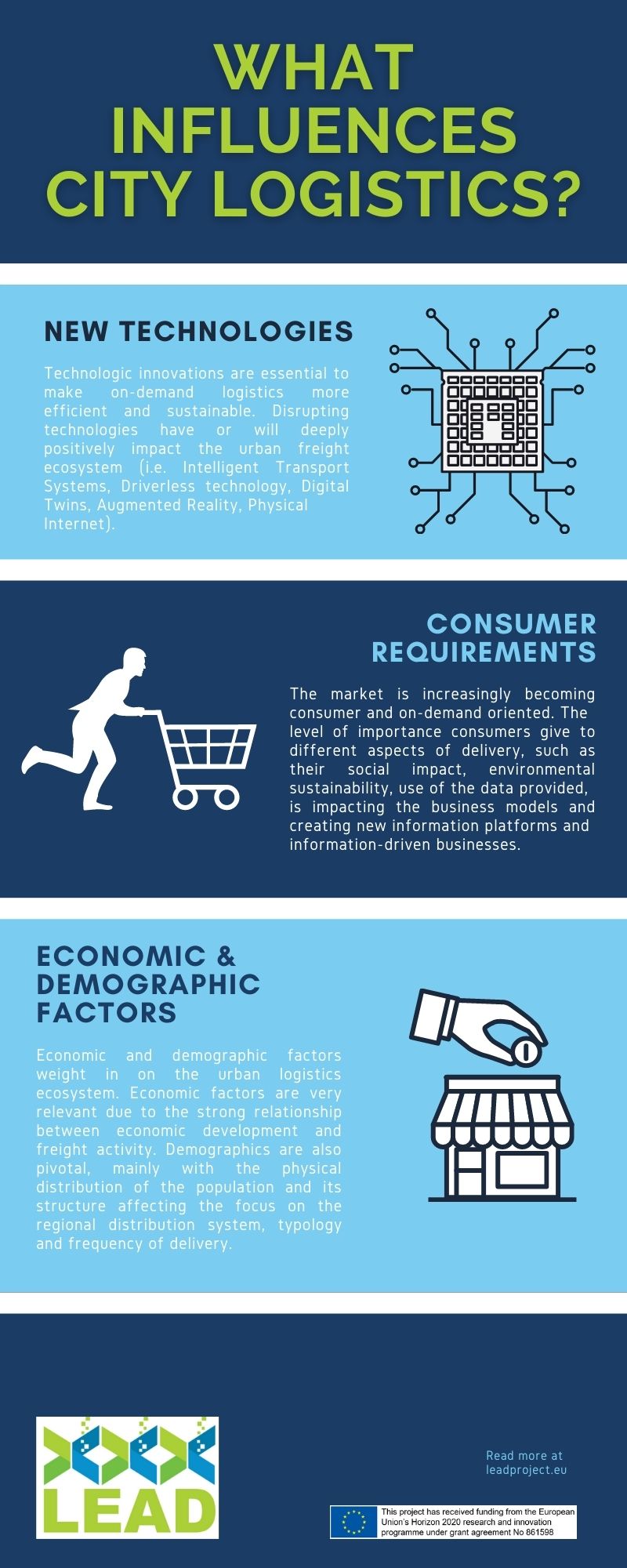 Topics
Staff member(s)