06/05/2020
Post-Lockdown Mobility webinar report: The post-lockdown strategies of Barcelona and Milan
The second in the Post-Lockdown Mobility webinar series began with an introduction from POLIS Secretary General Karen Vancluysen, who welcomed participants and highlighted the upcoming webinars in the series, which will take place every Tuesday and Thursday at 14:00 exclusively for POLIS members. Karen reiterated that this is an unprecedented situation for local authorities in urban mobility, and sessions like the Post-Lockdown Mobility series are vital for sharing best practice and learning from each other in this difficult time. Karen highlighted that whilst immediate priority needs to be placed on dealing with the crisis at hand, there is a chance to capitalise on new opportunities for urban mobility, as is being demonstrated by cities right across the world.
 
The post-lockdown strategy of Barcelona 
Adrià Gomila, Head of Mobility Department at the City of Barcelona, presented Barcelona's strategy for restarting mobility in the city. As lockdown measures now begin to ease in Spain, demand for mobility will begin to rise once again; a strategic response is therefore vital in ensuring people can both travel where they go and stay safe. 
Adrià set out Barcelona's three-stage approach to mobility as a result of COVID-19: Monitoring mobility, necessary measures, and opportunity measures. 
Monitoring mobility
Adrià noted the importance of monitoring mobility during this crisis to assess how the situation is changing over time and how challenges can be met. The City of Barcelona are cooperating with both the Catalan and the Spanish Governments to share data on traffic and mobility. 
Like other cities, Barcelona has seen huge reductions in travel demand. Private transport has declined by 80%, public transport by up to 95%, and the use of bike lanes by up to 85%. Public transport supply has also fallen in response, operating at between 40-60% of normal operation. This and other lockdown measures has caused a change in the modal split in Barcelona, with the use of private transport (e.g. cars) rising from 26% before lockdown to 34% at present, and public transport falling from 37% before lockdown to just 20% at present. Less traffic on streets has resulted in a rise in speeding offences, though accident rates remain proportionally the same as pre-lockdown. Vans and trucks have been the least affected, with traffic levels of these modes at 65% of pre-lockdown levels. Bikes and motorbikes have seen the biggest reduction since lockdown measures were introduced. 
Necessary measures for COVID-19
Adrià stressed that priority must be placed on ensuring that mobility supports the recovery of society and economic activity in Barcelona. To do so, 'necessary' measures are being introduced to support essential services and keep the city moving. Barcelona's response has included supporting mobility to and from essential services, such as health centres and supermarkets. Measures include free parking at and nearby hospitals, as well as the provision of bicycles for health workers who require assistance. Parking payments are also largely suspended, but these will return when the national State of Emergency is no longer in place. 
With the public transport fleet operating at 50% of supply, but with only 10% of normal demand, costs are particularly high at this time. Additional financing, including from the European Union, is required to keep public transport afloat whilst focusing on recovering public transport passenger numbers to support both the economic recovery of the city and public transport operators and to avoid a shift,  to unsustainable mobility patterns. 
As lockdown measures begin to ease in Barcelona from 4 May, an increase in trips will begin to be seen, posing new challenges for mobility in the city. Public transport will now operate at 50% maximum capacity on each vehicle, whilst face masks will be mandatory for all passengers (these rules apply across the whole of Spain). Adria stressed that this easing of restrictions will depend on the good will and individual responsibility of citizens to follow the rules and practice good hygiene to ensure that everyone remains safe when travelling throughout the city.    
A communications campaign will also be launched to rebuild the status and reputation of public transport and taxi services in Barcelona. It is hoped that this will increase the use of public transport, thus avoiding a shift to private car use in the city. However, with public transport only able to operate at 50% of normal supply, only around one third of all demand can be met by public transport. Shared mobility solutions have potential to compensate for the lower demand in public transport, but these services have also suffered serious declines in use and availability. Barcelona is therefore exploring alternative solutions to avoid a mass shift to car use as lockdown measures are eased. 
Opportunity measures for COVID-19
To adapt the city to these new conditions and take full advantage of the opportunities arising from this situation, the City of Barcelona is undertaking changes in its mobility system. For example, there is an opportunity to capitalise on the current high rates of home-working and reduce the number of journeys that are made in the city, particularly at rush hour. Making
teleworking a normal part of people's working week could greatly reduce demand and ease pressure on the city's transport system at key times of the day. Additionally, there is an opportunity to instill behaviour change in the population in terms of people's mobility habits. With the lockdown creating greater public awareness of the negative impact of mobility on the local environment, such as air and noise pollution, more people may adapt their travel choices in response, leading to reduced mobility or more sustainable modes of transport being used. The recent increases in walking and cycling seen across the city are showing people that a more active transport system can deliver benefits for both the individual through improved physical health, and the city as a whole through improved air quality and reduced congestion. Adrià stressed that there is a real opportunity to avoid a return to high levels of car use and adapt the city to support a more active and sustainable transport system. 
To achieve this, Barcelona is implementing measures to make walking, cycling and public transport easier and more convenient for citizens. More space for pedestrians will be created, with 12km of pedestrian priority areas, street closures and pavement widenings. Stronger enforcement of pavement parking by motorbikes will also be implemented. 21km of new bike corridors will be created to make cycling an easier option for people of all ages and abilities. Public transport will also be given greater priority, with improvements for bus lanes in seventeen locations across the city. To reduce the risk of a negative response to this re-allocation of space in favour of sustainable transport, steps are being taken to communicate the benefits of these measures to the public and highlight why these interventions are taking place.  
Adrià concluded by reiterating that whilst recovery must be prioritised, opportunities must also be taken to reap the potential long-term benefits of this situation, particularly in achieving a modal shift towards walking and cycling and in permanently changing mobility behaviour for the better. Going forward, continuing to monitor the changes in mobility will be important to plan further interventions and actions. What is vital in the short-term and into the future is showing the local authority's commitment to supporting mobility and delivering benefits for citizens in this challenging time and beyond. 

The post-lockdown strategy of Milan 
Due to unforeseen circumstances, the representative from the City of Milan was not unfortunately not able to present at this webinar. In their place, Giacomo Lozzi, Senior Project Manager at Polis Network, provided an overview of Milan's strategy and plans for mobility post-lockdown.  
Giacomo began by setting out the current situation in Milan. After an extended period of lockdown, Italy began to ease confinement on 4 May. As expected, mobility demand has increased in response, though travel was lower than expected on the first day that measures were relaxed.  
Giacomo explained that compared to other countries Italy has a particularly strong car culture, and that this has historically been reflected in Milan. The city suffers from severe air pollution and congestion, being one of the most congested cities in the world. Lockdown measures saw up to a 75% reduction in car traffic in Italy, with similar patterns seen in Milan. Milan and the wider Lombardy region has been one of the worst affected regions in Europe by the COVID-19 outbreak.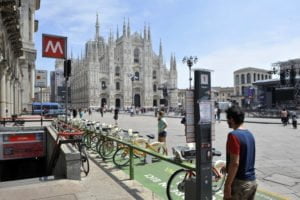 As lockdown measures are eased, public transport will begin to increase in supply. Social distancing rules will remain in place and the use of masks and gloves will be mandatory, whilst public transport vehicles will only be permitted to run at 25% capacity. Given that around 1.3 million people commuters use public transport in Milan under normal conditions, this creates a problem for some 75% of travelers who cannot use public transport. To avoid an unwanted shift to the car, plans are under way to make walking and cycling the norm in the Italian city. With the average commute in Milan being less than 4km, there appears to be huge potential to increase the modal share of active travel. 
Late last month, the City of Milan revealed its Open Streets project, which seeks to prioritise movement on foot and by bike throughout the city in response to COVID-19. With reduced mobility in the city at present, this is a perfect time to redistribute space from vehicles to walking and cycling to support mobility in a sustainable way as lockdown measures are eased. Milan already had ambitions to make walking and cycling easier in the city through its SUMP, however, the current crisis has created a need to speed up and expand these plans. The Open Streets project pursues two main interventions: reduced demand for mobility, and offering sustainable solutions for mobility. The project tries to strike a balance between moving people around the city whilst simultaneously keeping people safe. 
The Open Streets project seeks to prioritise movement on foot and by bike in a number of ways. Pedestrians will be given the greatest priority by widening pavements, implementing tactical urbanism approaches such as 'parklets' (e.g. seating in what were once parking spaces), and closing some streets to traffic altogether. For cycling, 35 km of new low-cost bike lanes will be rolled out by December, with 22km of these completed by the summer. This will be accompanied by a number of 'shared streets', which give priority to walking and cycling whilst continuing limited vehicle access. Speed limits across the city will be altered, with 60% of the road network having 30km/h limits to increase pedestrian and cycle safety and priority.  
The recording of this webinar is freely available for all POLIS members to watch on-demand through the members' area on our website. For further information on the rest of the Post-Lockdown Mobility Series, please see our website.