29/05/2020
Post-Lockdown Mobility webinar report: Reallocation of space to promote active travel (2)
The session was hosted by Maria José Rojo, Project Manager and Active Travel and Health Coordinator at POLIS. As Europe begins to move into the post-lockdown phase, many cities and regions are implementing emergency measures to make walking and cycling easier and safer. This session took a closer look at how cities can capitalise on emergency measures implemented during lockdown to make permanent changes to street space allocation.  
 
Peter Broytman, Coordinator for Cycle Transport, Senate Department for the Environment, Transport and Climate Protection, Berlin
Berlin received international attention during lockdown for its rapid efforts to reallocate road space for cycling. Peter explained that cycling has long been popular in the German capital, with around 18% of journeys being made by bike pre-lockdown. However, ongoing issues with road safety concerns has led the City of Berlin to prioritise the creation of 'protected' cycle routes (i.e. using bollards) in recent years to keep people safe when cycling and to stop illegal parking. Having created the first protected bike lane around four years ago, the city administration had planned to roll out many more protected lanes on roads throughout Berlin. Although strong political will to increase cycling infrastructure existed, the administrative process for creating lanes was complex and time-consuming. 
However, the COVID-19 crisis has prompted rapid action in Berlin to create emergency cycle infrastructure to keep people moving safely. The first emergency lanes were established just ten days after the decision was made to reallocate road space, with many kilometres of safe cycle lanes established in just one day. Efforts have been focused on strategic areas of the city to prioritise the busiest routes or places most in need of safe infrastructure. These lanes have been constructed using temporary measures such as flexible bollards, commonly used on construction sites, accompanied with paint and signage. Peter stressed that the process was not very complex: The administration made a decision, acted fast, and rolled out the measures.  
These safe cycle lanes have enabled a wider range of people to cycle for everyday journeys in Berlin and are helping to make cycling a safer and more enjoyable option for everyone. Peter noted how reallocating just one lane for cycling on a particularly busy road, which was once unpleasant for cycling, has helped to cut speeds and instantly enable a wider range of people to cycle in this area.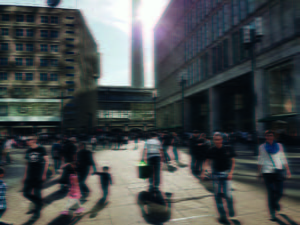 Peter stressed that although these lanes are emergency measures, this does not mean they are going away. Indeed, at least 90% of the emergency bikes lanes established in Berlin will be made permanent, perhaps rising to 100%. Using temporary measures presents a great opportunity to test and trial each bike lane. If changes are needed, for example making the lane wider or smaller, this can be done easily and at a low cost. The city administration is now looking to work with local districts across the city to establish more emergency bike lanes.  
On the technical side of implementation, Peter noted that there are some regulatory and legal requirements which need to be considered when implementing emergency cycling infrastructure. A regulatory basis exists in Germany for how temporary road changes should be implemented, for example what signage is needed, or what measures are needed around public transport stations. To help other German cities make changes to street space allocation, the City of Berlin created a set of guidelines for other cities to show how the legal framework can be navigated to quickly create pop-up cycle infrastructure. These guidelines have subsequently been turned into a report by Mobycon to share guidance on implementing emergency bike lanes. 
Peter closed by highlighting the overwhelmingly positive (90%) response from citizens to the creation of Berlin's emergency bike lanes, c, as well as more anecdotal stories of positive reactions -- including people giving flowers to construction workers putting up the emergency cycle lanes and displaying thank you signs! 

Philippe Crist, Advisor on Innovation and Foresight, International Transport Forum
The International Transport Forum (ITF) have been investigating how the experience from the COVID-19 crisis can be used to build more resilient, 'antifragile' cities which work better for everyone. Philippe indicated that there are three stages of responses in mobility to the crisis: Reacting, where cities implemented immediate emergency measures during lockdown; Rebooting, where cities take steps to adapt mobility as they move out of lockdown; And renewing, where cities seek to make changes to urban mobility to adapt to new conditions in the coming months and years.  
Philippe noted how the challenges posed by COVID-19 and the new requirements for physical distancing have revealed how fragile many urban transport systems are. Whilst these are extreme conditions, the current crisis has exposed how an imbalance in street space allocation has created vulnerable cities which are unable to adapt to stresses. It has led to inefficient and unresponsive mobility systems which do not meet the needs of cities in times of crisis, or indeed under normal conditions. The current situation must be used as an opportunity to think about how to create more strategic, durable and sustainable cities, and more space for walking and cycling is at the heart of this. 
Whilst technical and administrative challenges exist, acting fast to reallocate road space is not impossible. As has been shown in Berlin and hundreds of other cities in response to COVID-19, implementing emergency infrastructure can be done rapidly and to a high standard. Five key categories of infrastructure can be implemented: Widened pavements; Emergency bike lanes; A combination of these two categories; 'Slow streets', providing pedestrian and cycle priority with limited, low-speed car access; and open streets, with no or very limited vehicle access. 
Philippe highlighted that pressure to implement these measures has been greatest in cities where public transport use was highest. In particular, many South American cities have faced challenges in adapting urban mobility, with high public transport use and low car ownership being common. This explains the rapid response of cities such as Bogotá and Lima to implement safe cycling infrastructure on a large scale. Philippe noted how cities, such as Lima, which had already had long-term strategies in place for cycling have been able to adapt and act quickly in response to this crisis and fast-track measures which were already in the pipeline.  
Whilst infrastructure isn't a silver bullet for getting people walking and cycling, it is essential for creating an environment which
is both physically safe and feels safe. Achieving this is vital to ensure that a wide range of ages and abilities are able to and want to walk and cycle for everyday journeys. Simply providing paint is not enough, as without physical barriers, it is very hard to protect this space from vehicles. Philippe stressed that to ensure that space reallocation is effective, effort needs to be placed on educating all street users, for example by conveying why safe space for walking and cycling is important, what benefits it delivers for people and for cities, and how many people are using this new infrastructure. Additionally, ensuring that this new safe infrastructure is well enforced by authorities is vital. Treating this active travel infrastructure as emergency but not temporary, and considering how to make this infrastructure permanent, is important to capitalise on the full potential of this situation. 
Despite positive signs from cities across the world, Philippe stressed that the risk of returning to car-dominated cities cannot be underestimated. Some cases are already arising of temporary active travel measures being taken away and returned to space for vehicles. Cities will have to take action to stress the long-term need for reallocating road space, for example by communicating the benefits of more walking and cycling in cities. Specifically, stressing that space reallocation can help cities function better and recover economically in the coming months and years will be key. 
Philippe closed by noting that reallocating street space is not just an opportunity to rethink mobility, but also to rethink how we use space in cities.  In the current crisis, cities need to build now what they want to keep for the future. In doing so, providing more space for walking, cycling and scooting can help to create more resilient, successful cities.
A recording of the session and all presentations are available in the Members Area of the POLIS website. To find out more about the rest of the Post-Lockdown Mobility, see here. 
Topics