16/09/2021
EUROPEAN MOBILITY WEEK 2021: safe and healthy with sustainable mobility
Brussels, Belgium, 16 September 2021 - EUROPEANMOBILITYWEEK, the European Commission's awareness-raising campaign promoting clean and sustainable urban transport, comes to towns and cities across Europe and beyond starting today until 22 September. Around 3000 towns and cities, among them several POLIS members, from approximately 50 countries will participate by hosting events on the theme "Safe and healthy with sustainable mobility" and giving people the opportunity to explore the role of mobility in their daily lives by experimenting with clean transport modes. Importantly, the campaign supports the use of public transport as a safe, efficient, affordable, and low-emission mobility solution for everyone.
EUROPEANMOBILITYWEEK culminates in the popular car-free day, which sees streets closed to motorised traffic and open to people.
This year marks a special occasion for the campaign as it celebrates its 20th anniversary. In recognition of this milestone, EUROPEANMOBILITYWEEK is launching a virtual museum, which will showcase the history of the campaign, the impact it has achieved, and its links to the European Commission's broader sustainability priorities, such as the EU Green Deal. The museum will also highlight personal stories of behavioural change, illustrating how EUROPEANMOBILITYWEEK has inspired residents from across Europe to adapt their mobility habits in favour of active mobility, public transport, and other clean, intelligent transport solutions.
EU Transport Commissioner Adina Vălean said: "A clean, smart and resilient transport system is at the core of our economies and central to people's lives. This is why, on the 20th anniversary of the EUROPEANMOBILITYWEEK, I am proud of the 3000 cities across Europe and beyond for showcasing how safe and sustainable transport options help our communities to stay connected during these challenging times."
Initiatives across Europe 
EUROPEANMOBILITYWEEK provides an opportunity for local governments across Europe (and beyond) to invite residents to try out active mobility options and discover the benefit of sustainable forms of transport.
This year, The Hague (Netherlands) will collect and repair old and abandoned bicycles found in the city, and donate them to people who cannot afford to buy their own.
Trelleborg (Sweden) will celebrate EUROPEANMOBILITYWEEK by organising an exhibition on electric and hydrogen cars, and electric bicycles.
In Bremen (Germany), the city will transform several car parking spaces into parklets – areas where local residents can meet to socialise, play sports, or discuss urban mobility. The city will also organise a film night ride, where a cinema screen is transported around the city by cargo bicycle, stopping in different locations to screen films highlighting this year's theme: "Safe and healthy with sustainable mobility."
Râmnicu Vâlcea (Romania) will organise climate change workshops with students aged 16-17 and organise campaigns for school children aged 6-10, to encourage them to travel to school more sustainably.
Alicante (Spain) will set up bicycle repair stations across the city, and organise a number of activities to promote safe cycling.
To discover what your town or city is doing to celebrate EUROPEANMOBILITYWEEK, click here.
European Year of Rail
This year marks another special year for sustainable mobility, as it is the European Year of Rail. Highlighting the important role rail has to play in contributing to the EU Green Deal goal of becoming climate-neutral by 2050, the Connecting Europe Express is currently making its way through Europe. The train will stop in most European capitals to promote the many benefits of rail for passengers, freight and the environment. Today, 16 September, it is traveling from Sofia to Ruse (Bulgaria). For more information, and to see if the Connecting Europe Express is stopping in a city near you, click here.
Public consultation - new urban mobility framework
To help the EU build on its 2013 Urban Mobility Package and meet its 2050 climate targets, a new urban mobility framework will propose measures to encourage EU Member States to develop urban transport systems that are safe, accessible, inclusive, affordable, smart, resilient, and emission-free. The initiative will also address transport pollution and congestion, and draw lessons from the impact of COVID-19 on public transport to support the transition to a climate-neutral economy and emission-free transport at the local level. The European Commission invites the general public and stakeholders to express their opinion on this new initiative. The Open Public Consultation closes 23 September 2021.
For more information, and to share your views, click here.
Award applications open
Once EUROPEANMOBILITYWEEK comes to a close, towns and cities in Europe will have the chance to apply for one or more of the three European Commission Sustainable Urban Mobility Awards. The deadline to apply for the EU Urban Road Safety Award, the Award for Sustainable Urban Mobility Planning (10th SUMP Award) and the EUROPEANMOBILITYWEEK Award is 31 October. Online application form and criteria on www.mobilityweek.eu
More information
EUROPEANMOBILITYWEEK 2021
European Year of Rail
Connecting Europe Express
European Climate Pact
Open public consultation
Commissioner Vălean's EUROPEANMOBILITYWEEK message
Media enquiries
Schuyler Cowan
Communications Officer
Email: media@mobilityweek.eu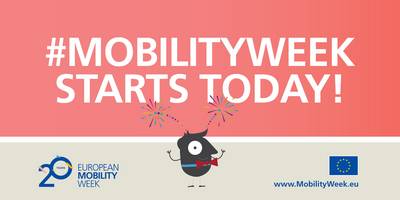 Topics
Staff member(s)