10/10/2022
European Commission organises bike collection for #BikesForUkraine
Following the momentum from Urban Mobility Days, European Commission organises a bike collection to support the #BikesForUkraine campaign, which is gathering bicycles to help Ukrainian volunteers and community services. Find out how you can help.
As a follow-up to the Urban Mobility Days that occurred last month, the staff of the European Commission's Directorate-General for Mobility and Transport (DG MOVE) are organising a bike collection to support the #BikesForUkraine initiative.
The campaign, initiated by six Ukrainian NGOs, is gathering bikes to support Ukrainian community services and volunteers on the ground.
The bicycle has become the main mode of transport for getting around the Ukrainian cities that have suffered the most from the Russian military aggression, namely Kharkiv, Chernihiv, and Sumy, among others. Indeed, these cities are struggling with interrupted or non-operational public transport and a lack of fuel, requiring bikes as the only alternative for delivering humanitarian aid and moving personnel for critical services.
#BikesForUkraine campaign results as of August 31
How you can help
DG MOVE is requesting the following support services:
Donate your bike(s) that you no longer use, but which are still in good working condition. Both bikes for children and adults are welcome. They also welcome electric bikes (with working batteries);
Donate spare parts, locks, helmets, and/or pumps;
Spread the word! Use their visuals and activate your networks so that they can reach a maximum number of bike owners;
Volunteer and help repair donated bikes, ensuring they are fit for use. Get in touch by email;
Donate money to BE26 3770 1913 7329 (M. Kelly-Tychtl) to purchase second-hand bikes and spare parts, to support repair efforts and to cover part of the shipping costs.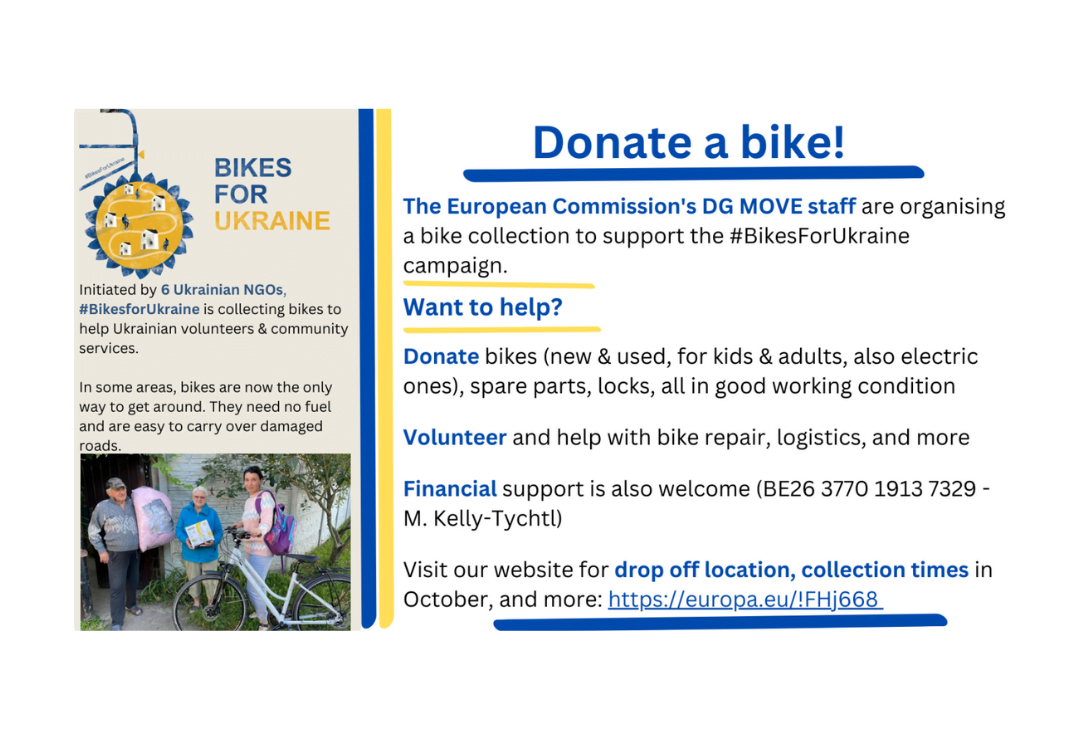 European Commission's DG MOVE staff outline steps for supporting #BikesForUkraine
If you wish to engage in any of the above, bikes, spare parts and locks can be dropped off at the entrance of DG MOVE, Rue de Mot/De Motstraat 28, 1040 Etterbeek during the following hours between 5-27 October:
Tuesdays (11, 18, 25 October) 8:30-10:00
Wednesdays (5, 12, 19, 26 October) 8:30-10:00
Thursdays (6, 13, 20, 27 October) 8:30-10:00
Should these times not suit you, or you have a larger donation to make, then you can get in touch by email to arrange a separate drop-off.
Moreover, we would like to mention that other initiatives are supporting the delivery of bikes to Ukraine. In the future, POLIS will make sure to further share information on other relevant ones and spur these deliveries.
You can read all information available for DG MOVE's bike collection here.
Topics
Staff member(s)