31/05/2021
Barcelona residents achieve lowering street speed limit building on self-generated data 
WeCount's new impact story is out now! In the city of Barcelona, engaged community was able to use new artefacts, tools and methodology, allowing them to be directly involved in their own city's road safety and find solutions to traffic volumes and speed compliance.
In the vibrant neighborhood of Gracia in Barcelona, Calle Ros de Olano - a small and narrow street in the area - has been experiencing significant issues related to road safety and high traffic volumes over the past two decades. Over time, a community of residents has formed and gradually established an activist citizen science group (Fumuts Ros de Olano). Their goal? To leverage the latest low-cost internet-of-things technologies to collect evidence and trigger positive change.  
Several representatives of the community installed a variety of environmental sensors to collectively gather data-driven evidence of the problematic situation in the street. The community mainly concentrated on collecting and structuring air quality and noise pollution data to create solid proof of the challenges experienced by the residents. However, this information is only a proxy to the effects of the main problem perceived and experienced, highlighting traffic.  
WeCount's case study in Barcelona, following the train-the-trainer approach, engaged this community and offered its people a new artefact, tools and methodology for extending their scope towards providing evidence directly related to the actual problem, i.e., traffic volumes and speed compliance. In other words, WeCount has enabled, enriched, and fostered the advancement of the local citizens' agenda, in line with citizen science principles.  
In the early days of the case study development, a beta-pilot was undertaken to ensure an effective knowledge transfer process to those identified as community champions, so they could act as boundary spanners and gatekeepers for the other members of their community. This consisted of a short WeCount cycle – from problem formulation throughout sensor installation, data collection and analysis - where participants could gain the required knowledge and tools to then upscale the intervention across their networks and communities. In May 2020, two representatives of the Ros de Olano community participated in this early stage intervention. They installed two traffic-counting Telraam sensors on their windows which have been actively measuring traffic ever since. 
After the time needed to generate meaningful data, the community leveraged this information to act. The sensors have provided the missing building block for enabling an informed intervention. Now the community was able to add data-driven evidence about traffic volumes and speed compliance, complementing the already available information about air quality and noise pollution in the street. Thus, they finally achieved a full picture of the issues they experience in their everyday lives. Leveraging this new knowledge, and independently, they approached and interacted with Barcelona City Council and, through showcasing the evidence collected, the community managed to have a change in the speed limit for this street, which was decreased to 10km/h (see related news published on the community's Twitter below).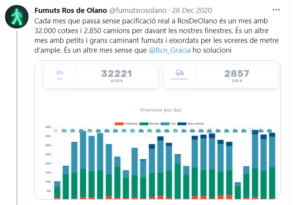 Figure 1: Citizen group tweet with data analysis 
The citizen's engagement did not stop there! After the establishment of the new speed limit in late 2020, the street residents hosting a Telraam have been monitoring compliance to this new regulation and have been very vocal in protesting when these limits are not being respected by cars and motorcycles (see an example of a related post below).
Figure 2: Local resident tweet on compliance with the speed limit 
All in all, WeCount's legacy empowered the community at Ros de Olano to advance their existing citizen (scientists) agendas. Citizens were left with a strong socio-technical infrastructure and toolkit to enable this and other communities in the country to independently undertake similar interventions in the future.  
Topics
Staff member(s)