21/06/2023 - 23/06/2023
Stuttgart, Germany
Urban Future 2023
Urban Future, one of the most important conferences for experts, politicians, entrepreneurs, and leaders making cities sustainable, will be hosted in Stuttgart, Germany, from 21 to 23 June 2023.
Hosted in a different city each year, it gathers thousands of CityChangers from all over the world so that they may share how they create transformation and accelerate change to shape the future of our cities.
POLIS as an International Networking Partner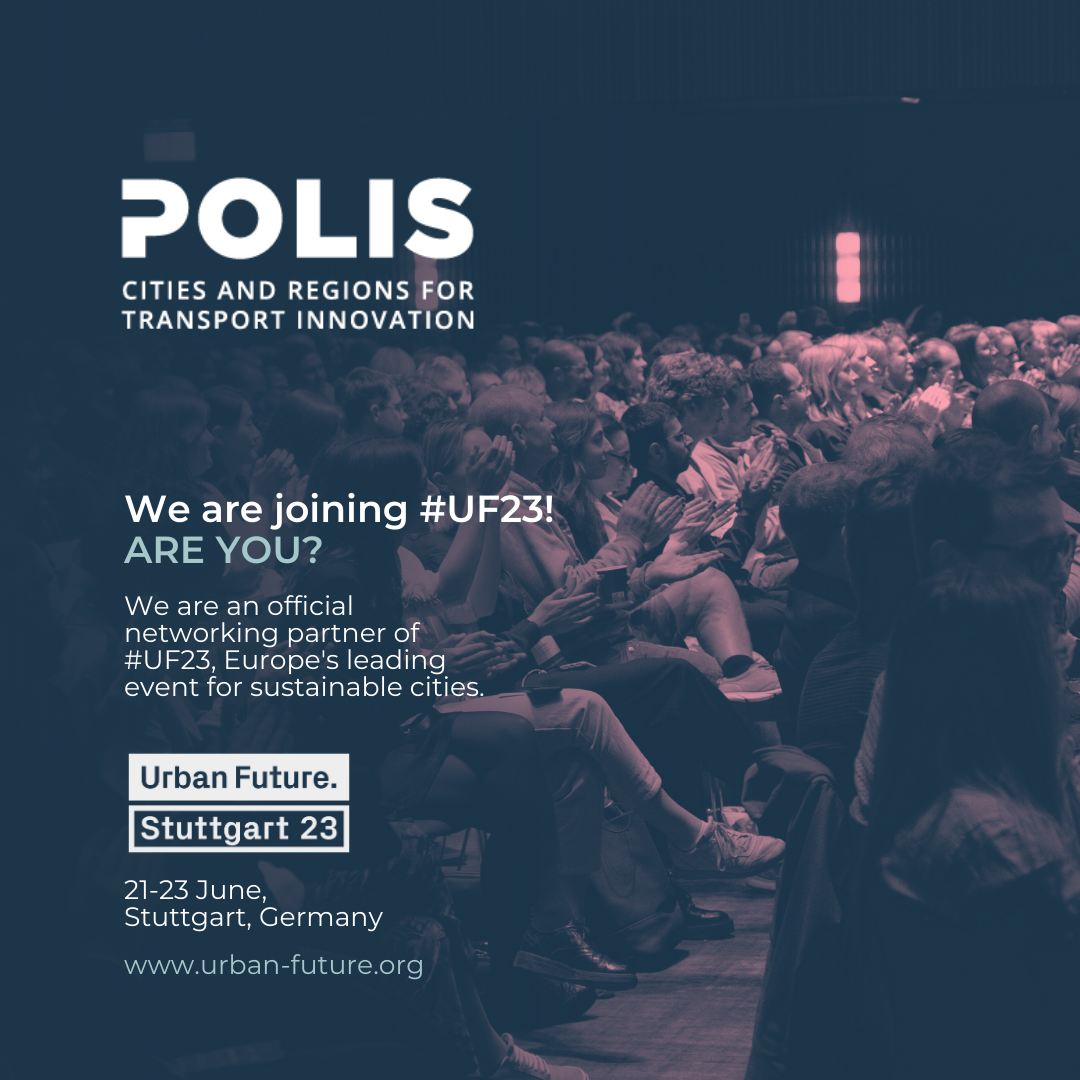 Urban Future is an event that is driven by impact and a powerful community with a mission: it brings together more than 100 organisations, NGOs, businesses, and supporting partners in the effort to connect the world's most passionate change-makers – with the ultimate goal of speeding up the transformation of cities.
For this reason, POLIS has decided to join the roster of international organisations supporting and collaborating to the success of this event.
Plus, our Secretary General Karen Vancluysen will also be participating in two sessions:
The challenge of moving goods and people in cities 

How to deliver more with less traffic

Cities are filling up and getting denser. As they require more stuff and people to be transported, and more waste to be removed, larger vehicle traffic increases rapidly. A booming e-commerce sector, with more shipments and higher delivery frequencies, only adds to this growth. However, logistics companies find it increasingly difficult to operate due to heavy congestion, a lack of parking, and cities' ambitions to get them out. So, the challenge is: how to move more and more things and more and more people with less and less available space… while decarbonising the entire operation? A few brave ones do act and tackle this challenge.
| | |
| --- | --- |
| Chair: | Karen Vancluysen (Polis Network, Brussels, Belgium) |
| Session number: | 2.7 |
| Format: | Panel Discussion |
| Date and time: | Wednesday, 21 June 2023, 11:00 – 12:30 |
| Location: | HDW | Bertha-Benz-Saal |
Sustainability by data

Be amazed by what data can do to advance sustainability

Digitalisation is one of those words we hear all the time. But what exactly is it? How does it affect industries and cities, and why do so many believe digitalisation will change the way pretty much anything is done? This session takes a very close look at the power of digitalisation, as well as the potential and risks for cities. We hear from leaders and experts who have experienced this power for themselves or who have been at the heart of such digital transformations. If you are curious about how digitalisation will change YOUR life, and more importantly, how to deal with this change, then this session is for you.
| | |
| --- | --- |
| Speaker: | Karen Vancluysen (Polis Network, Brussels, Belgium) |
| Session number: | 3.4 |
| Format: | Panel Discussion |
| Date and time: | Thursday, 22 June 2023, 11:00 – 12:30 |
| Location: | HDW | Conference room Reutlingen |
Full programme
Urban Future 2023's exclusive three-day programme will offer around 3,000 participants unique networking opportunities and 100+ sessions, workshops, seminars, and field trips - check it out here:
For more information about Urban Future 2023, check out their official website here.