30/08/2019
Can we talk?
Suzanne Hoadley talks to Brigitte Desveaux, Councillor and Vice-President of La Rochelle in charge of Transport and Mobility
"Economic, environmental and social impacts have to be identified. Public acceptance also needs to be considered. Such a public debate can be revealing"
SH: La Rochelle has a history of piloting automated transport systems. What is needed for it to become a reality for its inhabitants? Which mobility problem can it solve?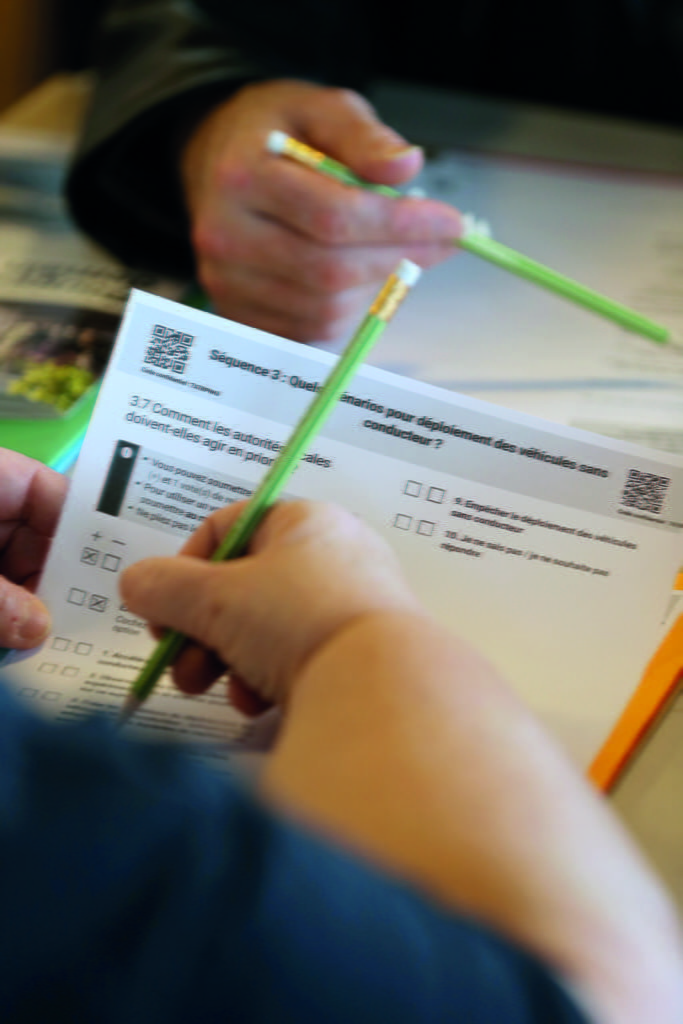 BD: The Citizens' debate organised by La Rochelle on 27 January of this year showed that our citizens are ready for the deployment of automated shuttles! We have already run three demonstrations in our city: the first in 2008, then in 2011 and the last in 2015. The third demonstration, lasting five months and operating in a mixed traffic environment, linked two neighbourhoods of La Rochelle and carried close to 15,000 passengers.
At the moment, any local authority wanting to go beyond a trial comes up against French law that does not allow the operation of driverless vehicles on public roads. It is for this reason that I have great expectations of the future mobility framework law. A decree published last March authorised the trial of automated vehicles on public roads. The next step is to create a regulatory framework which responds to the many questions and challenges that this new technology gives rise to. Furthermore, the economic model has not yet been proven. The system remains expensive and there is also the question of employment, not to mention security, which is something that cannot be compromised.
Once the framework is in place, La Rochelle will be ready to introduce this new form of mobility into its public transport offer. Our conurbation aims to become the first zero carbon coastal city offering inclusive MaaSstyle mobility – the automated vehicle plays a big role in this regard. Several deployment scenarios are being studied: serving the historic centre, the university campus, business/research parks and connecting to rural areas Economic, environmental and social impacts have to be identified. Public acceptance also needs to be considered. Such a public debate can be revealing La Rochelle.indd 11 12/11/2018 13:13 12 thinkingcities.com (via a park and ride scheme). We are targeting collective modes via a car-sharing system, with individual vehicles.
SH: Why did you decide to host a Citizens' Debate? Why did you feel a structured dialogue with the people was necessary?
BD: Before the widespread adoption of a new technology, the challenges must be anticipated and the economic, environmental and social impacts have to be identified. Public acceptance also needs to be considered. Such a public debate can be revealing.
La Rochelle has been renowned as an innovative medium-sized city in the mobility and environmental domains since the 1970s. It was a natural step to take part in a debate along with the larger metropolitan areas, in light of the lessons gained from our last largescale demonstration. The debate also allowed us to verify the level of public enthusiasm for new technologies and trials, to identify their fears, hopes and suggestions as well as to consider new ways of using the technology. It was a very enriching experience.
SH: How receptive are La Rochelle's citizens to vehicle automation? What key messages come across in the debate?
BD: As I said beforehand, the people of La Rochelle are ready, even enthusiastic, for new forms of mobility. It appears that this enthusiasm distinguishes us from the other four citizens' debates within France. That doesn't mean that our citizens are blinded by technology. They have clearly stipulated their desire for a service regulated by public authorities rather than by the market. They understand the need to reduce car usage for environmental reasons and view the automated vehicle as a shared service or as a complement to conventional public transport. Job losses are an issue of concern for 62 per cent of those taking part. Another key finding is that 78 per cent believe that driverless vehicles should firstly benefit people with reduced mobility (the blind, disabled and elderly). We hadn't considered this type of use.
SH: Did the Citizens' debate meet your expectations? Did you learn anything new?
BD: I was pleasantly surprised by the quality of the debate, which was moderated by willing young students trained for this purpose and the involvement of local people for a whole day on a specific topic. We particularly targeted people who are not used to such public debates. As mentioned previously, the presence of handicapped people opened our eyes to the potential social progress that this technology can deliver.
SH: What advice would you give to other towns and cities wishing to set up a Citizens' debate?
BD: Vehicle automation is just around the corner so it's better to take the time to talk about it, to gather fears and fantasies and to discuss technological maturity and legislation, from a distance. It's not just another debate but a way to listen to people and to hear about their aspirations. If you are willing to talk to people, you'll be surprised at their willingness to work with their elected representatives. It would be a shame not to do this, wouldn't it?
About the Citizens' Debate
Missions Publiques and its partners, including Polis, are launching a European and North American Citizens' debate on driverless mobility. It is the first time that a public participation process will take place at international level on issues related to driverless vehicles. During the first quarter of 2019, some 2000 European citizens (100 from each of the 20 participating cities spread over a dozen countries) will respond to the same set of questions. A few weeks later, the same number of North Americans citizens (from the United States and Canada) will follow the same process.
This Citizens' Debate deals with societal, territorial, ecological, social and economic issues related to the arrival of driverless vehicles, covering individual and collective matters, professional and personal. This debate will provide insight into the consequences as perceived by the citizens. They will be asked about their perceptions, fears, wishes and points of attention and invited to make suggestions.
Each organising partner will receive a set of recommendations based on their citizens' proposals. This process takes place after a French national process implemented in January in which some 400 people took part. The success of this first round of debates has allowed Missions Publiques to scale up this initiative.
To learn more about the Citizens' debate on driverless mobility: https://driverless.citizensdebate.eu If you wish to be part of this unique initiative, please contact Tifenn Durand: tifenn.durand@missionspubliques.com
"The people of La Rochelle understand the need to reduce car usage for environmental reasons and view the automated vehicle as a shared service or as a complement to conventional public transport"
SH: What messages do you have for the French Government and European institutions in relation to citizens' and automated vehicle developments?
BD: I'm looking forward to the new mobility law that will provide the regulatory framework and, I hope, lead to new opportunities for mobility. I'm delighted that the European Commission has launched new calls for pilot projects which also cover the human and social sciences, notably user acceptance. Public involvement and awareness-raising goes without saying in La Rochelle. The changes brought about by these new technologies require an ongoing dialogue with citizens. I hope that other countries and Europe will support those local authorities embracing such innovations.
FYI
Brigitte Desveaux is Councillorof the City of La Rochelle and Vice President of La Rochelle Urban Community in charge of Transport and Mobility. Suzanne Hoadley is Senior Manager at Polis with responsibility for activities related to ITS and network management.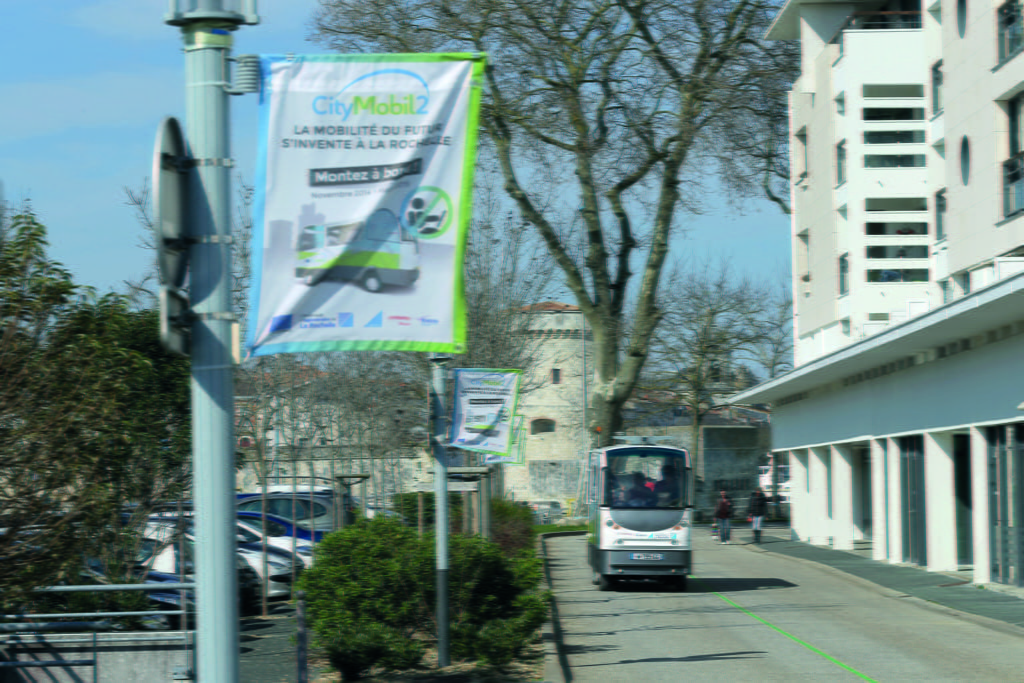 Staff member(s)