POLIS and ALICE Webinar Series 2023 Consumer Engagement: Providing consistent information on sustainability
This year, POLIS will again be joining ALICE- to deliver a webinar series on the future of urban freight, bringing public and private actors together for another set of events exploring the ins and outs of logistics.
The logistics sector has not yet created a framework to evaluate sustainability of urban freight transport. There are some works to estimate emissions from delivery vehicles, and environmental impact of using clean vehicles. However, there is lack of a consistent approach to evaluate sustainability covering a wider range of aspects such as energy efficiency of warehouse, workforce protection.
This first webinar aims to raise awareness of this issue and gather cities and logistics industry to discuss:
How to create a framework to evaluate sustainability level of urban freight activities: what factors should be considered beyond emissions from delivery vehicles?
What kind of research and innovation activities is needed?
What kind of roles governments and cities should play in providing information to consumers, encouraging more sustainable delivery and reducing negative impacts of e-commerce?
Context of the webinar
POLIS has a long standing partnership with the European Technology Platform ALICE, working together to forge synergies between projects, initiatives, cities-regions and companies to accelerate innovation.
One of the five intervention areas identified by the POLIS – ALICE Joint Guide is Consumer Engagement. The Guide has identified gaps to be addressed as:
Consistent information needs to be provided to consumers that currently do not have an easy way to understand the implication of their decisions.
Complexity of quantifying delivery options' emissions and agreed standards for calculation
Transparency from online retailers on the emissions of delivery choices
Not enough awareness of the usual implications of instant deliveries
Limited role so far from governments/cities to nudge consumers decisions on deliveries.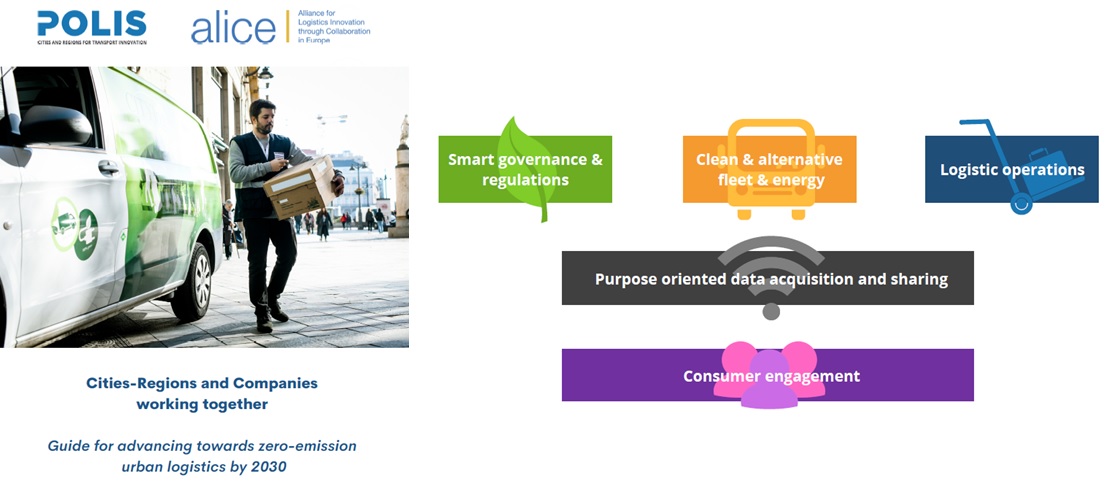 Agenda:
The webinar will invite logistics practitioners and city representatives to exchange their views that will create a base for future actions that can support establishment of evaluation framework, carrying out awareness campaigns and potential policy measures. The webinar will consist of short presentations and panel discussions.
Invited speakers:
Emission Calculator by Massimo Marciani, chair of FIT and a Member of the Italian Transport Compliance Rating initiative in logistics.
The thinking behind the so-called "Amazon Tax" by the City of Barcelona, Maria Savall Mañó, City of Barcelona.
Panellists from the logistics sector include:
Charlotte Migne – FM Logistic, representing logistics companies
Lola Ortiz Sanchez, Chair of the POLIS WG on Urban Freight, City of Madrid
Fabien Nonnez, IKEA, representing retailers
Artur Drenk, UPS, representing logistics companies
Hans Schurmans, PROXIMUS, representing retailers
Pierre Fils, BPost, representing logistics companies
Polyvios Polyviou, Transport for London
City representatives and other POLIS members will also join the panel.
To register and attend the event, click HERE.
Topics
Staff member(s)