04/03/2020
Brussels, Belgium
Covenant of Mayors Ceremony and European Climate Pact announcement event
The European Green Deal is a new roadmap for Europe's economy and society to become climate-neutral by 2050. How? By turning climate and environmental challenges into opportunities across all policy areas, by making the transition just and inclusive for all, and by improving the well-being and health of citizens and future generations.
The involvement and commitment of the public and of all is crucial for its success.
This will happen through a European Climate Pact bringing together citizens, industry, civil society and European, national, regional and local authorities and institutions.
Following a 12-week open public consultation to be announced by the end of February 2020, the Commission will launch a European Climate Pact to engage with the public and trigger behavioural change in three ways:
First, by encouraging information sharing, inspiration and understanding on the climate and environmental challenge and on how to counter it and turn it into an opportunity. A variety of channels and tools will be used, including events in Member States, on the model of Commission's Citizens' Dialogues.
Second, the Commission will foster spaces for citizens to work together on, and commit to, ambitious concrete climate action, through individual and collective behaviour.
Third, the Commission will build capacity to support grassroots climate and environmental initiatives and actions. Information, guidance, educational modules and exchange of good practices could contribute to this goal.
The huge success of the European Covenant of Mayors, with close to 10,000 signatory cities to date, makes it a central force of the Climate Pact.
As a symbol of this, the Climate Pact announcement event will take place together with the EU Covenant of Mayors Ceremony.
At the Climate Pact event, the Commission's President or Executive Vice-President will announce the launch of the open public consultation on the Climate Pact and will appeal for the wider audience to come with ideas and suggestions.
The event will also showcase the richness of climate actions within the EU society through a participants' dialogue.
The event will start to engage society in view of its participation with pledges and actions in the full-fledged Climate Pact to be launched in the second half of 2020.
The event will count on the participation of stakeholders and representatives of the different actors of the Pact, e.g. citizens, civil society, business, education representatives, youth, and European, national, regional and local authorities and institutions.
>> Agenda
>> Registration

> Contact: ceremony@eumayors.eu
Source: https://www.eumayors.eu/news-and-events/events/upcoming-events/2278-european-covenant-of-mayors-ceremony.html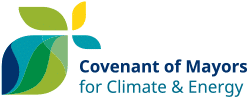 Topics